The palm tree swing in Siargao has gone viral on Instagram since it was discovered on the Maasin River in 2017. If you are looking for the ultimate adventure, be sure not to miss out on this epic palm tree swing in Siargao.
I have put together this complete guide of the Palm Tree Swing Siargao including where to find it, how much it costs and what to expect!
Have you got travel insurance for Philippines? I know that nobody likes to talk about this stuff but accidents can happen and having World Nomads Insurance can save you thousands of dollars if something goes wrong.

WHERE IS THE PALM TREE SWING SIARGAO
The palm tree swing in Siargao is not hard to find BUT it can be easily missed.
From General Luna, it's a 17km drive that takes around thirty minutes to get to the Siargao swing.
As soon as you get to the bright red Maasin Bridge, stop here and don't go any further. From the red Maasin bridge, you'll be able to spot the Insta-famous palm tree poking out over the Maasin River Siargao.
The Maasin River is fed from the nearby mountains and weaves its way downstream through a small village known as Maasin.
BOOK A TOUR TO THE SIARGAO SWING
Another alternative to visiting the Palm Tree Swing Siargao is to book a full-day tour to see the highlights on Siargao.
The Siargao Land Tour is the most top-rated tour with great reviews and hundreds of bookings.
This tour covers the top Instagram spots in Siargao including the Coconut Tree Viewpoint in the morning, followed by the Palm Tree Swing Siargao, Magpupungko Rock Pools and ending at the famous Sugba Lagoon!
All this for less than $30 USD.
PIN LOCATION OF THE BENT PALM SIARGAO
The red Maasin Bridge Siargao
Palm Tree Swing Siargao
WHAT TO EXPECT AT THE PALM TREE SWING SIARGAO
My friends and I arrived at the Siargao palm tree swing at around 7 am and we had this epic spot all to ourselves with no other tourists in sight.
A few friendly locals from Maasin village came to greet us and offered us their small wooden boats to go for a paddle up the Maasin River. So we paid the local man 150 pesos to use his boat for an hour or so to get some photos of the Siargao river swing.
Nomatic Travel Bag: Best travel bag in the world! The Nomatic 40L Travel Bag is a game changer and perfect for all adventures. With an incredible organization system that enables you to pack more in less space, this carry-on size bag will change the way you travel!
My buddy Jake took the trail along the right-hand side of the Maasin River to reach the bent palm Siargao, while Jade paddled out on to the Maasin River on a small wooden boat.
Jake swung from the bent coconut tree Siargao multiple times while I was standing back on the Maasin Bridge to shoot photos. After many attempts, we managed to get the shot we were after!
The Maasin River beneath the rope swing in Siargao is around two meters deep so it's safe enough to swing and jump from the bent palm tree without having to worry about hitting the bottom.
During our visit, a group of local kids were showing off their backflips and were overly excited to play with us on the palm tree rope swing in Siargao, which is their everyday playground.
The bent palm tree in Siargao
A local kid cruising on the Maasin River
OTHER SPOTS NEAR THE PALM TREE SWING SIARGAO
The Siargao Circumferential Rd will lead you to a number of awesome locations nearby to the bent palm tree in Siargao.
See the list below for an awesome one-day Siargao itinerary of things to see and do in this order:
Palm Tree Viewpoint for sunrise
The Palm Tree Road
Siargao Tree Swing
Siargao palm tree viewpoint
Bent palm tree in Siargao – Maasin River
WHERE TO STAY IN SIARGAO
General Luna is the place to be when it comes to finding the best places to stay Siargao! General Luna has hundreds of accommodation options to choose from, so I have narrowed it down to a few of my personal favorite places to stay near the Siargao swing to fit the needs of budget backpackers, luxury travelers and everyone in between.
See the list of accommodations below that I personally recommend:
Luxury: Nay Palad Hideaway Villas
Nay Palad Hideaway offers the perfect 'island resort vibe' that you may be seeking for your visit to Siargao. Choose either a sea view or a garden view luxurious room, take a dip in the outdoor swimming pool and enjoy your very own private palm tree fringed beach! On top of this, resort guests can make use of the complimentary paddleboards, surfboards, kayaks, bicycles and even jump on board an island hopping tour.
Luxury: Isla Cabana Resort
An awesome 4-star resort located in General Luna on the beachfront. Isla Cabana boasts an outdoor swimming pool, hot tub and sun terrace that looks out over the Pacific Ocean. These private villas come fitted with king-sized beds, an en suite bathroom, air-conditioning, cable TV, fridge and sitting area. Book a treatment at the in-house spa or make use of the free activities available such as snorkeling, kayaking, fishing or cycling.
Mid Range: Sunset Bay Beach Villas
Sunset Bay provides beachside villas that are comfortable and peaceful, overlooking the Philippine Sea. The famous Cloud 9 surf break is just a few minutes walk away. The villas are air-conditioned with a flat-screen TV, private bathroom, kitchen, fridge and stovetop. Perfect for solo travellers or couples.
Mid Range: Kokai Resort
Nestled within lush gardens, you'll get the ultimate jungle vibes here at Kokai Resort. There is a sun terrace, in-house restaurant, free wifi and motorbike rental available. Kokai Resort has both dorms and private bungalows on offer, perfect for those who are traveling on a budget.
Budget: Secret Spot Siargao
I personally stayed at Secret Spot Siargao and I can't recommend this place enough. The Secret Spot Siargao Hostel features an upstairs dormitory with 20 comfortable beds, downstairs bathrooms, spacious living area, fully-equipped kitchen, outdoor chill zone, free wifi and hanging hammocks in the garden.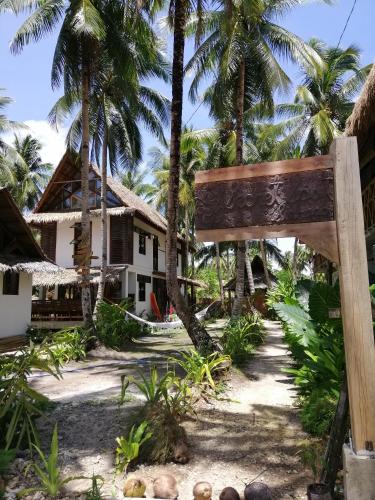 Budget: Balay Hayahay Hostel
Balay Hayahay is a budget-friendly hostel centrally located in General Luna. There are dorm rooms and private rooms available in tee-pee style bamboo huts just minutes walk to the beach. This hostel also features a shared kitchen and chill-out zone with hammocks. The perfect place to stay with friends or for solo travelers.
BEST SIARGAO TOURS
Siargao Island Hopping Tour
Spend the day island hopping between three tropical islands known as Naked Island, Daku Island and Guyam Island, just a short boat trip off the coast of General Luna in Siargao. All this for less than $30 USD.
Book Now ∼ Siargao Island Hopping Tour
Siargao Land Tour
The Siargao Land Tour is the best way to see the Siargao hotspots in one day. Visit the Coconut Tree Viewpoint in the morning, followed by the Palm Tree Rope Swing, Magpupungko Rock Pools and ending at the famous Sugba Lagoon! All this for less than $30 USD.
Book Now ∼ Siargao Land Tour
Sohoton Cove Tour
Sohoton Cove is a must-do day trip during your visit to Siargao! The tour includes a full day of island hopping to Sohoton Cove, Naked Island, Daku Island and Guyam Island, with lunch. All this for less than $45 USD.
Book Now ∼ Sohoton Cove Tour
Sugba Lagoon Tour
Sugba Lagoon offers an unforgettable experience at one of the bluest lagoons you will ever see! The tour includes a full day of island hopping to Sugba Lagoon, Kawhagan Island and Pamomoan Island, with lunch. All this for less than $20 USD.
Book Now ∼ Sugba Lagoon Tour
Corregidor Island Tour
Corregidor Island is a dreamy tropical paradise just off the coast of General Luna in Siargao. Explore the grassy hills and colorful coral reefs on Corregidor Island before island-hopping to Naked Island, Daku Island and Guyam Island, including lunch. All of this for less than $40 USD.
Book Now ∼ Corregidor Island Tour
AIRBNB SIARGAO
Another option for accommodation near the palm tree swing Siargao is to stay at an Airbnb, which generally has some great deals on Siargao Island.
JOIN MY FACEBOOK TRAVEL TRIBE
Do you have any questions about the palm tree swing Siargao?
Join my Facebook Travel Tribe and send a message at any time for a quick response!
LONELY PLANET – PHILIPPINES
One of the best books to take on your trip is the Lonely Planet Philippines Travel Guide!
BUY NOW ON AMAZON → LONELY PLANET PHILIPPINES
MORE PHILIPPINES TRAVEL GUIDES
WHAT TO PACK FOR SIARGAO
Everyday Backpack: One of the best backpacks on the market! The Nomatic 20L Backpack is perfect for on the go adventures. Featuring multiple storage spaces for valuables, drink bottles, chargers, notebooks and more. This sleek backpack was designed for you.
Universal Power Adapter: Don't leave home without one! I highly recommend getting this Universal Power Adapter so that you are able to charge all of your electronics when you're on the road. Compatible in Asia, UK, Europe, Africa, USA, SA and Australia.
Hidden Money Belt: I never go on a trip without one! The best thing is they are always out of sight, hidden beneath your clothing. With RFID blocking, they are perfectly designed to keep your credit cards, cash and other valuables safe when you're out adventuring!
Waterproof Phone Case: A waterproof phone case is a must-have item! This universal case will keep your phone safe from water damage, sand and scratches during your adventures. Suitable for all smartphone models.
Portable Charger: One of the best portable chargers on the market! The Anker Power Bank keeps your phone and accessories charged on those longer adventures. Featuring 2 USB charging ports, rechargeable battery, works with iPhone, iPad, Samsung, Oppo and Android.
Microfibre Travel Towel: To pack a towel or not to pack a towel? A standard bathroom towel can take up a lot of space in your travel bag. Get your hands on a quick-dry Microfibre Travel Towel which is perfect for the beach, backpacking, camping and general traveling.
Rain Jacket: A light-weight rain jacket is an absolute must when traveling! North Face waterproof rain jackets come in both men and women sizes, featuring a breathable mesh lining and adjustable hood that can be tucked away inside the collar.
Kindle: The best alternative for books! Kindle e-readers are perfect for long haul flights, reading on the beach or a quiet evening away from the bars. Kindle's are waterproof with rechargeable batteries and adjustable light settings to suit indoor/outdoor conditions.
Packing Cubes: My favorite item in my backpack! Perfect for organizing your shirts, pants, jackets, socks, underwear and more. This 5 Set Packing Cubes makes packing easier and more efficient, adding extra space in your bag for your next trip.
Activated Charcoal Tablets: Want to avoid food poisoning? Most of us have been a victim of travelers diarrhea from eating street food. Organic Activated Charcoal Tablets are fast-acting and will rid your system of the bad bacteria that causes stomach upset.
MY CAMERA GEAR
Everyday Camera: The most affordable mirrorless camera on the market! I personally use the Sony A7ii Mirrorless Camera on all of my adventures. It's compact, lightweight and super easy to use for all levels of photography. A 28-70mm Sony lens is also included.
Drone Camera: Take your photography to new heights! The DJI Mavic Pro 2 Drone is at the top of the game when it comes to high-quality images and video, easy to control functions and traveler-friendly capabilities. I guarantee you won't regret purchasing one.
GoPro Hero 8: One of the most popular cameras on the planet! I love using the GoPro Hero 8 for all of my underwater shots and fast-paced adventures. The GoPro Hero 8 captures the best moments with its wide range of functions that are very simple to use!
Camera Bag: My favorite camera bag I have ever owned! The Lowepro Protactic 450 AW II Camera Bag features a waterproof rain cover, drink bottle holder, padded compartments for cameras, drones, lenses, accessories and it also has a laptop pocket.
Selfie Stick: Everyone loves a good selfie, right!? The Sandmarc Metal Edition Selfie Stick is sleek, stylish and can extend to 1.2m. I find it much easier to take photos and videos with the GoPro when it is mounted to the Sandmarc Selfie Stick!
Camera Tripod: The Joby GorillaPod is suitable for all cameras. This tripod is easy to use and perfect for setting up a time-lapse video or even using it as a selfie stick. The legs are flexible so you can wrap it around a tree or a pole to get creative with your shot.
GoPro Dome: Have you ever wanted to capture those under/over water shots with the GoPro? This epic underwater GoPro dome housing is the best camera accessory to have to create the perfect 50/50 shot. I use mine every time I am in the ocean!
Memory Card: The best thing about SanDisk Extreme Pro is that it delivers maximum speed for images and videos. Having 64GB of storage means that you can store hundreds of files on this SD card for 2-3 days and not have to worry about running out of space.
External Hard Drive: As a photographer, my images and video files take up a lot of space on my MacBook so I use the WD Elements External Hard Drive to store everything. With 4TB worth of storage space, this is more than enough for 1 year worth of content.
Check Prices Here
ONLINE ENGLISH TEACHING
Do you want to travel full-time and get paid along the way?
Teaching English online is one of the easiest and most flexible jobs out there! Become a Digital Nomad today where you get to choose your own hours and work remotely from anywhere in the world by teaching English online. All you need is a laptop, good WiFi connection, a TEFL certificate and you're good to go!
MY SHOP
Before you go from this palm tree swing Siargao post, don't forget to check out My Online Shop!
I've got a wide range of digital products for sale and I'm sure you'll find something that will come in handy during your travels!
FINAL THOUGHTS OF THE SIARGAO SWING
I hope you enjoyed reading this article and if you have any questions about The Bent Palm Tree Swing In Siargao please leave me a comment below and I will get back to you as soon as I can.
↓ PIN IT FOR LATER ↓