Bingin Beach (Pantai Bingin) is a surfers paradise when it comes to pumping waves! Bingin Beach Surf is one of the most demanding reef breaks in Bali that has surfers flying in from around the globe to try their luck at getting shacked on the fast left-hander barreling wave.
But it's not just the waves that have people flocking to Bingin Beach, there are a number of other things to see and do which you will find in this blog post.
Have you got travel insurance for Bali? I know that nobody likes to talk about this stuff but accidents can happen and having World Nomads Insurance can save you thousands of dollars if something goes wrong.

WHERE IS BINGIN BEACH & HOW TO GET THERE
Bingin Bali is located along the western coastline on the Bukit Peninsula, Uluwatu.
The best way to get to Bingin Beach is on a scooter. You can rent scooters in the main tourist hubs throughout Bali including Canggu, Seminyak, Kuta, Ubud, and Uluwatu.
Scooter rental is typically 50,000 IDR per day or you can rent them on a monthly basis from anywhere between 600,000 IDR and 700,000 IDR.
From Kuta, Seminyak or Canggu, it's approximately a 1-hour to 1.5-hour journey to Bingin Beach depending on traffic.
Alternatively, if you are not comfortable driving a scooter, you can rent a car in Bali and head out to Pantai Bingin on 4 wheels instead of 2.
Search All ∼ Car Rentals in Bali
PIN LOCATION OF BINGIN BEACH
Bingin Beach Surf
ARRIVING AT BINGIN BEACH
As there are no roads down to Pantai Bingin you'll have to park your scooter at the top of the cliffs in the designated car park and the cost of parking is 2,000 IDR.
From the car park, you'll find a paved alleyway that leads down passed some hilltop accommodations and to a set of stairs which lead all the way down to the sand at Bingin Bali.
About halfway down the set of stairs, the pathway comes to an intersection and branches off into a few different directions. It doesn't matter which path you take as they all lead down to the shoreline at Bingin Beach.
Must Read → 2 Week Bali Itinerary
The paved alleyway down to Bingin Beach
An awesome viewpoint of Bingin Beach
THINGS TO DO AT BINGIN BEACH ULUWATU
As you may know, Bingin Beach is a hotspot for surfing. If you would like to rent a surfboard there are a few surf shacks located right on the sand at Pantai Bingin that have a wide selection of boards to choose from.
The cost of surfboard rental is 50,000 IDR for two hours. Surf lessons are also available at Bingin Beach, just inquire at the surfboard rental shacks.
If you are not a keen surfer there is a lot of exploring to be done down at Bingin Beach. Head south along the sand and around the rocky outcrops to find smaller secluded beaches and abandoned beach shacks at the base of the Bingin Beach Cliffs.
For food, my favorite Bingin Beach restaurants are Kelly's Warung and Lucky Fish.
Kelly's Warung is situated right in front of the famous Bingin Surf Break with front row seats to watch all the action. They have a massive selection of food and drinks available including smoothie bowls, toasted sandwiches, wraps, burgers, Indonesian cuisine, juices and coffee.
Lucky Fish is my personal favorite pick for dinner, located on the sand at Bingin Beach. Lucky Fish serves up the best BBQ seafood meals I have had in all of Bali. It is the perfect spot to watch the sunset with a cold beer in hand and fresh fish on the plate. On the weekends they also tend to have live music for you to enjoy during dinner.
Search All ∼ Hostels / Resorts / Villas in Uluwatu
Exploring the secluded beaches at Bingin Beach
Kelly's Warung overlooking Bingin Beach Surf
Lucky Fish seafood restaurant at Bingin Beach
Surfboard rental shack at Bingin Beach
BINGIN BEACH SURF
The Bingin Beach surf break is a fast left-hand barreling wave that can be surfed on all tides.
The best months to surf at Bingin Beach is in the dry season, May to October. Bingin Surf works best in offshore winds from the east and the ideal swell direction is from the south-west.
You can check the live stream video on the Bingin Surf Cam to see the conditions beforehand. Click Here to view.
Drone shot of Bingin Beach
WHERE TO STAY NEAR BINGIN BEACH
Uluwatu has hundreds of accommodations to choose from so I have narrowed it down to a few of my personal favorite places to stay to suit the needs of luxury travelers and budget backpackers. See the list of accommodations below that I personally recommend:
Luxury: Canang Sari Villas
I've stayed at Canang Sari Villas a few times and it's one of the best 4-star accommodations in Uluwatu! Featuring 2-bedroom and 3-bedroom villas with private swimming pools, beautiful gardens, equipped kitchens, large living space, indoor and outdoor bathrooms, free wifi and ocean views. There is also a spa centre and squash court for guests to use. Close to beaches, cafes and shops. Perfect for families, friends and couples.
Check prices on Agoda | Check prices on Booking.com
Mid Range: Bukal Sari Villas Uluwatu
Awesome 3-star accommodation boasting a swimming pool, restaurant, gardens and outdoor swimming pool. There is free wifi and each room is spacious and modern with private bathrooms. Continental or à la carte breakfast is included for all guests. Close to Uluwatu Temple and beaches. Great for couples, families and friends.
Check prices on Agoda | Check prices on Booking.com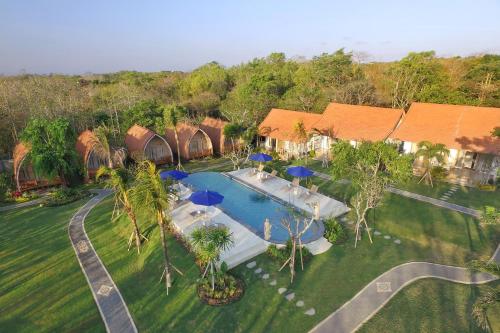 Budget: Bali Beats Guesthouse Uluwatu
One of the best budget accommodations in Uluwatu! Bali Beats features an outdoor swimming pool, garden terrace and free wifi. There are a restaurant and bar as well as a shared kitchen for guests to use. Close to beaches, cafes and restaurants. Perfect for solo travelers and friends on a budget.
Check prices on Agoda | Check prices on Booking.com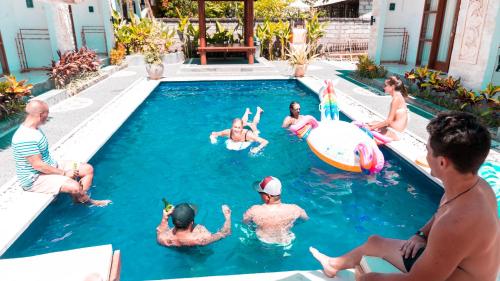 BEST TOURS IN BALI