Bonbon Beach is arguably the most beautiful beach in the Philippines, boasting one of the most unique sandbars that looks far too good to be true!
Here is a complete guide to Bonbon Beach including where it is, how to get there and what to expect!
Find All ∼ Homestays / Hotels / Resorts in Romblon
Have you got travel insurance for Philippines? I know that nobody likes to talk about this stuff but accidents can happen and having World Nomads Insurance can save you thousands of dollars if something goes wrong. 

WHERE IS BONBON BEACH & HOW TO GET THERE
Bonbon Beach can be found on Romblon Island in the central Philippines.
From Romblon Town, it's a 5-minute drive to reach Bonbon Beach Romblon or approximately a 45-minute walk along the coastal road.
You can rent a scooter in Romblon for approximately 400-500 pesos per day and make your own way over to Bonbon Beach Philippines.
If you are not confident driving a scooter, the other option is to hail down a tricycle or habal habal (motorbike taxi) along the main road in Romblon. For a 5-minute drive to Bonbon Beach, you can expect to pay around 50 pesos.
ARRIVING AT BONBON BEACH
When you arrive at the pin location of Bonbon Beach on Google Maps, park your scooter on the side of the road and follow the signs down to the beach.
At the jump-off point, Bonbon Beach isn't visible, though it's no more than a 5-minute walk along the coastline and around the corner to where Bonbon Beach Romblon will reveal itself.
Find All ∼ Homestays / Hotels / Resorts in Romblon
On the way to Bonbon Beach Romblon
Bonbon Beach Philippines
WHAT TO EXPECT AT BONBON BEACH ROMBLON
Bonbon Beach features a glistening white sandbar that stretches from Romblon Island mainland over to the uninhabited island known as Bang-og. On either side of the Bonbon sandbar is waist-deep turquoise waters that are utterly inviting and the perfect opportunity to take a dip.
Bonbon Beach is, in fact, a privately owned beach by one of the locals, though tourists and Romblon Island residents are free to roam around the area providing everyone respects the land by taking only photos and leaving only footprints.
On low tide, Bonbon Beach sandbar is completely exposed making it possible to walk across to Bang-og Island and explore the beach over there.
On high tide, however, Bonbon Beach is only partially exposed so make sure to be aware of the tides if you plan on crossing over the sandbar to Bang-og Island. You wouldn't want to get stuck over there unless you are well equipped.
Must Read → 3 Weeks Philippines Itinerary
Bonbon Beach Sandbar
Hanging out on Bonbon Beach in Romblon
Drone shot of Bonbon Beach Philippines
Bang-og Island
BONBON BEACH
One of the best parts about Bonbon Beach is that there are no resorts or any sings of development which is a great thing in my opinion! Just sugary white sands, azure waters and incredible views of Romblon and the neighboring Tablas Island.
If you have the time, I recommend visiting Bonbon Beach for sunset with a beer in hand and also at sunrise with your early morning coffee. It is hands down one of the most peaceful beaches in the Romblon Province!
If you have a DJI Mavic Drone Camera I highly recommend flying it at Bonbon Beach as it looks even better from the sky!
See More ∼ Best Camera Gear For Travel
Golden hour at Bonbon Beach Romblon
Azure waters surrounding Bonbon Beach
WHERE TO STAY IN ROMBLON ISLAND
Romblon Island has dozens of accommodation options to choose from, so I have narrowed it down to a few of the best places to stay in Romblon to fit the needs of budget backpackers and luxury travelers. See the list of accommodations below that I personally recommend:
Luxury: Stone Creek House
Stone Creek House is the best luxury accommodation centrally located in Romblon. Featuring modern and spacious living, flat-screen tv, air-conditioning, kitchenette, dining area, balcony views and free wifi. There is an executive suite, deluxe king suite or the deluxe single suite available to rent during your stay in Romblon. Perfect for couples, families and friends.
Check prices on Agoda | Check prices on Booking.com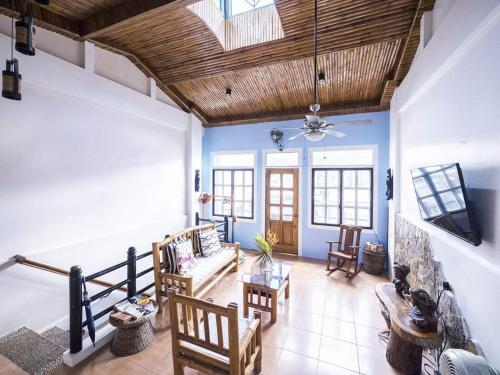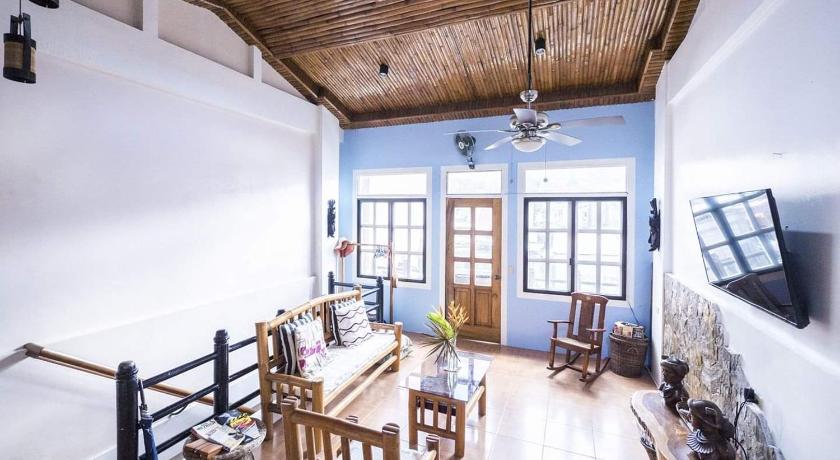 Mid Range: Coral Canyon Resort
Coral Canyon Resort Romblon is an affordable accommodation located on the southwest coast of the island, away from the hustle and bustle of the city. Featuring a restaurant, outdoor swimming pool, a bar, billiards table, squash court, dart board, well-kept gardens and a terrace, all of which are on the oceanfront. There are dorm rooms, double rooms, triple rooms and quadruple rooms available with air-conditioning, spacious bedrooms, private bathroom and some with private pools. Perfect place to stay for families, friends, couples and solo travelers!
Check prices on Agoda | Check prices on Booking.com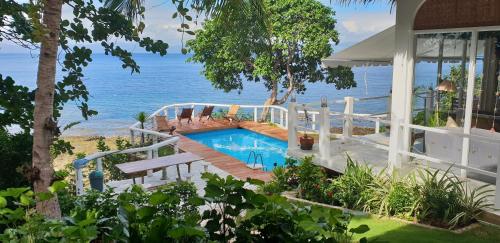 Budget: Reggae Vibes De Isla Romblon
I personally stayed at Reggae Vibes Hostel and can't recommend this place enough! Situated on the southwest coast of Romblon Island, this epic hostel lies right on the beachfront and features a small swimming pool, a restaruant, bar, outdoor terrace and a shared lounge with a flat-screen tv. There are dorm rooms, triple rooms and beachside bungalows available to rent with air-conditioning/fan-cooled, large comfortable beds and private bathrooms. Rose, the owner of Reggae Vibes, is super friendly and always down to take guests on an adventure around the island! If you're a solo traveler, couple or with a bunch of mates, Reggae Vibes is where you'll want to base yourself!
PIN LOCATION OF BONBON BEACH
AIRBNB ROMBLON
Another option for accommodation in Romblon is to stay at an Airbnb, which generally has some great deals on Romblon Island.
Get your $40 Airbnb discount here!
MORE PHILIPPINES TRAVEL GUIDES
Philippines Travel Guide: 3 Weeks Philippines Itinerary
Cebu Travel Guide: 15 Things To Do In Cebu
Bohol Travel Guide: 31 Epic Things To Do In Bohol
Siargao Travel Guide: 15 Things To Do In Siargao
El Nido Travel Guide: El Nido Island Hopping
Coron Travel Guide: Coron Island Hopping
Boracay Travel Guide: 15 Things To Do In Boracay
Siquijor Travel Guide: 3 Day Siquijor Itinerary
Bantayan Island Guide: 15 Things To Do In Bantayan
Malapascua Island Guide: 11 Things To Do In Malapascua
Camiguin Travel Guide: 13 Best Camiguin Tourist Spots
Romblon Travel Guide: 12 Epic Things To Do In Romblon
Tablas Travel Guide: 10 Things To Do In Tablas
Carabao Travel Guide: 7 Best Things To Do In Carabao
Dumaguete City Guide: Best Dumaguete Tourist Spots
Sumilon Island Guide: Sumilon Island Itinerary
MY CAMERA GEAR
• DSLR Mirrorless Camera: Sony A7ii 
• Drone Camera: DJI Mavic Pro 2
• GoPro: GoPro Hero 8 Black
• Everyday Lens: Sony F2.8 24/70mm
• Camera Bag: Lowepro Protactic 31L
• Selfie Stick: Sandmarc Metal Edition 1.2m 
• Tripod: Joby Flexible GorillaPod
• GoPro Dome: Underwater GoPro Dome
• Power Bank: Anker Powerbank
• External Hardrive: WD Elements 4TB
WHAT TO PACK FOR PHILIPPINES?
• Waterproof Phone Case: Universal Waterproof Case
• Reusable Water Bottle: Hydro Flask Water Bottle
• Rain Jacket: North Face Rain Jacket
• Water Shoes: Slip-on Water Shoes
• Day Bag: Nomatic 20L Day Bag
• Power Adapter: Universal Power Adapter
• Packing Cubes: 4 Set Packing Cubes
• Microfibre Towel: Quick Dry Travel Towel
• Travel Insurance: World Nomads Travel Insurance
• Money Belt: Hidden Money Belt
I hope you enjoyed reading this article and if you have any questions at all about Bonbon Beach Romblon, please leave me a comment below and I will get back to you as soon as I can.
Happy Travels!