Cebu Waterfalls are some of the best waterfalls I have ever been to and I am sure many other tourists would agree when visiting Cebu Island in the Philippines! Cebu is so diverse offering a mecca of adventurous things to do including epic waterfalls, panoramic viewpoints, swimming with whale sharks, island hopping and much much more!
I have put together the ultimate list of the 6 Best Cebu Waterfalls including where to find them, how much the entrance fees are and what to expect when you're there!
Also in this Cebu Waterfalls Guide, you will find other useful information on how to get to Cebu, where to stay in Cebu, getting around and the best time to visit!
Have you got travel insurance for Philippines? I know that nobody likes to talk about this stuff but accidents can happen and having World Nomads Insurance can save you thousands of dollars if something goes wrong. 

CEBU WATERFALLS OVERVIEW
Here is a quick overview of the Top 6 Cebu Waterfalls that you will find in this post:
1. Kawasan Falls
2. Aguinid Falls
3. Binalayan Falls
4. Dao Falls
5. Inambakan Falls
6. Tumalog Falls
6 BEST CEBU WATERFALLS
#1 KAWASAN FALLS
Kawasan Falls in Badian is without a doubt the most popular falls in Cebu! A visit to Kawasan Falls to do the canyoneering is the most adrenaline-pumping adventure to be had in the Philippines. Whether it's your first time canyoneering or not, the Kawasan Falls experience is not to be missed on your South Cebu itinerary!
Kawasan Falls is located just 45 minutes drive from Moalboal in South Cebu.
I recommend pre-booking a Kawasan Falls Tour Package online with Klook which includes return transfers from your accommodation in Moalboal so you won't need to worry about the logistics.
Click Here to book your Kawasan Falls Canyoneering Tour!
Upon arriving at the Kawasan Canyoneering Headquarters, we met our guide Raul who got us fitted into the required safety equipment such as water shoes, life jackets and helmets.
We took a ride on the back of a motorbike to the top of the mountain and before we knew it we were completely submerged in the first rock pool. Soon after, Raul made us sit down at the edge of a one-meter cliff before he gently pushed us backward over a small set of falls into another rock pool below. At this point, I knew we were in for an epic adventure!
We then continued navigating our way through knee-deep water that was as clear as crystal. The water trail took us through some amazing caves and natural rock slides. There were also numerous cliff jumps ranging anywhere from three metres up to fourteen metres. Do note that if you are afraid of heights you've always got the option to walk around the cliffs instead of jumping.
When you reach the end of the canyon it will bring you to the famous Kawasan Falls. You can spend as much time as you like at Kawasan Falls as there are about five different levels of waterfalls and several big cliff jumps to keep you entertained. There are also a few restaurants by the main waterfall to grab something to eat and drink at the end of your adventure.
Full Blog Post ∼ Kawasan Falls Canyoneering
Cliff jumping at Kawasan Falls – Cebu Waterfalls
Kawasan Canyoneering – Falls in Cebu
Kawasan Falls – Cebu Waterfalls
#2 AGUINID FALLS
Aguinid Falls is one of the most unique and exciting waterfalls in Cebu. The multi-tiered Aguinid Falls is one heck of an adventure and I highly recommend adding it to your list of things to do in Cebu!
Aguinid Falls is not quite as popular as Kawasan Falls just up the road, but the word is spreading quickly about this awesome Cebu waterfall and it is just as impressive, in my opinion.
Must Read → 3 Weeks Philippines Itinerary
Aguinid Falls is located in the small village of Samboan in South Cebu. From Oslob, it's a 30-minute drive and from Moalboal it's approximately 1 hour and 20 minutes drive to reach Aguinid Falls.
The entrance fee to Aguinid Falls is 300 pesos which includes compulsory safety equipment (wet shoes, helmet and life jacket), two guides and also the tip for the guides. It's definitely not the cheapest Cebu waterfall I've been to but the money spent was well worth the adventure!
As I mentioned earlier, Aguinid Falls in Cebu is a multi-tiered waterfall with eight levels of falls to be exact. Eight freakin' waterfalls, can you believe it?! Although the locals say there are eight levels of falls, only six levels are currently accessible as they are still working to improve the trail to the higher levels.
This is not your typical waterfall where you take a short trek in, go for a dip and take photos, but rather an epic and very physical adventure that involves jumping, climbing ropes and navigating your way through the cascading falls.
It took us around two hours to complete the Aguinid Falls tour but that included many stops to take photos. For the average person, it would take around one hour from start to finish.
Full Blog Post ∼ Aguinid Falls
Aguinid Falls – Best Cebu Waterfalls
Idyllic scenes at Aguinid Falls – Waterfalls in Cebu
Milky blue rock pools – Cebu Waterfalls
#3 BINALAYAN HIDDEN FALLS
Binalayan Falls, also referred to as Binalayan Hidden Falls, is one of the best Cebu waterfalls and I highly recommend adding it to your South Cebu itinerary!
See More ∼ 15 Things To Do In Cebu
Binalayan Falls is located in Samboan in South Cebu. From Oslob, it's a 30-minute drive and from Moalboal it's approximately 1 hour and 20 minutes drive to reach Binalayan Falls.
There are half a dozen waterfalls in Samboan, South Cebu so if you plan it right you can visit more than one waterfall in one day. An ideal one-day South Cebu itinerary from Moalboal is to first visit Aguinid Falls, secondly Binalayan Hidden Waterfalls and thirdly to Dau Falls.
The Binalayan Falls entrance fee is 60 pesos which includes a guide and there is also a 10 pesos parking fee. Tipping your guide is completely up to you, but somewhere between 50–100 pesos would do.
There are a number of water crossings on the way to the main set of falls at Binalayan so it's best to wear a pair of water shoes or flip flops because your feet will get wet.
The first tier at Binalayan Falls features a shallow crystalline rock pool, a rest area with some make-shift benches and a tire swing hung from a tree. It's definitely worth taking a short break here in this tranquil little section of the trek.
The main falls at Binalayan Waterfall boasts a 5oft tall rock face and the flow of water is divided into three separate streams that fill the basin beneath.
There is a cave behind the falls to which you can climb up to and jump from, but it's best to let your guide go first to show you how it's done.
The water is around two meters deep so I wouldn't recommend diving headfirst. I touched the sandy bottom with my feet when I jumped, even with my knees bent.
There is also a range of cliff jumping spots on the left-hand side of these Cebu falls, but even this is a bit sketchy due to the pool below being quite shallow. Only jump from a height you feel comfortable with, even if the guide encourages you to jump from a higher level just say no.
Apart from cliff jumping, you can hang out in the crystalline waters at the base of Binalayan Falls and explore the natural caves behind the falls.
Full Blog Post ∼ Binalayan Hidden Falls
Crystalline rockpools – Cebu Waterfalls
Tree swings at Binalayan Falls – Samboan Falls
Picturesque scenes along the trail – Falls in Cebu
A small cave behind these falls in Cebu
#4 DAO FALLS
My visit to Dao Falls in Samboan was low-key one of the best adventures I had in South Cebu and a visit to these Cebu waterfalls is an absolute must!
Dao Falls is best visited from Moalboal, which is 53km away and the drive takes around one hour and twenty minutes.
So what is so unique about Dao Waterfall? Well, to start with, it is recognised as the tallest set of falls in the Samboan region and secondly, the jungle trail trek to get to the main set of falls is an epic adventure in itself. Convinced?!
The entrance fee to Dao Falls is 60 pesos which includes a guide and the parking fee is an additional 10 pesos. The guide, in my opinion, was not really necessary as the trail to Dau Falls is clearly marked but he was good company and we tipped him at the end for his efforts.
Trekking to Dau Falls from the parking lot takes around twenty to thirty minutes including stops for photos. It isn't a difficult trek by any means though do note that your feet will get wet along this jungle trail. In most parts, it requires walking through knee-deep water and I recommend bringing a pair of slip-on waterproof shoes for these sections.
The first part of the trek to Dao Falls is a concrete staircase with around 200 steps that leads directly down into the valley and once you reach the bottom, this is where the real adventure begins!
An impressive bamboo suspension bridge surrounded by coconut palms stretches across the river and on the other side is the beginning of the jungle trail to Dau Waterfall.
It wasn't long until we were completely immersed in a dense jungle as we followed the canyon trail upstream which seemed to grow narrower the further we advanced. It was one of the most tranquil trails I have ever hiked along.
Vines cover the canyon walls and blue Gatorade colored waters cascade seamlessly past as we navigated our way towards Dao Waterfall.
The adventurous hike to Dao Falls, in my opinion, is what makes this location so unique. There are many turquoise rock pools along the way that are well worth stopping at for a quick dip and this is where you'll likely get your best photos.
When you reach the top you'll be graced with the epic sight of Dao Falls which towers 50-meters tall above the large catch basin. The pools at the base of the falls aren't quite as blue as the ones on the way up but it is still a worthy spot for a swim to cool off after the hike.
Full Blog Post ∼ Dao Falls
Dao Falls – Best Cebu Waterfalls
Bamboo bridge on the trail – Falls in Cebu
The main waterfall – Cebu Waterfalls
#5 INAMBAKAN FALLS
Inambakan Falls in Ginatilan makes it on to the Best Cebu Waterfalls list for a couple of good reasons! One is the blue gatorade-colored springs and jungle surrounds at this location and two because there are multiple levels at Inambakan Falls which makes this one of the most epic falls in Cebu to explore.
See More ∼ 15 Things To Do In Cebu
Inambakan Falls is located in the small village of Ginatilan in South Cebu. Inambakan Falls Ginatilan is best visited from the nearby beach town of Oslob, which is approximately a 45-minute drive. You can also visit Inambakan Falls from Moalboal and this drive takes around 1 hour and 15 minutes.
The entrance fee at Inambakan Falls is 50 pesos and an additional 10 pesos for parking.
The hike down to the main falls takes no more than 5 minutes from the jump-off point and the trail winds upstream until it emerges at the base of the 100-foot tall Inambakan Falls.
My favorite feature of Inambakan falls is the milky blue pool of water in the catch basin which gets its color from the limestone cliffs that surround the falls. It seriously looks inviting enough to drink!
Once you've taken a dip in the milky blue waters at the main set of falls, continue hiking along the trail and up the stairs to the next few levels of these Ginatilan Falls.
You can stop in at the second level of Inambakan which features a shallow rock pool right at the top of the main set of falls. Watch your step on the rocks at this spot as they are very slippery and it's a long way down if you fall.
At the level up from here was my favorite because there are several cliff jumping spots into a number of refreshing rock pools. I did a depth check first before throwing myself off different rocks into the crystalline waters of Inambakan Falls.
Continuing on, I followed the trail up a little higher to the top level of Inambakan Falls which features a large swimming hole and more cliff jumping spots. The lush jungle that surrounds the area contrasts beautifully off of the water and adds to the tranquility of this epic Cebu tourist spot.
Inambakan Falls was hands down one of my favorite adventures that I had while traveling around South Cebu and it's suitable for all sorts of travelers. If you're up for a full day of adventuring, definitely add Inambakan Falls to your list of Cebu waterfalls to visit!
Full Blog Post ∼ Inambakan Falls
Inambakan Falls – Cebu Waterfalls
Drone shot of Inambakan Falls – Waterfalls in Cebu
Rock jumping at Inambakan Falls – Cebu Waterfalls
#6 TUMALOG FALLS
Tumalog Falls in Oslob is also one of the most popular Cebu Waterfalls! A visit to Tumalog Falls is typically combined with the Oslob Whale Shark Tour which is another great activity you can add to your South Cebu itinerary!
There is one tour that I can recommend which is a full-day trip from Cebu City and it includes swimming with whale sharks in Oslob and a visit to Tumalog Falls.
This particular tour is the most top-rated Whale Shark + Tumalog Falls Tour with hundreds of great reviews and thousands of bookings.
Click Here to book the Whale Shark + Tumalog Falls Tour!
The Tumalog Falls entrance fee is 20 pesos if you plan to visit without a tour and opening times are Monday to Sunday from 6am to 5pm.
Tumalog Falls is quite unique, featuring a mellow curtain of water falling down the face of a monolithic limestone cliff. There is a large swimming area at the base of the falls where you can take a dip to cool off. The color of the water in the basin is that classic milky blue tinge that the Philippines is most famous for!
Tumalog Falls Oslob is surrounded by tall bamboo and mossy walls adding to the jungle vibes that you will find here. A large cave can also be found on the left-hand side of the falls if you wish to explore deeper and get another cool perspective of Tumalog Falls from inside.
There are change rooms and toilet facilities for guests to use and also a small sari sari store if you wish to buy some water and light snacks.
Full Blog Post ∼ Tumalog Falls
Tumalog Falls – Best Cebu Falls
Taking a dip at Tumalog Falls – Cebu Waterfalls
Marveling at Tumalog Falls – Falls in Cebu
CEBU WATERFALLS ON GOOGLE MAPS
HOW TO GET TO CEBU
Cebu Island is located in the Central Visayas region of the Philippines. Cebu island is very close to the neighboring islands of Bohol and Negros Oriental which can be easily reached by plane or ferry.
BY PLANE: 
There are daily flights to Cebu Mactan International Airport connecting domestic travelers from many destinations within the Philippines and also welcoming international arrivals from around the world.
Click here to search all flights to Cebu on Skyscanner
BY FERRY: 
There are many ferries operating in and out of Cebu Island which can be booked online in advance.
I always use 12 Go Asia to search and book all of my transportation within the Philippines and you can too by using the search box below.
BEST TIME TO VISIT CEBU
The best time to visit Cebu, weather-wise, is between April and July when temperatures are hot and there is barely any rainfall. This is also high season in Cebu, so expect to see many tourists during these months.
I recommend visiting Cebu on the shoulder months of the high season between November and March which sees a bit of rainfall but usually only lasts for a couple of hours and the rest of the day is sunny.
Try to avoid the typhoon season in Cebu which is between August and October.
See More ∼ 15 Things To Do In Cebu
WHERE TO STAY IN CEBU 
There are 2 main tourist areas to stay in when visiting Cebu Island, one is in Cebu City in Central Cebu and the second is in Moalboal in South Cebu.
Cebu City is located on the Central East Coast of the island and it's a great base for a day or two upon arriving and to explore some of the Cebu tourist attractions in the city.
However, the majority of places to visit in Cebu are in South Cebu and the best place to stay is in Moalboal which is located on the South East Coast of the island.
Cebu has hundreds of accommodation options to choose from, so I have narrowed it down to a few of the best places to stay in Cebu City and in Moalboal to fit the needs of budget backpackers and luxury travelers. See the list of accommodations below that I personally recommend:
ACCOMMODATIONS IN CEBU CITY
Luxury: Radisson Blu Cebu City
Radisson Blu Cebu is the best 5-star accommodation in Cebu City! The hotel is centrally and located features direct access to SM Mall, a large outdoor swimming pool, 3 dining options and close to the airport. The rooms offer panoramic views of the city and are fitted with flat-screen tv, large memory foam bed, 24 hour room service, air conditioning, spacious living and private bathroom. Breakfast is also included for all guests. Perfect for couples, families and friends.
Check prices on Agoda | Check prices on Booking.com
Mid Range: Cebu Parklane International Hotel
Parklane International Hotel is a very affordable 3-star accommodation in the heart of Cebu City. It is walking distance to Ayala Center and other nearby attractions. This property features an outdoor swimming pool, fitness centre with sauna, 3 dining options and free wifi. The rooms are spacious and fitted with air conditioning, flat-screen tv, work desk, sofa seating and private bathroom. In-room massage services may be arranged at an additional cost. Breakfast is also included for all guests! Recommended place to stay for couples, friends and families.
Check prices on Agoda | Check prices on Booking.com
Budget: Murals Hostel & Cafe
I personally stayed at Murals Hostel on several occasions and can't recommend this place enough! Murals actually have 3 properties in awesome locations, one is in Mactan near the airport and the other two are in the city center. There are dorm rooms, private rooms and capsule-style rooms available perfect for solo travelers, friends and couples. There is also a really great co-working space at Murals Hostel & Cafe with high-speed wifi! Mika, the owner, is the most genuine lady that I hope you will get the chance to meet and her staff are just as lovely who will make you feel right at home.
Check prices on Agoda | Check prices on Booking.com
ACCOMMODATIONS IN MOALBOAL
Luxury: Dolphin House Resort Moalboal
Dolphin House is the best luxury accommodation in Moalboal. A stone's throw away from the ocean, this accommodation offers a swimming pool, restaurant and bar, free wifi and ocean views. There are double rooms, triple rooms, family rooms and bungalows available at Dolphin House Resort. Snorkeling, diving, activities and bike rental can also be organised at reception. Best place to stay for families, friends and couples.
Check prices on Agoda | Check prices on Booking.com
Mid Range: Pescadores Seaview Suites
One of the most recommended places to stay in Moalboal. For less than $40 a night, Pescadores Suites offers double rooms, twin rooms and a garden villa. There is an outdoor swimming pool and sun terrace, restaurant, mini-market, table tennis, billiards, board games, karaoke room and wellness spa. Great place to stay for friends and couples.
Check prices on Agoda | Check prices on Booking.com
Budget: Chief Mau Hostel
The best budget accommodation in Moalboal! Centrally located just minutes from the beach, Chief Mau hostel offers dorm rooms and private rooms for as little as $8. There owner Trish is super lovely and goes out of her way to make all of her guests feel welcome and comfortable. There is a shared lounge with hammocks, billiards table and an in-house restaurant and bar serving up the best western food in Moalboal. There is free wifi throughout the property. Perfect for solo travelers and friends.
Check prices on Agoda | Check prices on Booking.com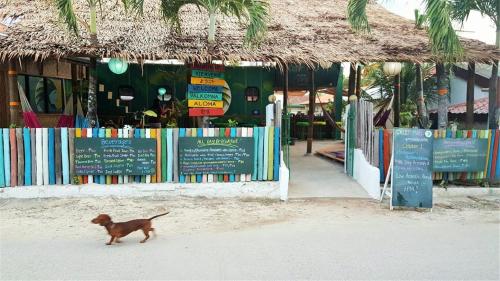 GETTING AROUND CEBU
There's a couple of options on how to get around Cebu Island Philippines and they are by public bus, taxi, grab taxi, scooter, habal habal (motorbike taxi), tricycle and Jeepney.
You can rent a scooter in Cebu City and Moalboal for as little as 300 pesos per day and make your own way around these two tourist destinations in Cebu.
If you are not confident driving a scooter, the other option is to ride in a taxi, grab taxi, public bus, Jeepney, tricycle or habal habal in the main city areas.
For the longer distance journeys, for example; Cebu City to Moalboal, Cebu City to Oslob or Cebu City to the north, it is best to take the public buses as opposed to riding a scooter or taking a taxi.
From Cebu City to South Cebu the journey time is around 3 hours on the bus and the cost is between 150-200 pesos.
If you are traveling to North Cebu to visit Malapascua Island, Kalanggaman Island and Bantayan Island the bus journey is around 4 hours and the cost is between 200-250 pesos.
Alternatively, it's possible to rent a car in Cebu and drive around the island at your own pace.
Search All ∼ Car Rentals in Cebu
Exploring Cebu Waterfalls by scooter
AIRBNB CEBU
Another option for accommodation in Cebu is to stay at an Airbnb, which generally has some great deals on Cebu Island.
Get your $40 Airbnb discount here!
MORE PHILIPPINES TRAVEL GUIDES
Philippines Travel Guide: 3 Weeks Philippines Itinerary
Cebu Travel Guide: 15 Things To Do In Cebu
Bohol Travel Guide: 31 Epic Things To Do In Bohol
Siargao Travel Guide: 15 Things To Do In Siargao
El Nido Travel Guide: El Nido Island Hopping
Coron Travel Guide: Coron Island Hopping
Boracay Travel Guide: 15 Things To Do In Boracay
Siquijor Travel Guide: 3 Day Siquijor Itinerary
Bantayan Island Guide: 15 Things To Do In Bantayan
Malapascua Island Guide: 11 Things To Do In Malapascua
Camiguin Travel Guide: 13 Best Camiguin Tourist Spots
Romblon Travel Guide: 12 Epic Things To Do In Romblon
Tablas Travel Guide: 10 Things To Do In Tablas
Carabao Travel Guide: 7 Best Things To Do In Carabao
Dumaguete City Guide: Best Dumaguete Tourist Spots
Sumilon Island Guide: Sumilon Island Itinerary
MY CAMERA GEAR
• DSLR Mirrorless Camera: Sony A7ii 
• Drone Camera: DJI Mavic Pro 2
• GoPro: GoPro Hero 8 Black
• Everyday Lens: Sony F2.8 24/70mm
• Camera Bag: Lowepro Protactic 31L
• Selfie Stick: Sandmarc Metal Edition 1.2m 
• Tripod: Joby Flexible GorillaPod
• GoPro Dome: Underwater GoPro Dome
• Power Bank: Anker Powerbank
• External Hardrive: WD Elements 4TB
WHAT TO PACK FOR PHILIPPINES?
• Waterproof Phone Case: Universal Waterproof Case
• Reusable Water Bottle: Hydro Flask Water Bottle
• Rain Jacket: North Face Rain Jacket
• Water Shoes: Slip-on Water Shoes
• Day Bag: Nomatic 20L Day Bag
• Power Adapter: Universal Power Adapter
• Packing Cubes: 4 Set Packing Cubes
• Microfibre Towel: Quick Dry Travel Towel
• Travel Insurance: World Nomads Travel Insurance
• Money Belt: Hidden Money Belt
I hope you enjoyed reading this article and if you have any questions at all about Cebu Waterfalls, please leave me a comment below and I will get back to you as soon as I can.
Happy Travels!