Green Bowl Beach, also known as Pantai Green Bowl, is one of the best beaches in Uluwatu, South Bali. Green Bowl Beach sits at the base of verdant cliffs next to a small village known as Ungasan.
I have put together this complete guide of Green Bowl Beach including how to get there and what to expect!
Have you got travel insurance for Bali? I know that nobody likes to talk about this stuff but accidents can happen and having World Nomads Insurance can save you thousands of dollars if something goes wrong.

HOW TO GET TO GREEN BOWL BEACH BALI
Green Bowl Beach is located on the east side of the Bukit Peninsula in Uluwatu.
If you are coming from Kuta, Seminyak or Canggu it is approximately a 1-hour to 1.5-hour journey to Green Bowl Beach (Pantai Green Bowl), depending on the traffic.
Scooter rental is typically 50,000 IDR per day or you can rent them on a monthly basis from anywhere between 600,000 IDR and 700,000 IDR.
Alternatively, if you are not comfortable driving a scooter, you can rent a car in Bali and head out to Green Bowl Beach on 4 wheels instead of 2.
Search All ∼ Car Rentals in Bali
PIN LOCATION OF GREEN BOWL BEACH
Drone shot of Green Bowl Beach
ARRIVING AT GREEN BOWL BEACH BALI
You will arrive at a large carpark at the top of the cliffs at Green Bowl Beach and have to pay a small parking fee of 2,000 IDR.
Small warungs and convenient shops line the edge of the carpark if you wish to grab a meal and drinks before heading down to Green Bowl Beach.
To access Green Bowl Beach, you will have to descend the 300 odd concrete steps down to the beach.
Mind your hat and any other loose items you may have on your person as the monkeys swinging around in the treetops are very cheeky and can potentially rob you.
Search All ∼ Hostels / Resorts / Villas in Uluwatu
The steps down to Pantai Green Bowl
Drone shot of Green Bowl Beach
WHAT TO EXPECT AT GREEN BOWL BEACH
The hike down to Green Bowl Beach can be daunting at first but once you make the hike down you will soon see why it is worth the adventurous efforts.
A small patch of glistening white sand, no more than fifty meters long, gives you a sense of being on a castaway island. The turquoise water to go with will have you in disbelief that Green Bowl Beach actually exists.
You can wander through the shallow waters and discover how incredibly crystal clear it was, practically so see-through and it seems as if the water isn't even there at all.
Apart from the pristine sandy shores, Green Bowl Beach is a popular spot for die-hard surfers. The reef break just offshore produces excellent swell and it is far less crowded than the more popular beaches Uluwatu Point and Padang Padang.
On low tide at Green Bowl Beach, you can wander around the caves and further down the coastline to discover other secluded sandy areas and dozens of rock pools.
Search All ∼ Hostels / Resorts / Villas in Uluwatu
The surf break at Green Bowl Beach Uluwatu
Crystal clear water at Pantai Green Bowl
Glistening white sand beach at Green Bowl Bali
Exploring the caves & rock pools at Green Bowl Beach
WHERE TO STAY NEAR PANTAI GREEN BOWL
Uluwatu has hundreds of accommodations to choose from so I have narrowed it down to a few of my personal favorite places to stay to suit the needs of luxury travelers and budget backpackers. See the list of accommodations below that I personally recommend:
Luxury: Canang Sari Villas
I've stayed at Canang Sari Villas a few times and it's one of the best 4-star accommodations in Uluwatu! Featuring 2-bedroom and 3-bedroom villas with private swimming pools, beautiful gardens, equipped kitchens, large living space, indoor and outdoor bathrooms, free wifi and ocean views. There is also a spa centre and squash court for guests to use. Close to beaches, cafes and shops. Perfect for families, friends and couples.
Check prices on Agoda | Check prices on Booking.com
Mid Range: Bukal Sari Villas Uluwatu
Awesome 3-star accommodation boasting a swimming pool, restaurant, gardens and outdoor swimming pool. There is free wifi and each room is spacious and modern with private bathrooms. Continental or à la carte breakfast is included for all guests. Close to Uluwatu Temple and beaches. Great for couples, families and friends.
Check prices on Agoda | Check prices on Booking.com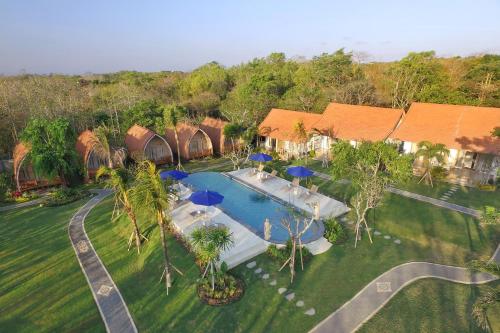 Budget: Bali Beats Guesthouse Uluwatu
One of the best budget accommodations in Uluwatu! Bali Beats features an outdoor swimming pool, garden terrace and free wifi. There are a restaurant and bar as well as a shared kitchen for guests to use. Close to beaches, cafes and restaurants. Perfect for solo travelers and friends on a budget.
Check prices on Agoda | Check prices on Booking.com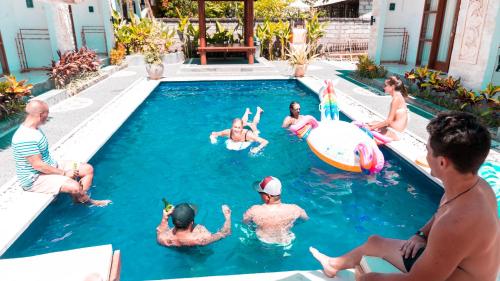 BEST TOURS IN BALI
Happy Adventuring!