Hakuba Ski Resorts in Nagano Prefecture are arguably the best ski resorts in the world, so much so that I have been back to visit on several occasions!
I spent two weeks snowboarding and exploring the mountains of Hakuba Valley and have put together this complete guide of Hakuba Ski Resorts to help you plan your trip!
HOW TO GET TO HAKUBA SKI RESORTS
I arrived at Narita International Airport, which is on the outskirts of Tokyo City and around 270km east of Hakuba Valley and Hakuba Ski Resorts.
There are a few options on how to get out to the Hakuba Ski Resorts from the airport:
Train/Bus:
This trip includes taking a train from Narita to Tokyo (or Ueno), then a bullet train (Shinkansen) to Nagano, and then a bus to Hakuba Ski Resorts. This is the fastest route.
From the Tokyo International Airport, the total trip takes about 3.5 to 4 hours depending upon connection timing.
The other advantage of taking the trains is that it's a great insight into a part of the Japanese culture. This trip costs approximately $80
Buy Now ∼ Japan Rail Pass
Direct Transfer From Tokyo Airports:
This involves getting a shuttle bus or shared taxi transfer directly from Narita Airport to Hakuba Ski Resorts, which tends to cost a little more than the train/bus combo.
This trip takes longer, about 5 to 6 hours, but it provides the advantage of not having to lug your bags around the train stations, on and off trains and buses, or grapple with train fares and timetables.
On the mountain – Hakuba Ski Resorts
Hakuba Ski Resorts
WHERE TO STAY IN HAKUBA
There is no shortage of accommodation in Hakuba but it is always best to book in advance, especially in the winter months between December and April, as places tend to book out fast.
I personally stayed at Kokoro Hotel Hakuba and can't recommend this place enough! The staff here are very friendly and the hotel has a bar, restaurant, Onsen and dry room. The rooms are cozy and spacious with heating, flat-screen tv, private bathroom, tea/coffee making facilities and comfortable beds! Kokoro is nearby to shops, bars, restaurants and it's within walking distance to Happo-One Ski Resort.
Check prices on Agoda | Check prices on Booking.com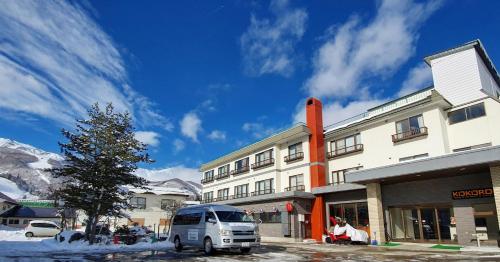 GETTING AROUND HAKUBA SKI RESORTS
There are 10 Hakuba Ski Resorts in the valley of Hakuba and each mountain is amazing in its own way.
Free shuttle buses operate every hour between all of the Hakuba Ski Resorts but make sure to be on time, as the Japanese are very punctual and will stick to an efficient 'on the dot' schedule. Timetables can be found at your accommodation or at guest services in each resort.
LIFT TICKETS & RENTAL SHOPS
Hakuba Valley Lift Passes can be purchased from the ticket counters at each resort on the day and prices vary between each ski resort. I would recommend purchasing the "Hakuba Valley Pass" which allows you to ski at different Hakuba Ski Resorts each day using this all-in-one pass.
Click Here to see the prices on Klook.com
Rental Shops are scattered everywhere around Hakuba but I would personally recommend Spicy Rentals for quality gear at a reasonable price. You can find a Spicy store at Goryu, Happo-one and Iwatake.
Carving up the mountains – Hakuba Ski Resorts
Hakuba Ski Resorts Accommodation
TOP 5 HAKUBA SKI RESORTS
Hakuba Goryu
This Hakuba Ski Resort offers wide-open terrain with great grooming and some nice top to bottom powder runs.
There is a small terrain park for beginners at the bottom of the gondola.
Great back-country access from the top lift and easily accessible tree runs.
Escal Plaza (base station) is the most modern facility in Hakuba, with restaurants, ski retail and hire.
Hakuba 47
Goryu and 47 are interlinked mountains giving you the option to access two wide-open ski areas.
Hakuba 47 features the best terrain park in Hakuba. 47 also has designated tree areas for club members to access only. To gain access to the trees, there is a twenty-minute crash course available every day at Hakuba 47 sports center located at the base of the gondola.
After the course, you are eligible to ride the tree areas which hold some of the best powder I have ever experienced.
Happo-One
This is the central hub of Hakuba Valley and the most popular Hakuba Ski Resort.
The mountain is home to the largest above treeline lift in Japan. The groomed runs have a reputation for being long and fast. The only downside to Happo-one is the crowds, being the central mountain in Hakuba Valley.
Iwatake
Iwatake proudly boasts one of the most breathtaking views of the Northern Alps Hakuba, including a 360°panoramic view of the surrounding mountains.
All twenty-six courses have their own unique features. From tree runs to long groomed cat tracks and a small terrain park. This Hakuba Ski Resort has something for everyone.
Cortina
Cortina Ski Resort is known for the largest quantity of snowfall in Hakuba. This is the resort to hit for some deep powder runs after a heavy snowfall.
Cortina also has the steepest inbound terrain and some epic tree riding areas. Cortina is the most northern mountain in the valley and takes longer to get here from central Hakuba, but it is definitely worth the trip.
HAKUBA SKI RESORTS MAP
On the lift up – Hakuba Ski Resorts
Shredding the terrain park – Hakuba Ski Resorts
OTHER THINGS TO DO IN HAKUBA VALLEY
As you probably know by now, Hakuba Valley is a mecca of Alpine Ski Resorts attracting people from all over the world to experience the world-class, quality snow! Though apart from skiing and snowboarding there are a few other activities available.
ONSENS
A personal favorite of mine is to visit one of the many Onsens spread out around the resorts. An Onsen is a Japanese hot spring which is natural hot water from geothermally-heated springs.
It is essentially a bathing house where there are indoor and outdoor springs to soak in. Traditionally, the baths are segregated between male and female and you have to enter the springs completely nude.
To some, this sounds out of their comfort zone but you will get used to it after you visit once or twice. A perfect way to relax and soothe your muscles after a big day on the mountain.
SNOW MONKEYS & TEMPLES
There are also day tours available to go visit the wild Snow Monkeys and Zenkoji Temple. The price is a little bit excessive if traveling on a budget, but it's also a once in a lifetime opportunity to see these majestic alpine snow monkeys face to face.
Snow monkeys in their natural habitat
Hakuba Ski Resorts
Have you got travel insurance for Japan? I know that nobody likes to talk about this stuff but accidents can happen and having World Nomads Insurance can save you thousands of dollars if something goes wrong.

MY CAMERA GEAR
• DSLR Mirrorless Camera: Sony A7ii
• Drone Camera: DJI Mavic Pro 2
• GoPro: GoPro Hero 7 Black
• Everyday Lens: Sony F2.8 24/70mm
• Camera Bag: Lowepro Protactic 31L
• Selfie Stick: Sandmarc Metal Edition 1.2m
• Tripod: Joby Flexible GorillaPod
• GoPro Dome: Underwater GoPro Dome
• Power Bank: Anker Powerbank
• External Hardrive: WD Elements 4TB
WHAT TO PACK FOR JAPAN?
• Waterproof Phone Case: Universal Waterproof Case
• Reusable Water Bottle: Hydro Flask Water Bottle
• Rain Jacket: North Face Rain Jacket
• Day Bag: Nomatic 20L Day Bag
• Power Adapter: Universal Power Adapter
• Packing Cubes: 4 Set Packing Cubes
• Microfibre Towel: Quick Dry Travel Towel
• Travel Insurance: World Nomads Travel Insurance
• Money Belt: Hidden Money Belt
Thanks for reading this article and I hope it finds you well on your next snow adventure to Hakuba Ski Resorts. Please feel free to drop me a comment below for any questions you may have.
Happy Snowboarding ❄️