Kawasan Falls Canyoneering in Badian, Cebu is the most adrenaline-pumping adventure to be had in the Philippines. Whether it's your first time canyoneering or not, the Kawasan Falls Tour is not to be missed on your South Cebu itinerary!
I booked my Canyoneering at Kawasan Falls tour online for less than $50.
Have you got travel insurance for Philippines? I know that nobody likes to talk about this stuff but accidents can happen and having World Nomads Insurance can save you thousands of dollars if something goes wrong. 

WHERE IS KAWASAN FALLS
Kawasan Falls is located 120km south of Cebu City in the Badian region. From Cebu City to Kawasan Falls it is approximately a three-hour drive.
Though the majority of people visiting Cebu Kawasan Falls choose to stay a couple of days in the beachside town of Moalboal which is located just forty minutes drive north of Badian.
Search All ∼ Accommodation in Moalboal
HOW TO GET TO KAWASAN FALLS 
I recommend pre-booking a Kawasan Falls Tour Package online which includes return transfers from your accommodation so you won't need to worry about the logistics.
Click Here to book your Kawasan Falls Canyoneering Tour!
If you don't book online, the other option is to find your own way to the entrance of Kawasan Falls in Badian and here you can find many different Kawasan Canyoneering Tour Companies to book on the spot with cash.
The best way to reach Kawasan Waterfalls is to rent a scooter in Moalboal and make the forty-minute drive south to Badian. There are scooter rental stores located in Moalboal where you can get your hands on some wheels for around 400 pesos per day.
Alternatively, there is a public bus to Kawasan Falls from Moalboal which stops at the entrance and the cost of the bus is around 20 pesos.
KAWASAN FALLS ENTRANCE FEE
The Kawasan Canyoneering price is $30 if you book the tour online and this includes transport, an experienced tour guide and the entrance fee.
If you plan to visit on your terms without doing the canyoneering, the Kawasan Falls entrance fee is 45 pesos.
Geared up and ready to go! – Kawasan Falls Canyoneering
Here's a teaser of what to expect – Kawasan Falls Cebu
ARRIVING AT KAWASAN CANYONEERING
Upon arriving at the Kawasan Canyoneering Headquarters, we met our guide Raul who got us fitted into the required safety equipment such as water shoes, life jackets and helmets. We were also provided with a water bottle that slotted into our life jackets which came in handy as the Badian Canyoneering is thirsty work!
I left my bag in the safety lockers at headquarters and packed my GoPro camera and 200 pesos in cash into a dry-bag which they provided. There is a make-shift snack store selling cold drinks and bbq goods at the halfway point in the canyon, so you may want to take some money with you.
After a quick souvenir photo under the Kawasan Canyoneering sign, we jumped on the back of a habal-habal (motorbike taxi) for a ten-minute drive uphill to the trailhead of the canyoneering adventure.
As soon as we arrived at the top of the hill, we were given a quick safety briefing of what to expect down in the Badian canyon. We then we followed our guide Raul along a jungle trail to the top of Canlaob River and this is where the Kawasan Canyoneering begins!
Book Now → Kawasan Falls Canyoneering
Riding our Habal-Habal to the top
The jungle trail to the beginning of Badian Canyoneering
KAWASAN FALLS CANYONEERING – WHAT TO EXPECT
Before we knew it we were completely submerged in the first rock pool. Soon after, Raul made us sit down at the edge of a one-metre cliff before he gently pushed us backwards over a small set of falls into another rock pool below. At this point, I knew we were in for an epic adventure!
We then continued navigating our way through knee-deep water that was as clear as crystal. Our guide Raul was very cautious and always provided a helping hand through the slippery trails. He also kept asking us throughout the whole trail whether we were doing alright and he provided us with the best instructions of where and when to jump in order to keep us safe.
The water trail took us through some amazing caves and natural rock slides. There were also numerous cliff jumps ranging anywhere from three metres up to fourteen metres.
It is also important to note that if you are afraid of heights you've always got the option to walk or climb down the cliffs instead of jumping. In fact, most of the guides walk the entire trail without jumping.
If you plan on visiting a lot of waterfalls in the Philippines, I recommend purchasing these three items:
This is the waterfall Raul pushed us over backwards
Navigating our way through the Badian Canyon
Kawasan Falls Canyoneering
CANYONEERING AT CEBU KAWASAN FALLS – CONTINUED
The trail on the Badian canyoneering adventure will take you through the most tranquil scenery and you might want to stop at a couple of places to take a few pictures if you brought a waterproof camera along with you.
When you reach the end of the canyon it will bring you to the famous Kawasan Falls Cebu. You can spend as much time as you like at the Kawasan Falls as there are about five different levels of waterfalls and several big cliff jumps to keep you entertained. There are also a few restaurants by the main waterfall to grab something to eat and drink.
Click Here to book your Kawasan Falls Canyoneering Tour!
As we had already explored Kawasan Falls in Badian earlier that morning, we decided to avoid the crowds and instead make our way back to the Kawasan Canyoneering headquarters.
Raul got us to jump into the back of a tricycle at the entrance to the falls for a short two-minute drive back to headquarters. Once we got back to the registration office we had time to freshen up in the showers and put on dry clothes before being served up a delicious lunch!
The Canyoneering at Kawasan Falls experience took us around four hours from start to finish.
I highly recommend anyone that plans to visit Moalboal to add the Kawasan Falls Tour to your South Cebu itinerary. It is a very memorable, fun and adrenaline-driven activity that will leave you feeling pretty exhausted but super happy and content!
Epic rock pools on the Kawasan Falls Tour
Snack shops at the halfway point – Kawasan Falls Canyoneering
More waterfalls at Cebu Kawasan Falls
Tranquillity at its finest! – Kawasan Falls
The main attraction at Cebu Kawasan Falls
Unreal scenes at Cebu Kawasan Falls
KAWASAN FALLS LOCATION
WHERE TO STAY IN MOALBOAL
Moalboal has hundreds of accommodation options to choose from, so I have narrowed it down to a few of the best places to stay in Moalboal to fit the needs of budget backpackers and luxury travelers. See the list of accommodations below that I personally recommend:
Luxury: Dolphin House Resort Moalboal
Dolphin House is the best luxury accommodation in Moalboal. A stone's throw away from the ocean, this accommodation offers a swimming pool, restaurant and bar, free wifi and ocean views. There are double rooms, triple rooms, family rooms and bungalows available at Dolphin House Resort. Snorkeling, diving, activities and bike rental can also be organised at reception. Best place to stay for families, friends and couples.
Check prices on Agoda | Check prices on Booking.com
Mid Range: Pescadores Seaview Suites
One of the most recommended places to stay in Moalboal. For less than $40 a night, Pescadores Suites offers double rooms, twin rooms and a garden villa. There is an outdoor swimming pool and sun terrace, restaurant, mini-market, table tennis, billiards, board games, karaoke room and wellness spa. Great place to stay for friends and couples.
Check prices on Agoda | Check prices on Booking.com
Budget: Chief Mau Hostel
The best budget accommodation in Moalboal! Centrally located just minutes from the beach, Chief Mau hostel offers dorm rooms and private rooms for as little as $8. There owner Trish is super lovely and goes out of her way to make all of her guests feel welcome and comfortable. There is a shared lounge with hammocks, billiards table and an in-house restaurant and bar serving up the best western food in Moalboal. There is free wifi throughout the property. Perfect for solo travelers and friends.
Check prices on Agoda | Check prices on Booking.com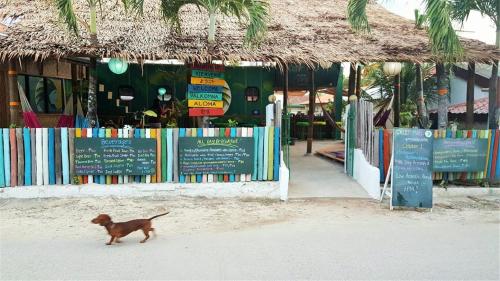 BEST TOURS IN CEBU
AIRBNB CEBU
Another option for accommodation in Cebu is to stay at an Airbnb, which generally has some great deals in Cebu.
Get your $40 Airbnb discount here!
MORE PHILIPPINES TRAVEL GUIDES
Philippines Travel Guide: 3 Weeks Philippines Itinerary
Cebu Travel Guide: 15 Things To Do In Cebu
Bohol Travel Guide: 31 Epic Things To Do In Bohol
Siargao Travel Guide: 15 Things To Do In Siargao
El Nido Travel Guide: El Nido Island Hopping
Coron Travel Guide: Coron Island Hopping
Boracay Travel Guide: 15 Things To Do In Boracay
Siquijor Travel Guide: 3 Day Siquijor Itinerary
Bantayan Island Guide: 15 Things To Do In Bantayan
Malapascua Island Guide: 11 Things To Do In Malapascua
Camiguin Travel Guide: 13 Best Camiguin Tourist Spots
Romblon Travel Guide: 12 Epic Things To Do In Romblon
Tablas Travel Guide: 10 Things To Do In Tablas
Carabao Travel Guide: 7 Best Things To Do In Carabao
Dumaguete City Guide: Best Dumaguete Tourist Spots
Sumilon Island Guide: Sumilon Island Itinerary
MY CAMERA GEAR
• DSLR Mirrorless Camera: Sony A7ii 
• Drone Camera: DJI Mavic Pro 2
• GoPro: GoPro Hero 8 Black
• Everyday Lens: Sony F2.8 24/70mm
• Camera Bag: Lowepro Protactic 31L
• Selfie Stick: Sandmarc Metal Edition 1.2m 
• Tripod: Joby Flexible GorillaPod
• GoPro Dome: Underwater GoPro Dome
• Power Bank: Anker Powerbank
• External Hardrive: WD Elements 4TB
WHAT TO PACK FOR PHILIPPINES?
• Waterproof Phone Case: Universal Waterproof Case
• Reusable Water Bottle: Hydro Flask Water Bottle
• Rain Jacket: North Face Rain Jacket
• Water Shoes: Slip-on Water Shoes
• Day Bag: Nomatic 20L Day Bag
• Power Adapter: Universal Power Adapter
• Packing Cubes: 4 Set Packing Cubes
• Microfibre Towel: Quick Dry Travel Towel
• Travel Insurance: World Nomads Travel Insurance
• Money Belt: Hidden Money Belt
I hope you enjoyed reading this article and if you have any questions at all about Kawasan Falls Canyoneering, please leave me a comment below and I will get back to you as soon as I can.
Happy Canyoneering! 😃
↓ PIN IT FOR LATER ↓