Swimming with whale sharks in Cebu is one of the main tourist attractions in the Philippines. Even though it's a controversial activity it is also a very unique experience. The Oslob Whale Shark experience is rated as one of the best places to swim with whale sharks in the Philippines.
I have put together this guide of the Oslob Whale Shark experience including where to book and what to expect.
Search All ∼ Flights to Cebu on Skyscanner.com
Have you got travel insurance for Philippines? I know that nobody likes to talk about this stuff but accidents can happen and having World Nomads Insurance can save you thousands of dollars if something goes wrong. 

OSLOB WHALE SHARK TOUR – WHERE TO BOOK
I personally booked my Cebu Whale Shark Tour online in advance with Klook.
This particular tour is the most top-rated Oslob Whale Shark Tour in Cebu with hundreds of great reviews and thousands of bookings.
You can Click Here to see what other travelers are saying about the Oslob Whale Shark experience!
The tour to see the Cebu Whale Shark includes the following:
Hotel pick-up from Cebu City or Mactan between 4:00am and 5:00am
3-hour scenic coastal drive to Oslob
All entrance fees and snorkeling fees
30 minutes snorkeling with the Oslob Whale Sharks
A visit to Tumalog Falls
Return transfers back to your hotel in Cebu City
Click Here to check availability and rates.
Swimming with whale sharks Cebu
ARRIVING AT THE OSLOB WHALE SHARK EXPERIENCE
I arrived at the Oslob whale shark watching area at around 7 am and was surprised by how many tourists were already here. I visited the Oslob whale sharks in the low season at the beginning of October, so I can only imagine how busy it must get during high season.
There's a real administrative system at the whale sharks Cebu facility which includes you having to 'sign in' and write down your name, being assigned a number, watching the whale shark briefing and after getting your lifejacket and snorkeling gear before jumping into the boat.
The Oslob whale shark watching briefing made it clear that the local government is trying to regulate this Cebu tourist attraction by imposing heavy penalties if you don't maintain 5 – 7 meters distance between yourself and the whale sharks. You will also be asked to wash off any sunscreen and lotions before entering the water.
However, in reality, no one maintains a 5 – 7 meter distance between the Oslob whale sharks and there are simply too many tourists in the water, so the occasional accidental touching of the whale sharks is inevitable.
Search All ∼ Accommodation in Oslob
Whale Sharks Cebu interesting facts
A baby whale shark and its mother
CEBU WHALE SHARKS – WHAT TO EXPECT
Every morning between the hours of 6am and 12pm, local Filipino fishermen feed the whale sharks close by to the shore. Small wooden boats then chauffeur tourists out to where it's possible to jump in the water and swim with the whale sharks.
Depending on how busy it is, the waiting time could be anywhere between 30 minutes and 1 hour before your number gets called to jump in the boat and head out to see the Oslob whale sharks.
The Oslob whale shark watching area is no further than 50 meters from the beach. Before you know it you will arrive at the spot and the boatman will tell you to jump into the water. As soon as you dive off the boat you will encounter these beautiful gentle giants face to face.
Heading to Philippines? ∼ Philippines Packing List
Selfie with the Oslob whale shark
The incredible Oslob Cebu whale shark
SWIMMING WITH WHALE SHARKS IN CEBU
Make sure to be mindful of your surroundings when swimming with the Oslob whale sharks so that you don't accidentally touch them or kick them by accident as they are not shy and will swim right up next to the boat.
It is best to try and go a bit further away from the boats to get an actual chance to swim together next to the whale shark. I saw about a dozen Oslob whale sharks during the 30 minutes that I was snorkeling in the water.
In my opinion, the whole swimming with whale sharks in Cebu experience wasn't long enough and I would have loved to spend more time in the water admiring these beautiful creatures.
Search All ∼ Car Rentals in Cebu
Face to face with an Oslob whale shark
Is it safe to swim with whale sharks?
A common question that gets asked is if it's safe to go swimming with whale sharks in Cebu and the answer is Yes, 100%.
Even though whale sharks are the biggest fish in the ocean that can grow up to 32ft and weigh 200 tonnes, they are very humble creatures and there's nothing to be afraid of.
Whale sharks are filter feeders which means they swim with their mouth wide open when feeding on plankton and other small fish before filtering out excess saltwater. They don't like the taste of humans!
Book Now ∼ Oslob Whale Shark Tour
The biggest whale shark in Cebu that I saw
VISITING TUMALOG FALLS
When booking the Oslob Whale Shark tour online with Klook, this will also include a short visit to Tumalog Falls which is one of the best waterfalls in Cebu!
Book Now ∼ Oslob Whale Shark Tour
It's a short 5 to 10 minute drive from Oslob town to reach the jump-off point at Tumalog Falls. From here, the road down to the falls is very steep and cars are not able to drive down so you will have to walk around 10 minutes.
Alternatively, you can jump on the back of a habal habal to take you down the hill to the entrance of Tumalog Falls which is an additional 50 pesos.
Tumalog Falls is quite unique, featuring a mellow curtain of water falling down the face of a monolithic limestone cliff. There is a large swimming area at base of the falls where you can take a dip to cool off.
Tumalog Falls is surrounded by tall bamboo and mossy walls adding to the jungle vibes that you will find here. A large cave can also be found on the left-hand side of the falls if you wish to explore deeper and get another cool perspective of the falls from inside.
Once you've had your waterfall fix, it's time to head back to the car and make the 3 – 4 hour return journey back to Cebu City which will conclude the whale sharks Oslob tour.
Tumalog Falls
Swimming at Tumalog Falls Cebu
SHOULD I DO THE OSLOB WHALE SHARK WATCHING?
The whale sharks Cebu activity has been controversial since it started. I would much rather see the whale sharks in their natural habitat without the feeding of them and without crowds of tourists.
However, the community in Oslob seems to be working hard to control and educate the crowds, and limit impacts on the Cebu whale sharks themselves.
I've listed some bullet points below that might help you decide whether to go or not go and swim with the whale sharks in Cebu.
• Whale sharks are a protected species in the Philippines and it is illegal to harass them. However, many tourists don't follow the whale shark interaction code of conduct and there are many active touches happening with the whale sharks.
• The everyday feeding in Oslob is teaching whale sharks that boats and humans mean food which is causing them to approach every boat they see instead of avoiding them.
• Contact with boats and humans will lead to infection in whale sharks as they are not used to being exposed to human bacteria.
• Whale sharks are a highly migratory species and not meant to be domesticated living close by shores as they are in Oslob. The change in their migratory patterns could affect the future breeding prospect from fulfilling their biological purpose.
• The whale sharks in Cebu are being fed poorly by the boatmen as opposed to what they would naturally eat in a natural high-plankton environment.
• Whale sharks are migratory and you can see them in other parts in the Philippines. In fact, 3 weeks later I saw a whale shark in its natural habitat by the blue hole in Tablas island and it was the most magical experience ever.
Must Read → 3 Weeks Philippines Itinerary
Cebu swim with whale sharks
WHERE TO STAY IN OSLOB
If you don't want to return to Cebu City and wish to stay in Oslob this can be done as there are dozens of accommodation options to choose from. I have narrowed it down to a few of the best places to stay in Oslob to fit the needs of budget backpackers and luxury travelers. See the list of accommodations below that I personally recommend:
Luxury: Oslob Whale Shark Resort
The Oslob Whale Shark Resort is one of the best accommodations in Oslob. Featuring a restaurant, sun terrace, outdoor swimming pool, shared lounge and a private beach. There are deluxe rooms and family rooms available each fitted with a flat-screen tv, large bed, spacious living, free wifi and private bathroom. Continental breakfast is also included for all guests. Perfect for families, couples, and friends.
Check prices on Agoda | Check prices on Booking.com
Mid Range: Ocean View Lodging House
Ocean View Lodging House is a value pick accommodation in Oslob. Located close to the Oslob Whale Sharks, this property offers unbeatable seaside rooms and free wifi. There are double rooms, family rooms and quadruple rooms available to choose from. Each room has air-conditioning, spacious living, private bathroom and ocean views. Perfect place to stay for families, couples and friends.
Check prices on Agoda | Check prices on Booking.com
Budget: La Lune Oslob Hostel 
The best budget hostel in Oslob with great reviews anf located in the center of town close to the Oslob Whale Sharks. This property offers a shared lounge and free wifi. There are mixed dorms, female dorms and a quadruple room available to choose from with a shared bathroom. It's basic but perfect for solo travelers and couples.
Check prices on Agoda | Check prices on Booking.com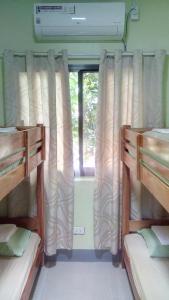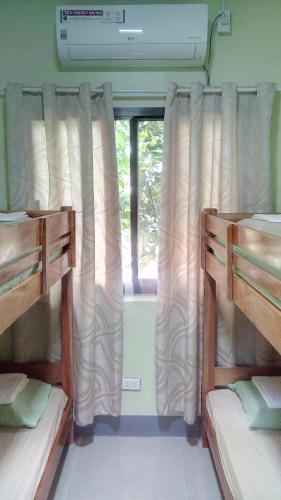 AIRBNB OSLOB
Another option for accommodation in Oslob to stay at an Airbnb, which generally has some great deals in Oslob.
Get your $40 Airbnb discount here!
MORE PHILIPPINES TRAVEL GUIDES
Philippines Travel Guide: 3 Weeks Philippines Itinerary
Cebu Travel Guide: 15 Things To Do In Cebu
Bohol Travel Guide: 31 Epic Things To Do In Bohol
Siargao Travel Guide: 15 Things To Do In Siargao
El Nido Travel Guide: El Nido Island Hopping
Coron Travel Guide: Coron Island Hopping
Boracay Travel Guide: 15 Things To Do In Boracay
Siquijor Travel Guide: 3 Day Siquijor Itinerary
Bantayan Island Guide: 15 Things To Do In Bantayan
Malapascua Island Guide: 11 Things To Do In Malapascua
Camiguin Travel Guide: 13 Best Camiguin Tourist Spots
Romblon Travel Guide: 12 Epic Things To Do In Romblon
Tablas Travel Guide: 10 Things To Do In Tablas
Carabao Travel Guide: 7 Best Things To Do In Carabao
Dumaguete City Guide: Best Dumaguete Tourist Spots
Sumilon Island Guide: Sumilon Island Itinerary
MY CAMERA GEAR
• DSLR Mirrorless Camera: Sony A7ii 
• Drone Camera: DJI Mavic Pro 2
• GoPro: GoPro Hero 8 Black
• Everyday Lens: Sony F2.8 24/70mm
• Camera Bag: Lowepro Protactic 31L
• Selfie Stick: Sandmarc Metal Edition 1.2m 
• Tripod: Joby Flexible GorillaPod
• GoPro Dome: Underwater GoPro Dome
• Power Bank: Anker Powerbank
• External Hardrive: WD Elements 4TB
WHAT TO PACK FOR PHILIPPINES?
• Waterproof Phone Case: Universal Waterproof Case
• Reusable Water Bottle: Hydro Flask Water Bottle
• Rain Jacket: North Face Rain Jacket
• Water Shoes: Slip-on Water Shoes
• Day Bag: Nomatic 20L Day Bag
• Power Adapter: Universal Power Adapter
• Packing Cubes: 4 Set Packing Cubes
• Microfibre Towel: Quick Dry Travel Towel
• Travel Insurance: World Nomads Travel Insurance
• Money Belt: Hidden Money Belt
I hope you enjoyed reading this article and if you have any questions at all about Cebu Whale Sharks, please leave me a comment below and I will get back to you as soon as I can.
Happy Travels!