Pura Lempuyang Temple is an ancient Hindu temple that sits on the highest peak of Mount Lempuyang and it's said to be the most Instagrammed location in Bali.
I have put together this complete guide of Lempuyang Temple with everything you need to know on how to get to Pura Lempuyang, how much it costs, the best time to visit and what to expect!
Have you got travel insurance for Bali? I know that nobody likes to talk about this stuff but accidents can happen and having World Nomads Insurance can save you thousands of dollars if something goes wrong.

WHERE IS PURA LEMPUYANG
Pura Lempuyang Temple is located on the far east corner of Bali in Karangasem.
From Canggu, it's approximately a 2.5 hour drive to reach Pura Lempuyang Temple or if you happen to be in Ubud, it's a shorter distance which takes around 2 hours.
I can also recommend spending a couple of days in the small coastal town of Amed when visiting Pura Lempuyang and it's only a 30 minute drive to the temple from there.
HOW TO GET TO LEMPUYANG TEMPLE
The best way to get to Pura Lempuyang Bali is on a scooter. You can rent scooters in the main tourist hubs throughout Bali including Canggu, Seminyak, Kuta, Denpasar, Ubud, and Uluwatu.
Scooter rental is typically 50,000 IDR per day or you can rent them on a monthly basis from anywhere between 600,000 IDR and 700,000 IDR.
Alternatively, if you are not comfortable driving a scooter, you can rent a car in Bali and head out to Pura Lempuyang Luhur on 4 wheels instead of 2.
Search All ∼ Car Rentals in Bali
Sunrise at Lempuyang Temple
Pura Lempuyang Temple
LEMPUYANG TEMPLE TOUR
Another alternative to visiting Pura Lempuyang Temple is to book a full-day tour to see the highlights in East Bali.
The East Bali Private Instagram Tour is the most top-rated tour with great reviews and hundreds of bookings.
This tour covers the top Instagram spots in East Bali including Bukit Cinta, Pura Lempuyang Temple, Tirta Gangga Water Temple, Taman Soekasada Ujung and Virgin Beach.
All this for less than $40 USD.
Book Now ∼ East Bali Instagram Tour
PURA LEMPUYANG OPENING TIMES
Lempuyang Temple is open 7 days a week from 7:00 am to 5:00 pm.
Although you want to aim to arrive at Pura Lempuyang much earlier at around 5:00 am. Due to its popularity, many tourists will start queuing at the entrance to the temple to be the first to get up to the viewpoint.
For worshipping purposes, Pura Lempuyang is open 24 hours a day 7 days a week.
LEMPUYANG TEMPLE ENTRANCE FEE
The entrance fee at Pura Lempuyang is by donation only so you can choose how much you would like to pay to enter Lempuyang Temple. We paid 10,000 IDR so something around that price is acceptable.`
There is an additional fee for parking your scooter or car which is 5,o00 IDR.
A sarong is also required to be worn around your legs and your shoulders must be covered when visiting the ancient Pura Lempuyang Temple.
If you don't have a sarong to wear you can rent them for 10,000 IDR at the ticket office before heading up the stairs to Pura Lempuyang.
BEST TIME TO VISIT PURA LEMPUYANG TEMPLE
Ideally, it's best to visit Lempuyang Temple in the early hours of the morning for sunrise, though as I mentioned earlier this will be the busiest time of the day.
The famed 'Gateway To Heaven' has become an internet legend thanks to everyone's favorite app Instagram so you can expect it to be crowded nowadays.
If you want to experience Lempuyang Temple without the crowds I would recommend planning your visit in the late afternoon during sunset as most of the day-trippers would have been and gone by that time.
Must Read → 2 Week Bali Itinerary
The ticket office at Lempuyang Temple
The stairs leading up to Pura Lempuyang
WHAT TO EXPECT AT LEMPUYANG TEMPLE
Mountain Lempuyang features an entire complex of 7 temples, though Lempuyang Temple is by far the most popular with its towering white stone gates that frame Mount Agung in the background.
You can explore the multiple tiers at Pura Lempuyang, starting on the lower level and making your way up the stairs to the upper level to where you can find the famous Bali Gateway to Heaven.
There are a number of stone sculptures along the path leading up to the temple which have been hand-carved by some very talented architects. The fine detail and the number of hours that go into the creation of these ancient religious sites around Bali are impressive, to say the least!
In fact, when I visited Pura Lempuyang I saw construction workers doing some renovations and new carvings on Lempuyang Temple. It was actually really interesting to see the workers hand carving the stone statues leading up to the Bali Gateway to Heaven.
As you reach the top of the stairs you will be greeted by a local man in the courtyard of Pura Lempuyang. He will softly splash some water on your forehead as a blessing before entering the open-air temple.
Must Read → 2 Week Bali Itinerary
Water blessings at Pura Lempuyang Luhur
Hand carving at Lempuyang Temple
PURA LEMPUYANG TEMPLE COMPLEX
Pura Lempuyang Luhur is one of the most highly regarded temples in Bali and you will see just how impressive it is when you step foot into the courtyard of temples.
The Pura's, or temples, that you will see in the Lempuyang Temple complex have been impressively hand-carved out of stone and decorated with colorful fabrics. These often get overlooked because the main attraction is, of course, the Bali Gateway to Heaven.
Once you have got your picture taken in front of the Bali Gateway to Heaven, I urge that you spend some time exploring the other sites inside the Lempuyang Temple complex. You'd be surprised that there are more Instagram-worthy spots to shoot apart from the main gates.
THE SECRET BEHIND THE PHOTOS OF LEMPUYANG TEMPLE
I am sure you have seen countless photos of Lempuyang Temple on Instagram which shows a reflection of the Bali Gateway to Heaven as if there were water in front of it. I hate to be the bearer of bad news but this is nothing more than a bit of photography trickery with the use of a mirror.
A local Indonesian man will help you to create the classic shot if you hand him your camera as he uses a small mirror to get the reflection of the stone gates. He doesn't ask for any money though a small tip would go a long way.
I just wanted to give you the heads up on this so you aren't disappointed when you find that there isn't actually any water in front of the gates at Pura Lempuyang.
Book Now ∼ East Bali Instagram Tour
Reflections at Lempuyang Temple
Lempuyang Temple – Photo: @eyem_all_over
The stairway to heaven at Pura Lempuyang
OTHER POINTS OF INTEREST AT LEMPUYANG TEMPLE
Most people just come to get the classic Instagram shot standing in front of the Bali Gateway to Heaven, though they don't realise there is much more to see…
If you have the time I highly recommend going on a moderate hike to discover all 7 temples around Pura Lempuyang Mountain which is a 4-hour round trip circuit trail. I haven't done the hike myself but I am sure you will uncover some epic spots that haven't yet been posted on social media.
Let me know if you end up hiking around Mount Lempuyang and please share with me your experience and photos. I will be happy to feature them on this blog post!
See More → 7 Best Bali Waterfalls
THINGS TO KNOW BEFORE YOU GO TO LEMPUYANG TEMPLE
Because Pura Lempuyang Temple is a sacred religious site you have to know that there are some common rules for visiting that you must respect and abide by.
• Your legs and shoulders must be covered to enter the Lempuyang Temple Complex.
• No kissing is allowed at Pura Lempuyang as it's a Hindu Temple.
• No drones are permitted to fly anywhere around Lempuyang Temple.
INTERESTING FACTS ABOUT LEMPUYANG TEMPLE
Pura Penataran Agung Lempuyang is the official name for Lempuyang Temple and it is said to be the most highly regarded Hindu temple in all of Bali.
The temples of Mount Lempuyang, represented by the highest Pura (temple) on the peak of the mountain, Pura Lempuyang Luhur, is one of the 'six sanctuaries of the world', the six holiest places of worship in Bali.
According to Balinese beliefs, the temples on Lempuyang Mountain are pivotal points of the island and are said to provide spiritual balance to Bali.
The famed Bali Gateway to Heaven is known as a candi bentar (split gate) which marks the entrance to Lempuyang Temple and a passageway into the religious compound.
Puja Wali Festival (Pura's anniversary) of Lempuyang Temple is held once every 6 months at Mount Lempuyang on a Thursday, typically one day after the Galungan festival.
FINAL THOUGHTS OF LEMPUYANG TEMPLE
Despite the popularity of Lempuyang Temple, I am sure you will be able to enjoy it with or without the crowds as this is truly one of the most incredible places to see in Bali.
Pura Lempuyang Temple is not something you get to see every day, especially due to is unique location sitting right in front of Bali's highest and holiest peak – Mount Agung!
I have visited Lempuyang Temple on two occasions and each time I was lucky enough to witness insane colors being sprayed across the sky at sunrise with Mount Agung sitting prominently in the backdrop.
If you're looking for a day trip away from the main tourist hubs such as Canggu, Seminyak and Ubud, then definitely make the effort to travel out to Karangasem and check off Pura Lempuyang Temple from your Bali bucket list!
PIN LOCATION OF LEMPUYANG TEMPLE
WHERE TO STAY NEAR PURA LEMPUYANG
I would recommend spending a couple of days in the small coastal town of Amed when visiting Pura Lempuyang Luhur. From Amed to Lempuyang Temple it's approximately a thirty-minute drive.
Amed has hundreds of accommodations to choose from so I have narrowed it down to a few of my personal favorite places to stay in Amed to suit the needs of luxury travelers and budget backpackers. See the list of accommodations below that I personally recommend:
LUXURY: GRIYA VILLAS & SPA
Check prices on Agoda | Check prices on Booking.com
MID RANGE: BAYU COTTAGES
Check prices on Agoda | Check prices on Booking.com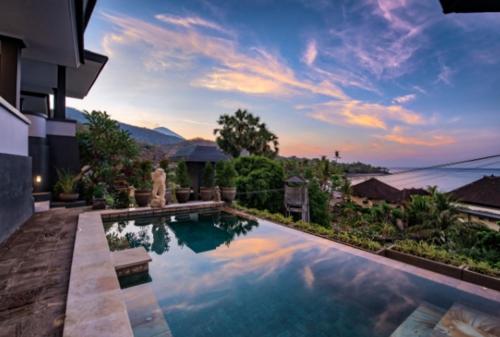 BUDGET: TITI SEDANA HOMESTAY
Check prices on Agoda | Check prices on Booking.com
BEST TOURS IN BALI
MORE BALI TRAVEL GUIDES
Bali Travel Guide: 2 Week Bali Itinerary
Bali Waterfalls Guide: 7 Best Bali Waterfalls
Bali Beaches Guide: 10 Best Beaches In Uluwatu
Nusa Penida Guide: 14 Things To Do In Nusa Penida
Nusa Lembongan Guide: 5 Things To Do In Lembongan
Nusa Ceningan Guide: 3 Things To Do In Nusa Ceningan
AIRBNB BALI
Another option for accommodation in Bali is to stay at an Airbnb, which generally has some great deals in Bali.
Get your $40 Airbnb discount here!
MY CAMERA GEAR
• DSLR Mirrorless Camera: Sony A7ii
• Drone Camera: DJI Mavic Pro 2
• GoPro: GoPro Hero 8 Black
• Everyday Lens: Sony F2.8 24/70mm
• Camera Bag: Lowepro Protactic 31L
• Selfie Stick: Sandmarc Metal Edition 1.2m
• Tripod: Joby Flexible GorillaPod
• GoPro Dome: Underwater GoPro Dome
• Power Bank: Anker Powerbank
• External Hardrive: WD Elements 4TB
WHAT TO PACK FOR BALI?
• Waterproof Phone Case: Universal Waterproof Case
• Reusable Water Bottle: Hydro Flask Water Bottle
• Rain Jacket: North Face Rain Jacket
• Water Shoes: Slip-on Water Shoes
• Day Bag: Nomatic 20L Day Bag
• Power Adapter: Universal Power Adapter
• Packing Cubes: 4 Set Packing Cubes
• Microfibre Towel: Quick Dry Travel Towel
• Travel Insurance: World Nomads Travel Insurance
• Money Belt: Hidden Money Belt
I hope you enjoyed reading this article and if you have any questions about Lempuyang Temple please drop me a comment below.
Happy Adventuring 😃
↓ PIN IT FOR LATER ↓