Tegal Wangi Beach is a tucked away slice of paradise in the southern region of Bali. Pantai Tegal Wangi is a popular spot where the locals like to hang out on the cliffs and on the pristine beach below.
Not many tourists know about Tegal Wangi as they are drawn towards the more popular beaches in Uluwatu. In saying that, now is the perfect time to explore Pantai Tegal Wangi before it becomes the new hot spot location!
Have you got travel insurance for Bali? I know that nobody likes to talk about this stuff but accidents can happen and having World Nomads Insurance can save you thousands of dollars if something goes wrong.

WHERE TO FIND TEGAL WANGI BEACH
Tegal Wangi Beach is located in the southern region of Bali known as The Bukit Peninsula.
If you are staying in the Uluwatu region you can rent a scooter for approximately 50,000 Rupiah per day and make your way over to Tegal Wangi Beach.
If you are coming from Kuta, Seminyak or Canggu it is approximately a 1-hour to 1.5-hour journey to Tegal Wangi Beach.
For scooter rentals, you can ask your accommodation to organise this as they are always able to help.
Alternatively, keep your eyes peeled along the main roads in the Canggu, Seminyak, Kuta and Uluwatu regions and you will be sure to find a scooter rental shop.
Search All ∼ Hostels / Resorts / Villas in Uluwatu
PIN LOCATION OF PANTAI TEGAL WANGI BEACH
Tegal Wangi Beach Uluwatu
ARRIVING AT PANTAI TEGAL WANGI
There is a small carpark on your left-hand side when you arrive at Tegal Wangi Beach.
Sometimes the gates for the carpark are open and you can park inside for a small fee of 2,000 Rupiah. If the gates are locked you can park up anywhere outside the gates on the gravel patches.
There is no entrance fee to visit this wonderful beach haven unlike most of the beaches down in Uluwatu. You will see a dirt trail from the carpark that leads directly to the top of the cliffs at Tegal Wangi Beach.
Heading to Bali? ∼ Ultimate Bali Packing List
Deserted beaches at Pantai Tegal Wangi
Sunset at Tegal Wangi Beach
WHAT TO EXPECT AT TEGAL WANGI
The viewpoint from the top of Tegal Wangi Beach offers spectacular views of rugged cliffs and electric blue water along the southern coastline of the Bukit Peninsula. The furthest cliff point you can see from this viewpoint is the more popular Balangan Beach.
Tegal Wangi Beach Rock Pools
Take the stairs down to the beach beneath the cliffs and discover the several natural rock pools that can be found on the exposed coral reef. The natural jacuzzi like pools fills up with water with each crashing wave that rolls in from the ocean.
On sunset, you can get a fantastic reflection photo along the edge of the rock pools.
Pantai Tegal Wangi Caves
Stroll along the sand to the very end of Tegal Wangi Beach until you can go no further and you will find two caves underneath the cliffs.
The first cave is a small little dugout in the cliff that is progressively becoming larger with the bigger swells that hit this particular coastline.
The second cave is much larger and more impressive than the 1st. It is around five meters tall and five meters deep. This is the perfect secluded spot to lay down a sarong and listen to the waves echo throughout the cave as they crash on to the shoreline.
You can take a photo from inside the cave facing out over the horizon for a cool perspective.
Rockpools at Tegal Wangi Beach Uluwatu
Exploring the caves at Pantai Tegal Wangi
WHERE TO STAY NEAR PANTAI TEGAL WANGI
Uluwatu has hundreds of accommodations to choose from so I have narrowed it down to a few of my personal favorite places to stay to suit the needs of luxury travelers and budget backpackers. See the list of accommodations below that I personally recommend:
Luxury: Canang Sari Villas
I've stayed at Canang Sari Villas a few times and it's one of the best 4-star accommodations in Uluwatu! Featuring 2-bedroom and 3-bedroom villas with private swimming pools, beautiful gardens, equipped kitchens, large living space, indoor and outdoor bathrooms, free wifi and ocean views. There is also a spa centre and squash court for guests to use. Close to beaches, cafes and shops. Perfect for families, friends and couples.
Check prices on Agoda | Check prices on Booking.com
Mid Range: Bukal Sari Villas Uluwatu
Awesome 3-star accommodation boasting a swimming pool, restaurant, gardens and outdoor swimming pool. There is free wifi and each room is spacious and modern with private bathrooms. Continental or à la carte breakfast is included for all guests. Close to Uluwatu Temple and beaches. Great for couples, families and friends.
Check prices on Agoda | Check prices on Booking.com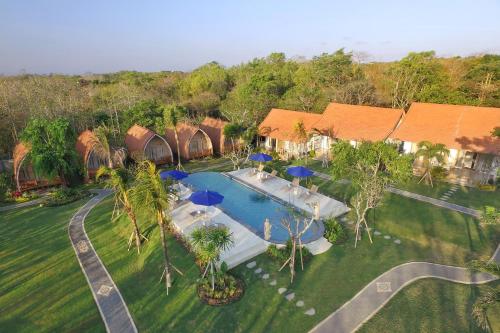 Budget: Bali Beats Guesthouse Uluwatu
One of the best budget accommodations in Uluwatu! Bali Beats features an outdoor swimming pool, garden terrace and free wifi. There are a restaurant and bar as well as a shared kitchen for guests to use. Close to beaches, cafes and restaurants. Perfect for solo travelers and friends on a budget.
Check prices on Agoda | Check prices on Booking.com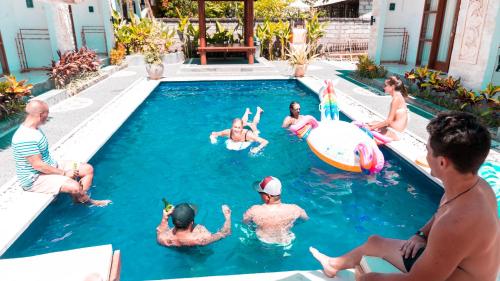 BEST BALI TOURS
MORE BALI TRAVEL GUIDES
Bali Travel Guide: 2 Week Bali Itinerary
Bali Waterfalls Guide: 7 Best Bali Waterfalls
Bali Beaches Guide: 10 Best Beaches In Uluwatu
Nusa Islands Guide: Ultimate Nusa Islands Guide
AIRBNB BALI
Another option for accommodation in Bali is to stay at an Airbnb, which generally has some great deals in Bali.
Get your $40 Airbnb discount here!
MY CAMERA GEAR
• DSLR Mirrorless Camera: Sony A7ii
• Drone Camera: DJI Mavic Pro 2
• GoPro: GoPro Hero 8 Black
• Everyday Lens: Sony F2.8 24/70mm
• Camera Bag: Lowepro Protactic 31L
• Selfie Stick: Sandmarc Metal Edition 1.2m
• Tripod: Joby Flexible GorillaPod
• GoPro Dome: Underwater GoPro Dome
• Power Bank: Anker Powerbank
• External Hardrive: WD Elements 4TB
WHAT TO PACK FOR BALI?
• Waterproof Phone Case: Universal Waterproof Case
• Reusable Water Bottle: Hydro Flask Water Bottle
• Rain Jacket: North Face Rain Jacket
• Water Shoes: Slip-on Water Shoes
• Day Bag: Nomatic 20L Day Bag
• Power Adapter: Universal Power Adapter
• Packing Cubes: 4 Set Packing Cubes
• Microfibre Towel: Quick Dry Travel Towel
• Travel Insurance: World Nomads Travel Insurance
• Money Belt: Hidden Money Belt
I hope you enjoyed reading this article and if you have any questions about Tegal Wangi Beach, please drop me a comment below.
Happy Adventuring!