Lake Atitlan is arguably one of the most beautiful lakes in the world that sits inside a massive volcanic crater! Safe to say it's not to be missed during your visit to Guatemala! There are so many great things to do in Lake Atitlan and I guarantee once you arrive you won't want to leave.
Lake Atitlan (Lago de Atitlan) is surrounded by several cone-like volcanoes and verdant cliff faces that look too good to be true. Seriously, the landscape here is other-worldly and has some magic about it!
I have put together this complete guide of 11 Awesome Things To Do In Lake Atitlan to help you plan your trip! Also in this Lake Atitlan travel guide, I have included some useful information on how to get to Lake Atitlan, the best time to visit and recommended places to stay in Lake Atitlan.
Have you got travel insurance for Guatemala? I know that nobody likes to talk about this stuff but accidents can happen and having World Nomads Insurance can save you thousands of dollars if something goes wrong.

#1 GO KAYAKING ON LAKE ATITLAN
One of the best things to do in Lake Atitlan when you arrive is to grab a kayak and paddle out into the middle of the lake. It's the perfect way to get your bearings and to realise just how small you are inside this massive volcanic crater lake.
Kayaks can be rented for as little as 15 Quetzal per hour. Simply head down to the main pier in San Pedro, or the main pier at the other lakeside villages, and you'll be sure to find a local renting out his kayaks. Alternatively, you can ask the reception at your accommodation to point you in the right direction of where to find a kayak rental.
I personally went kayaking on Lake Atitlan when I was staying in Santa Cruz for the night and the view of Volcán de Atitlan and Volcán San Pedro is absolutely phenomenal from this side of the lake!
Kayaking on the lake – Things to do in Lake Atitlan
A local in his wooden kayak
#2 HAVE LUNCH AT SABABA RESTAURANT
After burning all those calories kayaking on Lake Atitlan there is no doubt you'll need to refuel your engine. Sababa Restaurant, in my opinion, has the best-tasting food in San Pedro Lake Atitlan at a very affordable price.
The cuisine at Sababa Restaurant is Israeli inspired with a range of different food and drink options to suit everyone's taste-buds. My favorite dishes that I tried were the hummus with pita bread, a bowl of couscous with vegetables and the chicken schnitzel burger. Mmm, just talking about it makes my mouth water!
Besides the delicious cuisine at Sababa Restaurant San Pedro, you'll have an incredible view of Lake Atitlan from your table and the perfect opportunity for an Instagram-worthy shot!
For the early risers, Sababa San Pedro offers a breakfast menu and delicious coffee which is locally sourced from the area surrounding Lago Atitlan.
Find All → Accommodations in Lake Atitlan
Sababa Restaurant – Things to do in Lake Atitlan
#3 HIKE TO THE INDIAN NOSE VIEWPOINT
Another unmissable thing to do in Lake Atitlan is to hike to the Indian Nose viewpoint (La Nariz) for sunrise, boasting panoramic views of the entire crater lake and its surrounding villages. Indian Nose is the most popular short hike among tourists visiting Lago Atitlan, taking only 30 to 40 minutes to reach the top.
Indian Nose mountain is located in San Juan, the next village across the lake from the more popular town of San Pedro. The mountain is easily distinguished from a distance when you tilt your head horizontally, revealing a Mayan face with a large pointy nose.
You can book your hike to Indian Nose with one of the many tour operators dotted along the main street in San Pedro for around 80-100 Quetzal. It's not overly expensive to go with a tour guide, even for those travelers who are on a budget and the adventure is 100% worth it.
I recommend doing a sunrise hike to Indian Nose with a tour guide as opposed to DIY for two reasons:
1) When booking a tour to Indian Nose, it includes a hotel pick-up in San Pedro at 4:00 am, a 30-minute drive to the trailhead in San Juan and an experienced guide leading the correct way up to the viewpoint in the dark.
2) Apparently, there have been some cases of tourists being robbed when they were on their own without a guide which isn't ideal but it has happened. For a safer and more enjoyable experience, it's better to have a guide.
Climbing to the summit of Indian Nose takes no more than 30 to 40 minutes for the average person and the view from the top is absolutely breathtaking. Watch the sun as it rises over the rim of the crater and fills the lake with its beaming rays!
Hiking Indian Nose for sunrise is honestly one of the best things to do in Lake Atitlan and a great way to start your day!
Sunrise from Indian Nose viewpoint
Can you see the Indian Nose?
#4 TAKE A BOAT TO THE LAKE ATITLAN VILLAGES
There are more than a dozen villages dotted around the edges of Lago de Atitlan and you can spend an entire day boat-hopping from one to the other. It's a great way to spend your time when looking for what to do in Lake Atitlan.
For the majority of travelers staying in San Pedro, you can cruise around the lake with the use of the public boats in a clockwise direction for as little as 10 Quetzal per ride.
Head down to the main pier to catch a ride with boats departing every 15-minutes. Same goes for those travelers not staying in San Pedro, just head to the main pier in the village where you are residing and jump on board one of the public boats that frequent Lago de Atitlan.
The most popular villages to visit in Lake Atitlan are San Juan, San Marcos, Santa Cruz and Panajachel, each offering a different vibe and experience from the last.
My favorite pick of the many villages in Lake Atitlan are San Marcos and Santa Cruz. There is a really good vibe happening at San Marcos with lots of yoga retreats, vegan cafes, colorful street art and artisanal markets selling handwoven garments.
As for Santa Cruz, there isn't as much of a happening scene here compared to San Pedro and San Marcos, but it does offer the best views of the lake from this side.
Book Now → Lake Atitlan Boat Tour
Boat tour in Lake Atitlan
Street art in San Marcos – Things to do in Lake Atitlan
Artisanal markets in San Marcos
Lake views in Santa Cruz
Main street in Santa Cruz – What to do in Lake Atitlan
Having lunch in Santa Cruz Lake Atitlan
Another awesome viewpoint in Santa Cruz
#5 RENT A STAND-UP PADDLE BOARD
Another fun-fuelled activity to add to your list of things to do in Lake Atitlan is renting a stand-up paddleboard and cruising out into the middle of the lake.
SUP boards can typically be rented from the same place as you rent kayaks down by the main pier in San Pedro or from the main pier in the other villages.
The cost of a stand-up paddleboard is around 60 Quetzal per hour and the best time to go is early morning before 11:00 am. Usually around lunchtime, it gets very windy on Lake Atitlan Guatemala making it choppy and difficult to balance.
Find All → Accommodations in Lake Atitlan
Stand-up paddleboarding on Lake Atitlan
Early morning SUP on Lago de Atitlan
Spectacular views on the SUP – Things to do in Lake Atitlan
#6 SPEND THE DAY AT SABABA RESORT
Sababa Resort is a brand new beachclub-style resort located right on the water's edge in San Pedro la Laguna. For just 50 Quetzal, outside guests can access the pool, bar, restaurant and billiards table at Sababa Resort for a full day of relaxing under the sun.
Dor, the owner of Sababa Resort, has created an architectural masterpiece with the pool and surrounding gardens making it a very Instagrammable location! Be sure to have a fully charged battery on your camera to get some shots!
For lunch and drinks, you are spoiled for options on the menu here, offering a wide range of western-style meals, refreshing cocktails and ice cold beers.
If you wish to spend a night or two at Sababa Resort, they have dorm rooms, family rooms and deluxe suites available to choose from for an unforgettable stay in Lake Atitlan.
Click Here to check availability and rates at Sababa Resort on Booking.com
Poolside at Sababa Resort – Things to do in Lake Atitlan
Sababa Resort – Lake Atitlan Guatemala
#7 WALK AROUND LAGO DE ATITLAN
If you're up for a bit of an adventure during your visit to Lago de Atitlan, throw on a pair of comfortable walking shoes and set off to explore around the outside edges of the lake at your own pace.
Depending on where you are staying on the lake there are many different walking trails to be found between the villages. The best part is that if your legs get too tired to make the return journey you can jump on a public boat for 10 Quetzal to zip you across the lake back to where you started.
Exploring Lake Atitlan on foot
Rocky trails around Lago de Atitlan
#8 WATERSPORTS ON LAKE ATITLAN
This one is for the adventure-seekers looking for what to do in Lake Atitlan. There are so many epic watersports activities available on the lake that will keep you entertained for an entire day!
There is one main tour operator in San Pedro that I can recommend called 'Get Wet Atitlan' offering a wide selection of watersports on Lake Atitlan.
Here is a list of the most popular wartersports to choose from including prices:
• Banana Boat – 60 Quetzal per hour
• Kayaking – 15 Quetzal
• Stand-up Paddleboard – 6o Quetzal
• Water Skiing – 450 Quetzal
• Paragliding – 650 Quetzal
Find All → Tours In Lake Atitlan
Waterskiing on Lake Atitlan Guatemala
Lake Atitlan paragliding
#9 SPEND ONE NIGHT IN SANTA CRUZ
If you have the time, I highly recommend spending a night over on the opposite side of the lake in Santa Cruz. It's a more peaceful vibe than San Pedro and you won't find much more here than a few small restaurants and lakeside resorts.
I personally stayed at Atitlan Sunset Lodge and can't recommend this place enough! If you want to relax and unwind with stunning views on your doorstep then this is the perfect place to do so!
The rooms available at Atitlan Sunset Lodge are fully furnished apartments with a kitchen, fridge, dining and living area, sun terrace, large comfortable beds and private bathrooms. The best part is the million-dollar view of Lake Atitlan through the window and Volcán San Pedro looms in the background!
Some other features at this epic accommodation are a hot tub, chair swing on the end of the pier and kayaks available for all guests to use free of charge.
Spending a night in Santa Cruz at Atitlan Sunset Lodge is not to be missed on your list of things to do in Lake Atitlan!
Click Here to check availability and rates at Atitlan Sunset Lodge on Booking.com
Million-dollar view at Atitlan Sunset Lodge
Inside the apartments at Atitlan Sunset Lodge
Chair swing on Lake Atitlan
Epic views from the private sun terrace
Sunset in Santa Cruz Lake Atitlan
#10 TAKE SPANISH CLASSES
One of the most popular things to do in Lake Atitlan is to sign up for Spanish classes. Guatemala is, in fact, the best place in Central America to learn Spanish.
The majority of travelers that I met during my time spent in Lago de Atitlan said they were there just to learn Spanish, and of course, enjoying the lake. Some were there for 1-week and some others were there for up to 4-weeks with all intentions of learning another language.
Whether you're a complete beginner like me or already know some Spanish, there are classes available for all levels.
#11 VISIT THE WOMAN WEAVERS
Apart from Lake Atitlan being regarded as one of the most beautiful lakes in the world, it's also widely known for its traditional textiles and garments that are handwoven by the local Mayan women.
In every village around the lake, you can find women weavers cooperative stores to get a closer look into the Mayan culture and the art of weaving. You can also take a 2-hour class for around 100 Quetzal and learn how to do back-strap weaving.
The most popular village to visit the women weavers of Lake Atitlan is in San Juan, a short 5-minute boat ride across the lake from San Pedro la Laguna.
Pop your head in, say hello and take a few keepsake photos if anything, for it's one of the best things to do in Lake Atitlan.
Find All → Tours In Lake Atitlan
Women weavers cooperative in San Pedro la Laguna
Friendly Mayan women in Lake Atitlan
WHERE TO STAY IN LAKE ATITLAN
Lake Atitlan has hundreds of accommodations to choose from which are spread across the many different villages around the lake.
As the majority of travelers typically stay in San Pedro I have listed a few accommodations from this area to suit the needs of luxury travelers and budget backpackers.
Luxury: Sababa Resort
Check prices on Agoda | Check prices on Booking.com
Mid Range: Mikaso Hotel
Check prices on Agoda | Check prices on Booking.com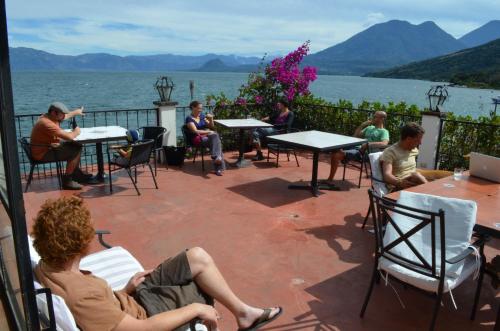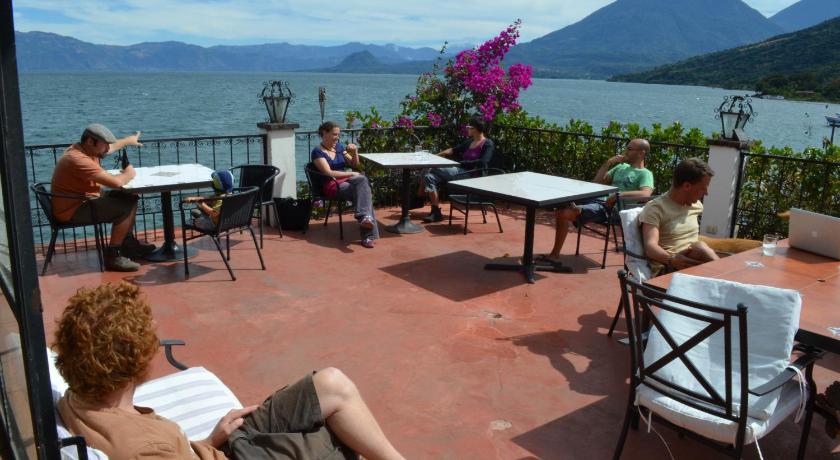 Budget: Hotel Peneleu
Check prices on Agoda | Check prices on Booking.com
HOW TO GET TO LAKE ATITLAN
Lake Atitlan can only be reached by road and the two most common routes for most tourists traveling Lago de Atitlan are from Antigua City in Guatemala and also from San Cristobal de las Casas in Mexico.
ANTIGUA TO LAKE ATITLAN
There are daily buses and shuttles departing from Antigua bound for Lake Atitlan and the journey time is around 2.5 hours to 3 hours depending on traffic.
You can jump on a chicken bus (public bus) which is the cheapest way to get from Antigua to Lake Atitlan, costing only 30 Quetzal. Do note that if you take a chicken bus they tend to do a lot of pick-ups and drop-offs along the way which makes the journey to Lake Atitlan a lot longer.
The other option is to book a shuttle bus from Antigua to Lake Atitlan which is a more direct route in a minivan and the cost is 60 Quetzal. I recommend this option as it's much more comfortable and reliable.
SAN CRISTOBAL TO LAKE ATITLAN
Another common route for travelers heading to Lake Atitlan is from San Cristobal de las Casas in Mexico. This is a much longer journey taking up to 14 hours on a shuttle bus, including a stop at the border of Mexico and Guatemala to pass through immigration.
You have the option of doing this journey from San Cristobal to Lake Atitlan overnight or during the day.
Note: When crossing the border from Mexico into Guatemala there is a tourist tax of 558 MXN which must be paid at the immigration office in order to get an exit stamp. Make sure to have this amount of cash on you to make the transition across the border hassle-free. Citizens from over 80 countries will receive a FREE 90-day tourist visa when entering Guatemala.
BEST TIME TO VISIT LAKE ATITLAN
Lake Atitlan typically has two seasons, Summer and Winter.
The best time to visit Lago de Atitlan is during the summer season which is from November until May. There is minimal rainfall in summer and temperatures are generally in the mid 20°C during the day and 15°C during the night.
Winter season in Lake Atitlan is also the rainy season which typically runs from April and ends in October. When it rains in winter it's usually only an afternoon downpour and the rest of the day is sunny. Temperatures are known to be quite cooler during the day and night.
LAKE ATITLAN MAP
MY CAMERA GEAR
• DSLR Mirrorless Camera: Sony A7ii
• Drone Camera: DJI Mavic Pro 2
• GoPro: GoPro Hero 8 Black
• Everyday Lens: Sony F2.8 24/70mm
• Camera Bag: Lowepro Protactic 31L
• Selfie Stick: Sandmarc Metal Edition 1.2m
• Tripod: Joby Flexible GorillaPod
• GoPro Dome: Underwater GoPro Dome
• Power Bank: Anker Powerbank
• External Hardrive: WD Elements 4TB
WHAT TO PACK FOR GUATEMALA?
• Waterproof Phone Case: Universal Waterproof Case
• Reusable Water Bottle: Hydro Flask Water Bottle
• Rain Jacket: North Face Rain Jacket
• Water Shoes: Slip-on Water Shoes
• Day Bag: Nomatic 20L Day Bag
• Power Adapter: Universal Power Adapter
• Packing Cubes: 4 Set Packing Cubes
• Microfibre Towel: Quick Dry Travel Towel
• Travel Insurance: World Nomads Travel Insurance
• Money Belt: Hidden Money Belt
I hope you enjoyed reading this article and if you have any questions at all about Things To Do In Lake Atitlan, please leave me a comment below and I will get back to you as soon as I can.
Happy Travels!