Thomas Beach Bali is up there with the most beautiful and underrated beaches in Bali. Thomas Beach offers a 200-meter stretch of soft white sand, rolling turquoise waves and a cluster of shady beach umbrellas perfect for a day of swimming and beach bumming!
I have put together this complete guide of Thomas Beach Bali including how to get there and what to expect!
Have you got travel insurance for Bali? I know that nobody likes to talk about this stuff but accidents can happen and having World Nomads Insurance can save you thousands of dollars if something goes wrong. 

WHERE IS THOMAS BEACH BALI & HOW TO GET THERE
Thomas Beach Bali can be found along the southwest coastline in Uluwatu on the Bukit Peninsula. Thomas Beach is located exactly halfway between Padang Padang Beach and Suluban Beach (Uluwatu Beach).
The best way to get to Thomas Beach is on a scooter. You can rent scooters in the main tourist hubs throughout Bali including Canggu, Seminyak, Kuta, Ubud, and Uluwatu.
Scooter rental is typically 50,000 IDR per day or you can rent them on a monthly basis from anywhere between 600,000 IDR and 700,000 IDR.
From Kuta, Seminyak or Canggu, it's approximately a 1-hour to 1.5-hour drive to Thomas Beach depending on traffic.
Alternatively, if you are not comfortable driving a scooter, you can rent a car in Bali and head out to Thomas Beach Bali on 4 wheels instead of 2.
Search All ∼ Car Rentals in Bali
PIN LOCATION OF THOMAS BEACH BALI
Drone shot of Thomas Beach Bali
ARRIVING AT THOMAS BEACH BALI
Keep an eye out for a black and yellow sign that reads 'Thomas Bali Guesthouse', turn off the main road here and follow the white chalky driveway down the car park on top of the cliffs at Thomas Beach Bali.
There is no fee for parking which is great and it is only a short ten-minute walk down the steps to reach the shoreline at Thomas Beach.
Must Read → 2 Week Bali Itinerary
The stairs down to Thomas Beach Bali
The surf break at Thomas Beach Bali
WHAT TO EXPECT AT THOMAS BEACH BALI
Thomas Beach fly's under the radar as a popular tourist hotspot meaning you'll have this beautiful beach almost entirely to yourself.
It's hard nowadays to find a secret beach in Bali as the tourism industry continues to grow but there are always incredible locations to be found such as Thomas Beach, an underrated slice of paradise in Uluwatu.
On occasion, Thomas Beach Bali picks up the swell that rolls in from the more southern beaches and when it does, it's a great spot to surf some uncrowded waves.
If you need to rent a surfboard you can do so from a small surf shack located on the north end of Thomas Beach Bali. The cost of a surfboard rental is around 50,000 IDR for two hours.
On low tide, you can discover some of the rocky outcrops, secluded beaches and small caves along the coastline nearby to Thomas Beach. To check the tide times in advance Click Here.
For all you beachgoers who simply like to relax and unwind, Thomas Beach Bali is the perfect spot for just that! Rent out an umbrella on the sand for the day for only 50,000 IDR and watch the world go by all the time while sipping on a Kelapa (fresh coconut).
Search All ∼ Hostels / Resorts / Villas in Uluwatu
Drone shot of Thomas Beach Bali
Secluded beach at Pantai Thomas
Watching the sunset down on Thomas Beach Bali
WHERE TO STAY NEAR THOMAS BEACH 
Uluwatu has hundreds of accommodations to choose from so I have narrowed it down to a few of my personal favorite places to stay to suit the needs of luxury travelers and budget backpackers. See the list of accommodations below that I personally recommend:
Luxury: Canang Sari Villas
I've stayed at Canang Sari Villas a few times and it's one of the best 4-star accommodations in Uluwatu! Featuring 2-bedroom and 3-bedroom villas with private swimming pools, beautiful gardens, equipped kitchens, large living space, indoor and outdoor bathrooms, free wifi and ocean views. There is also a spa centre and squash court for guests to use. Close to beaches, cafes and shops. Perfect for families, friends and couples.
Check prices on Agoda | Check prices on Booking.com
Mid Range: Bukal Sari Villas Uluwatu
Awesome 3-star accommodation boasting a swimming pool, restaurant, gardens and outdoor swimming pool. There is free wifi and each room is spacious and modern with private bathrooms. Continental or à la carte breakfast is included for all guests. Close to Uluwatu Temple and beaches. Great for couples, families and friends.
Check prices on Agoda | Check prices on Booking.com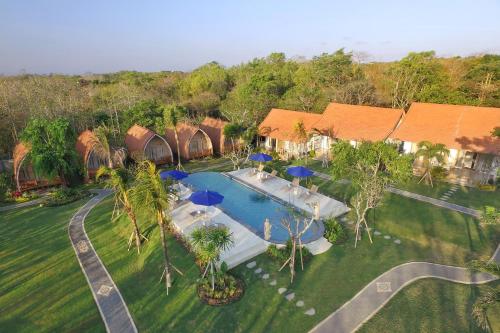 Budget: Bali Beats Guesthouse Uluwatu
One of the best budget accommodations in Uluwatu! Bali Beats features an outdoor swimming pool, garden terrace and free wifi. There are a restaurant and bar as well as a shared kitchen for guests to use. Close to beaches, cafes and restaurants. Perfect for solo travelers and friends on a budget.
Check prices on Agoda | Check prices on Booking.com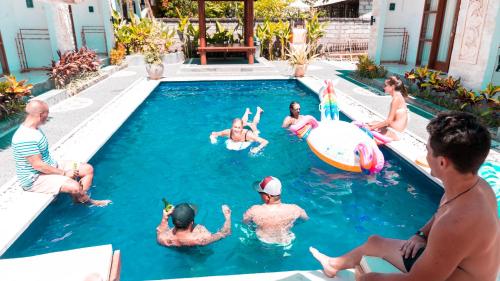 BEST TOURS IN BALI