Tsigrado Beach Milos, pronounced 'see-gra-doh', is low-key out of this world! Illuminating reefs, natural caves, cliff jumps and a tricky entrance sums up Tsigrado Beach pretty well.
During my beach-hopping adventures in Milos, I stumbled across Tsigrado Beach by chance and it ended up being one of my favorite beaches on the island.
Furthermore, I have put together this complete guide to Tsigrado Beach Milos including how to get there, the best time to visit and what to expect!
Have you got travel insurance for Greece? I know that nobody likes to talk about this stuff but accidents can happen and having World Nomads Insurance can save you thousands of dollars if something goes wrong. 

WHERE IS TSIGRADO BEACH MILOS
Tsigrado Beach is quite easy to find as it neighbors one of the more popular beaches in Milos, Fyriplaka.
Tsigrado Beach lies on the southern stretch of coastline on Milos island.
Search All ∼ Apartments / Hostels / Hotels in Milos
PIN LOCATION OF TSIGRADO BEACH MILOS
HOW TO GET TO TSIGRADO BEACH MILOS
The best way to reach Tsigrado Beach and other attractions on Milos island is to rent a scooter, ATV or a car for the day and make your way over to Tsigrado Milos.
There are a number of places to organise a scooter, ATV and car rental in Milos which can all be found within walking distance as soon as you step off the ferry in the main harbour-side town of Adamantas.
Scooter rental Milos:
I personally rented my scooter from Nicki Motors and found them to be the most affordable and reliable. From €25 per day, Nicki Motors offers scooter rentals and ATV rentals, but not car rentals. Click Here to check availability and prices.
Car rental Milos:
If you would prefer to rent a car in Milos, it's best to book online in advance to secure a set of wheels for when you arrive. There are many small cars and SUV's available to rent that will get you around the island safely. Click Here to check availability and prices.
Note: An international driver's license is mandatory for renting scooters and cars on Milos island, so make sure to have this ready to present along with your passport or ID.

Search All ∼ Car Rentals in Milos
On the way to Tsigrado Beach
WHAT TO EXPECT AT TSIGRADO BEACH MILOS
To start with, Tsigrado Beach is tightly nestled between volcanic cliffs and getting down to the beach from the carpark can be quite tricky for some but it's also part of the adventure.
Firstly you'll have to scale down the cracks in the mountainside, using the ropes as aid, and then finally climb down a wooden ladder that emerges on the shoreline at Tsigrado Beach Milos.
I may make it sound more gnarly than what it is, but it's honestly not as hard as you think. If you take your time getting down, you'll be absolutely fine!
Once you've made it down safely, find a spot to perch up along the beach and swim out into the shallow waters to explore the many caves, natural arches, secluded inlets and cliff jumps that Tsigrado Milos has to offer!
If you're not game to climb down the cliffs to Tsigrado Beach, the view from above is just as rewarding.
See My ∼ Ultimate Travel Packing List
Cruising into Tsigrado Beach
Crystalline waters at Tsigrado Beach Milos
BEST TIME TO VISIT TSIGRADO BEACH MILOS
The best time to visit Tsigrado Beach is mid-morning to mid-afternoon when the sun is at its peak. During the late afternoon, Tsigrado Milos becomes lost in the shade as the sun begins to lower behind the cliffs.
Search All ∼ Round-the-island boat tours in Milos
TSIGRADO BEACH – THINGS TO KNOW BEFORE YOU GO
First and foremost, take a mask and snorkel to Tsigrado Beach as it's one of the best snorkeling spots in Milos!
There are no beachside cafes, restaurants or bars down on Tsigrado Beach Milos, so make sure to pack plenty of drinking water and snacks to keep you fuelled.
Also, Tsigrado Beach doesn't have any beach umbrellas along the shoreline like most other beaches in Milos. If you do want to take shade out of the sun, be prepared and bring your own beach umbrella to set up down on the beach.
See More ∼ 15 Best Beaches In Milos
Unreal scenes at Tsigrado Beach Milos
View of Tsigrado Beach Milos from above
Nearby coves at Tsigrado Beach Milos Greece
WHERE TO STAY IN MILOS
Milos island has hundreds of accommodation options to choose from, so I have narrowed it down to a few of the best places to stay in Milos to fit the needs of budget backpackers and luxury travelers. See the list of accommodations below that I personally recommend:
Luxury: The Windmill
Centrally located in Adamas, The Windmill is one of the most unique accommodations in Milos. Set inside a refurbished stone windmill, this apartment features a balcony with ocean views, free wifi, air-conditioning, private bathroom, living room, equipped kitchen and a spacious bedroom. This apartment is popular among tourists so be sure to book online ahead of time. The perfect place to stay for couples wanting a romantic getaway.
Check prices on Agoda | Check prices on Booking.com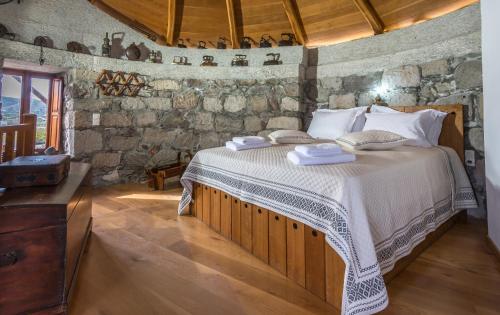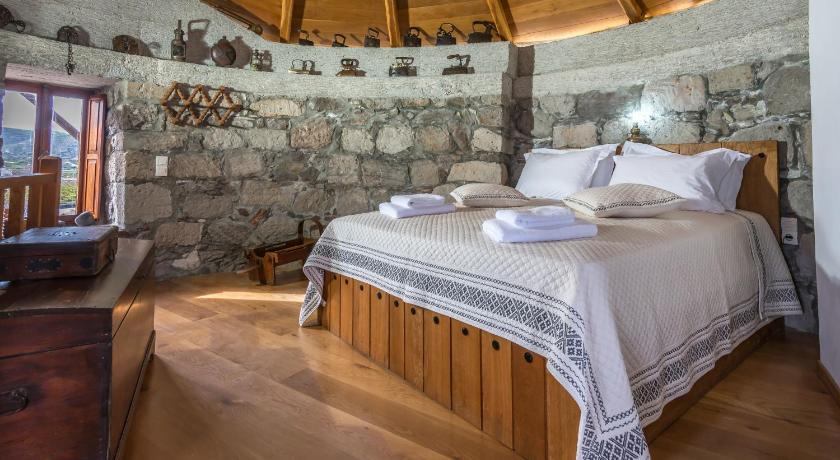 Mid Range: Livanios Studios
I personally stayed at Livanios Studios and rate this accommodation 10/10. Located 100m from the centre of Adamas, there are nine apartments and loft-style rooms to choose from. Most offer balconies and rooftop terraces with ocean views and beautiful garden surrounds. The rooms have free wifi, spacious rooms, air-conditioning, flat-screen tv, private bathroom and kitchenette. John, the owner, is the most caring Greek man that will go out of his way to make all of his guests feel welcome. Perfect place to stay for families, friends and couples.
Check prices on Agoda | Check prices on Booking.com
Budget: Milos Camping
The best budget accommodation on Milos island. Achivadolimni Camping offers tents and bungalows to rent on their property, located 150m away from Achivadolimni Beach. There is a swimming pool, restaurant, bar and mini-market on site for guests to use and free wifi is available. The best place to stay in Milos for solo travellers on a budget.
Check prices on Agoda | Check prices on Booking.com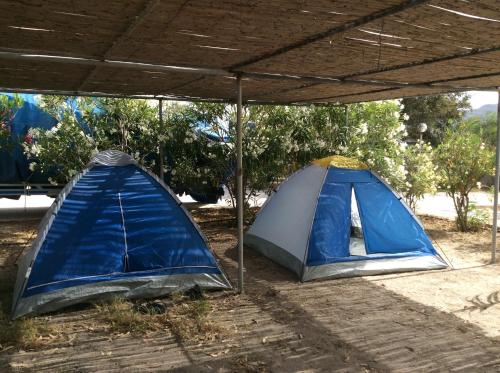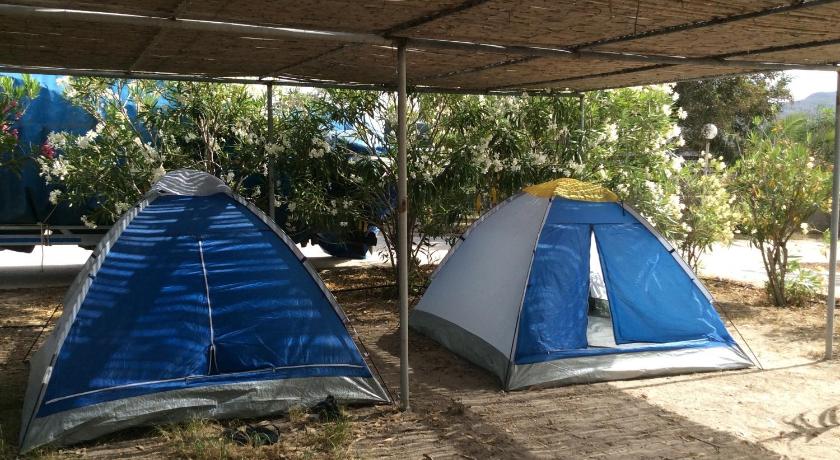 MORE EUROPE TRAVEL GUIDES
Croatia Travel Guide: Yacht Week In Croatia
Vis Island Croatia: 9 Things To Do In Vis
Budapest Travel Guide: 5 Things To Do In Budapest
Switzerland Travel Guide: 8 Day Switzerland Itinerary
Paris Travel Guide: 2 Day Paris Itinerary
Barcelona Itinerary: 2 Day Barcelona Itinerary
Istanbul Travel Guide: 5 Things To Do In Istanbul
Sofia Travel Guide: 3 Things To Do In Sofia
Milos Island Greece: 15 Best Beaches In Milos
Sifnos Island Greece: 7 Best Beaches In Sifnos
AIRBNB MILOS
Another option for accommodation in Milos is to stay at an Airbnb, which generally has some great deals on Milos island.
Get your $40 Airbnb discount here!
MY CAMERA GEAR
• DSLR Mirrorless Camera: Sony A7ii 
• Drone Camera: DJI Mavic Pro 2
• GoPro: GoPro Hero 8 Black
• Everyday Lens: Sony F2.8 24/70mm
• Camera Bag: Lowepro Protactic 31L
• Selfie Stick: Sandmarc Metal Edition 1.2m 
• Tripod: Joby Flexible GorillaPod
• GoPro Dome: Underwater GoPro Dome
• Power Bank: Anker Powerbank
• External Hardrive: WD Elements 4TB
WHAT TO PACK FOR GREECE?
• Waterproof Phone Case: Universal Waterproof Case
• Reusable Water Bottle: Hydro Flask Water Bottle
• Rain Jacket: North Face Rain Jacket
• Water Shoes: Slip-on Water Shoes
• Day Bag: Nomatic 20L Day Bag
• Power Adapter: Universal Power Adapter
• Packing Cubes: 4 Set Packing Cubes
• Microfibre Towel: Quick Dry Travel Towel
• Travel Insurance: World Nomads Travel Insurance
• Money Belt: Hidden Money Belt
HOW TO GET TO MILOS GREECE
The best way to reach Milos island is by taking a ferry to Milos from Athens or other nearby Greek islands. I used 'Book A Way' to purchase my ferry tickets online in advance.
I have outlined the most popular routes and journey times below:
Athens to Milos ferry: 
• Departures – three times a day with Aegean Speed Lines & Sea Jets
• Journey time – three to four hours
Click Here to search availability and rates.
Santorini to Milos ferry:
• Departures – two times a day with Sea Jets
• Journey time – two hours
Click Here to search availability and rates.
Note: Once you have purchased your ticket online for the ferry to Milos, you'll receive an email confirmation and e-ticket. You must then arrive one hour before the ferry departure time and present the e-ticket to the staff at the Sea Jets or Aegean Speed Lines office at the Pireaus Port in Athens. They will then print you an official boarding pass for your trip.
I hope you enjoyed reading this article and if you have any questions at all about Tsigrado Beach Milos, please leave me a comment below and I will get back to you as soon as I can.
Happy Travels 😃
↓ PIN IT FOR LATER ↓