If you thought Bohol was just beaches and waterfalls, think again. The Cadapdapan Rice Terraces are hands down one of the most beautiful places in Bohol and an adventure not to be missed. 
Cadapdapan Rice Terraces remind me a lot of the rice fields in Bali with its tiered architecture and vivid green hues. And on the plus side, there were absolutely no other tourists in sight when I visited these rice fields in Bohol, unlike that of the herds of tourists that you'll encounter in Bali.
So without further ado, here is a complete guide of Cadapdapan Rice Terraces including where to find them, how much it costs and what to expect!
Search All ∼ Flights to Bohol on Skyscanner
Have you got travel insurance for Philippines? I know that nobody likes to talk about this stuff but accidents happen all the time and having World Nomads Travel Insurance can save you thousands of dollars if something goes wrong. 

HOW TO GET TO CADAPDAPAN RICE TERRACES
Cadapdapan Rice Terraces can be found in the Candijay region in Bohol.
Cadapdapan Rice Terraces are best visited from the tourist area of Anda in East Bohol. It takes approximately 50 minutes to drive from Anda to Cadapdapan Rice Terraces.
There are limited scooter rental stores located in Anda but I know of one place where you can get your hands on some wheels for around 500 pesos per day. His name is Joey and he can be contacted by phone on +639123982873 or Facebook Bernaldez Joey.
If you are staying in the main tourist area of Panglao, Cadapdapan Rice Terraces is a 105km drive that takes approximately 2.5 hours.
Search All ∼ Accommodation in Bohol
BOOK A TOUR TO CANDIJAY
If you hate long rides on the scooter, the next best option is to book a tour to Candijay which is a full-day trip from Panglao. This tour includes three epic locations – Anda White Beach, Cadapdapan Rice Terraces and Can-umanted Falls.
If you are a group of 1-4 travellers, the cost of the car and driver for this private tour is $80 (which you can split the cost between you and your friends) and an additional $3 per person for entrance fees.
If you are a larger group of 5-9 travellers, there is also a van option available for this tour which costs $90.
Click Here to see honest reviews and more detailed information on the Candijay Tour.
CADAPDAPAN RICE TERRACES ENTRANCE FEE
The entrance fee for Cadapdapan Rice Terraces is 50 pesos.
There is a roadside checkpoint as you near the entrance to Cadapdapan Rice Terraces where you'll have to stop and pay the entrance fee before continuing to the jump-off point.
WHAT TO EXPECT AT CADAPDAPAN RICE TERRACES
Incredible beauty is what you can ultimately expect at Cadapdapan Rice Terraces and it truly is one of the best places to visit in Bohol. 
I made the decision to drive out to Cadapdapan Rice Terraces early one morning to catch the sunrise at 5:30 am. I left my accommodation in Anda at 4:15 am and made it just in time to wander out into these gorgeous Bohol rice fields and witness a colourful sunrise as it lit up this remarkable vista.
The receptionist at my accommodation gave me a local tip the night before I left on this adventure and showed me on the map a secret viewpoint away from the main tourist viewpoint.
When I arrived on my scooter in the dark, I didn't think I would be able to find the entrance to this other viewpoint but I was successful in my efforts. There is a small hut on the side of the road just a few hundred meters past the ticketing checkpoint. See the image below of where to find this exact jump-off point.
See More → 31 Epic Things To Do In Bohol
Look for this hut to find the trail to the secret viewpoint
The shortcut to school it seems
EXPLORING CADAPDAPAN RICE TERRACES
The narrow dirt trail leads right out into the centre of the Cadapdapan Bohol and I remember it being so silent and peaceful. I spent some time just standing amongst the tall rice fields enjoying the sunrise and shooting some photos of a cluster of coconut palms out in the terraces.
I continued along the trail to a nearby hill that is almost perfectly round in shape which resembles something similar to the Chocolate Hills in Bohol. There is a small rice farmer's house at the base of the hill where I bumped into the owner and I asked if I could pass through his backyard to the viewpoint. He said yes of course and pointed me in the right direction.
This incredible viewpoint not only overlooks the Cadapdapan Rice Terraces but it also boasts extensive views down the valley and to the ocean. If you don't have a drone, this elevated viewpoint is by far the best spot to view the Cadapdapan Rice Terraces from a birds-eye perspective.
You can spend as much time as you want at the Cadapdapan Rice Terraces but I would say one to two hours is enough as there are more Bohol tourist spots worth checking out which I have outlined further down in this post.
Find All ∼ Tours in Bohol with Klook
OTHER POINTS OF INTEREST IN CANDIJAY
You can combine Cadapdapan Rice Terraces with two other epic locations that are definitely worth checking out while you're in Candijay and they are Can-umantad Falls and the Canawa Cold Spring.
Can-umantad Falls is a short 10-minute drive from the Cadapdapan Rice Terraces and Canawa Cold Spring is a further 15-minute drive from the falls.
You can visit all three of these Bohol attractions in one day making it the perfect day trip from Panglao or Anda.
Book Now ∼ Candijay Day Tour 
PIN LOCATION OF CADAPDAPAN RICE TERRACES
WHERE TO STAY IN ANDA
Luxury: Amun Ini Beach Resort & Spa
Amun Ini Beach Resort is the best 5-star accommodation nestled amongst palm trees in Anda. Featuring a private beach, swimming pool, restaurant and bar and ocean views! The rooms are air conditioned and fitted with a flat-screen tv, sitting area, mini-bar, en suite bathroom and balconies with sea views. Amun Ini offers free snorkeling and kayaking equipment and breakfast is also included for all guests. Recommended for couples, families and friends.
Check prices on Agoda | Check prices on Booking.com
Mid Range: Parklane Bohol Resort & Spa
I personally stayed at Parklane Resort & Spa and can't recommend this place enough! The staff are overly friendly with a lot of useful information about Anda and Bohol, the hospitality was great, the food was excellent and the rooms were cosy. Great location in Anda just 10 minutes drive from town, this property offers beachfront accommodation, a private beach, 3 swimming pools, restaurant and bar and a wellness spa. There are double rooms, family rooms and deluxe suites available, each with a flat-screen tv, air conditioning, private bathroom, balcony with ocean views and coffee/tea making facilities. Best place to stay for families, couples and friends.
Check prices on Agoda | Check prices on Booking.com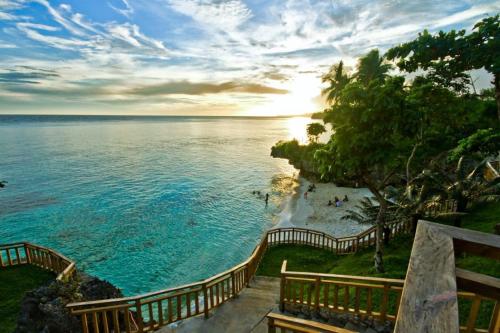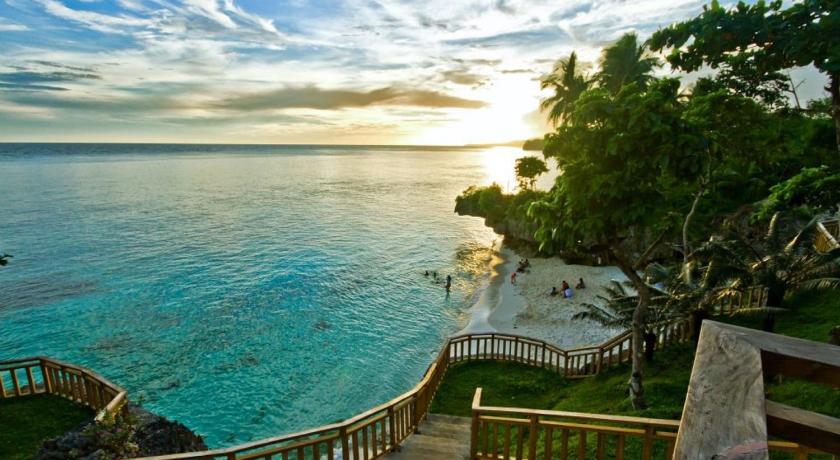 Budget: Anda Divers Enjoy Garden Resort
The cheapest accommodation in Anda, perfect for solo travellers and friends. Anda Divers Enjoy Garden Resort features an in-house restaurant and bar, outdoor swimming pool and beautiful gardens. You can choose from a double room or deluxe double room which are spacious with air-conditioning, private bathrooms, free wifi and a seating area with a desk. Continental breakfast is included for all guests.
WHERE TO STAY IN PANGLAO
Luxury: Donatela Hotel
Donatela Hotel is the best luxury accommodation in Panglao. Centrally located and close to beaches and other attractions on Panglao island. The hotel offers a private beach area, swimming pool, restaurant and pool bar. There is a garden villa, pool villa, family villa and honeymoon villa available at Donatela Hotel. The rooms are air-conditioned featuring a balcony, flat-screen tv, dining area, tea/coffee maker, mini-bar, private bathroom, bathtub and plunge pool. They can also help you to organise scuba diving, snorkeling and other activities in Bohol. Great for families, friends and couples.
Check prices on Agoda | Check prices on Booking.com
Mid Range: Conrada's Place Hotel & Resort
Conrada's Place is located 450m from Alona Beach and close to shops, restaurants and other nearby attractions. The accommodation features an outdoor pool, restaurant, snorkeling activities and wellness spa. There are double rooms, deluxe rooms, family rooms and suites which have air-conditioning, free wifi and breakfast is included for all guests. Conrada can also help you book island hopping tours and other activities in Bohol. Great place to stay for families, friends and couples.
Budget: Bohol Coco Farm
Bohol Coco Farm is rated the best budget accommodation for a solo traveler in Bohol. Enjoy a rustic experience with modern luxuries of free wifi and a restaurant. Great location close to beaches and other attractions. The rooms and fan-cooled with shared bathrooms and towels are included. There's also a shared lounge with free coffee and a tour desk.
Check prices on Agoda | Check prices on Booking.com
BOOK A BOHOL TOUR
Another great way to see all of the best Bohol tourist spots is to book a Bohol Countryside & Panglao Highlights Tour. 
This particular tour is the most top-rated tour in Bohol with hundreds of great reviews and thousands of bookings. I can't recommend this amazing tour enough, especially for first-timers to Bohol!
You can Click Here to see what other travelers are saying about this tour!
The Bohol Tour includes the following:
Chocolate Hills
Bilar Manmade Forest
Bohol Tarsier Sanctuary
Loboc River Cruise with lunch
Hinagdanan Cave
Panglao Watchtower
& much more
Click Here to check availability and rates.
AIRBNB BOHOL
Another option for accommodation in Bohol is to stay at an Airbnb, which generally has some great deals on Bohol Island.
Get your $40 Airbnb discount here!
MORE PHILIPPINES TRAVEL GUIDES
Bohol Travel Guide: 31 Epic Things To Do In Bohol
Camiguin Travel Guide: 13 Best Camiguin Tourist Spots
Cebu Travel Guide: 15 Things To Do In Cebu
Siquijor Travel Guide: 3 Day Siquijor Itinerary
Siargao Travel Guide: 15 Things To Do In Siargao
Malapascua Island Guide: 11 Things To Do In Malapascua
Bantayan Island Guide: 15 Things To Do In Bantayan
Sumilon Island Guide: Sumilon Island Itinerary
Dumaguete City Guide: Best Dumaguete Tourist Spots
MY CAMERA GEAR
• DSLR Mirrorless Camera: Sony A7ii 
• Drone Camera: DJI Mavic Pro 2
• GoPro: GoPro Hero 7 Black
• Everyday Lens: Sony F2.8 24/70mm
• Camera Bag: Lowepro Protactic 31L
• Selfie Stick: Sandmarc Metal Edition 1.2m 
• Tripod: Joby Flexible GorillaPod
• GoPro Dome: Underwater GoPro Dome
• Power Bank: Anker Powerbank
• External Hardrive: WD Elements 4TB
WHAT TO PACK FOR PHILIPPINES?
• Waterproof Phone Case: Universal Waterproof Case
• Reusable Water Bottle: Hydro Flask Water Bottle
• Rain Jacket: North Face Rain Jacket
• Water Shoes: Slip-on Water Shoes
• Day Bag: Nomatic 20L Day Bag
• Power Adapter: Universal Power Adapter
• Packing Cubes: 4 Set Packing Cubes
• Microfibre Towel: Quick Dry Travel Towel
• Travel Insurance: World Nomads Travel Insurance
• Money Belt: Hidden Money Belt
I hope you enjoyed reading this article and if you have any questions at all about Cadapdapan Bohol, please leave me a comment below and I will get back to you as soon as I can.
Happy Adventuring! 😃