The hardest, the longest, but the most rewarding hike in Hpa An Myanmar is the famous Mount Zwegabin hike! After hiking Mount Hpan Pu & Taung Wine Mountain, I saved the best for last and it was worth every drop of sweat to make it to the summit of Mount Zwegabin for sunrise!
Must Read → 2 Week Myanmar Itinerary
Have you got travel insurance for Myanmar? I know that nobody likes to talk about this stuff but accidents can happen and having World Nomads Insurance can save you thousands of dollars if something goes wrong. 

WHERE IS ZWEKABIN MOUNTAIN & HOW TO GET THERE
Mount Zwegabin is located 10km south-east of Hpa An city center.
There are 2 ways to get to Mount Zwegabin which I have listed below:
Option #1:
If you are renting a scooter/motorbike in Hpa An, it is a short 15-minute drive from the city center to the base of Zwekabin Mountain. You will be able to rent a scooter from your accommodation for approximately 6,000 – 10,000 Kyat per day.
Option #2:
 The second option of getting to Mount Zwegabin is by taxi. If you plan to hike Zwekabin Mountain for sunrise it is best to organise a taxi the day before to pick you up from your accommodation at around 3:30am.
The cost of a 15-minute taxi ride should be no more than 5,000 Kyat one way.
Find All → Hotels in Hpa An
Insane viewpoint at the top of Mount Zwegabin
Drone shot of Zwekabin Mountain
HIKING MOUNT ZWEGABIN
I arrived at the base of Mount Zwegabin at 4:30am, parked my scooter and paid 4,000 Kyat entrance fee to a monk at the beginning of the hike. He wrote me out a ticket and I was on my way.
There was no easing into the Zwekabin Mountain hike, especially at 4:30 in the morning. There are concrete stairs that zigzag steeply all the way to the summit of Mount Zwekabin.
The majority of the hike is dimly lit with hanging lights and safety railings are in place where needed. I would recommend packing a torch to aid you in the darker areas along the Mount Zwegabin trail.
The Mount Zwegabin hike took me 1 hour and 15 minutes from bottom to top. This was with around 3 or 4 short breaks to sip on some water and catch my breath.
I arrived at the summit at 5:45am with 30-minutes to spare before sunrise. However, I would recommend allowing 2-hours for the average person to hike to the top of Zwekabin Mountain.
Search All → Tours in Myanmar with Klook
Sunrise at Mount Zwekabin
THE VIEWPOINTS AT MOUNT ZWEGABIN
There are 2 epic viewpoints not to be missed at the top of Mount Zwegabin!
Viewpoint #1:
When you arrive at the Mount Zwegabin Monastery (gold pagoda) take a left-hand turn down the concrete stairs towards another pagoda below, but at about halfway down there is a dirt trail leading off to the right and this will take you to a rocky hillside with insane views facing east where you'll find the best spot to watch the sunrise. See the images above for reference!
Viewpoint #2:
The second best viewpoint is on the opposite side of the Zwekabin Mountain, only 5-minutes walk from the sunrise viewpoint. Look for the toilet block on the right-hand side of the Mount Zwegabin Monastery and you can actually climb on the roof for incredible west-facing views of Hpa An. See the images below for reference!
Mount Zwegabin Monastery
Drone shot of Zwekabin Mountain
WHERE TO STAY IN HPA AN
Hpa An has dozens of accommodations to choose from, so I have narrowed it down to a few of the best places to stay in Hpa-An to suit the needs of luxury travelers and budget backpackers. See the list of accommodations below that I personally recommend:
Luxury: Keinnara Lodge Hpa An
Check prices on Agoda | Check prices on Booking.com
Mid Range: Hotel United Hpa An
Check prices on Agoda | Check prices on Booking.com
Budget: Galaxy Motel Hpa An
Check prices on Agoda | Check prices on Booking.com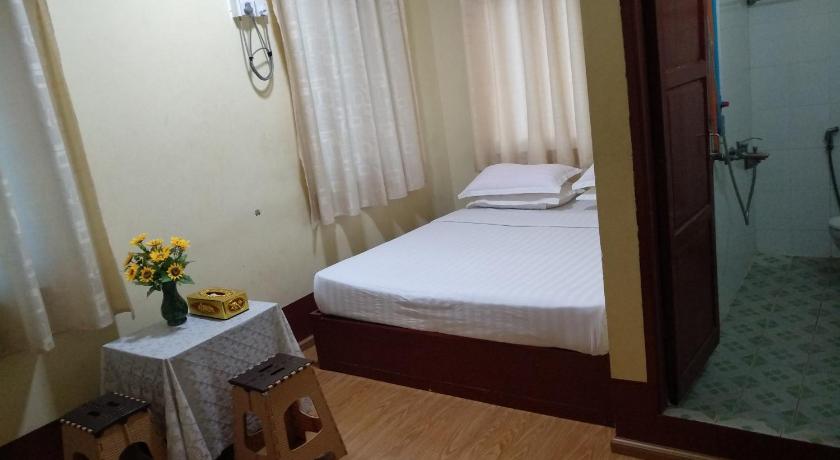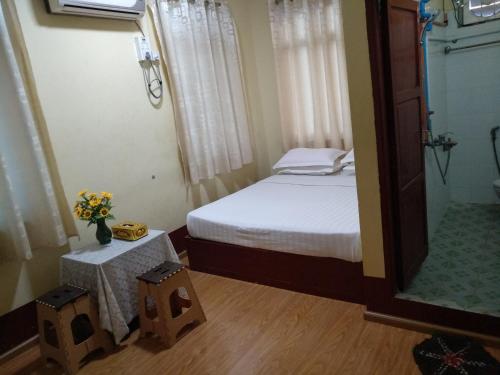 BEST MYANMAR TOURS
MORE MYANMAR TRAVEL GUIDES
Myanmar Travel Guide: 2 Week Myanmar Itinerary
Bagan Travel Guide: 5 Things To Do In Bagan
Mandalay Travel Guide: 10 Things To Do In Mandalay
Inle Lake Travel Guide: 5 Things To Do In Inle Lake
Hpa An Travel Guide: 5 Things To Do In Hpa An
AIRBNB MYANMAR
Another option for accommodation in Myanmar is to stay at an Airbnb, which generally has some great deals in Myanmar.
Get your $40 Airbnb discount here!
MY CAMERA GEAR
• DSLR Mirrorless Camera: Sony A7ii 
• Drone Camera: DJI Mavic Pro 2
• GoPro: GoPro Hero 8 Black
• Everyday Lens: Sony F2.8 24/70mm
• Camera Bag: Lowepro Protactic 31L
• Selfie Stick: Sandmarc Metal Edition 1.2m 
• Tripod: Joby Flexible GorillaPod
• GoPro Dome: Underwater GoPro Dome
• Power Bank: Anker Powerbank
• External Hardrive: WD Elements 4TB
WHAT TO PACK FOR MYANMAR?
• Waterproof Phone Case: Universal Waterproof Case
• Reusable Water Bottle: Hydro Flask Water Bottle
• Rain Jacket: North Face Rain Jacket
• Water Shoes: Slip-on Water Shoes
• Day Bag: Nomatic 20L Day Bag
• Power Adapter: Universal Power Adapter
• Packing Cubes: 4 Set Packing Cubes
• Microfibre Towel: Quick Dry Travel Towel
• Travel Insurance: World Nomads Travel Insurance
• Money Belt: Hidden Money Belt
Thanks for reading this article and if you have any questions about hiking Mount Zwekabin, please leave me a comment below.
Happy Adventuring!
PIN IT FOR LATER