Bukit Cinta is hands-down the best viewpoint of Mount Agung, Bali's highest and holiest peak that stands at 3,031 meters! If you're an early bird like me and want to experience an unforgettable sunrise, I highly recommend taking an early morning drive to the Mount Agung Sunrise Viewpoint at Bukit Cinta!
I have put together this complete guide of Mount Agung Sunrise Viewpoint at Bukit Cinta including how to get there and what to expect!
Have you got travel insurance for Bali? I know that nobody likes to talk about this stuff but accidents can happen and having World Nomads Insurance can save you thousands of dollars if something goes wrong. 

WHERE IS BUKIT CINTA
Bukit Cinta is located in the far east of Bali, close to the popular coastal town of Amed.
From Canggu, Seminyak or Kuta, it's approximately a 2.5 hour drive to get to Bukit Cinta. If you happen to be in Ubud, it's a shorter drive of around 2 hours to reach the Mount Agung viewpoint.
If you are heading out to East Bali I would consider staying in Amed for a night or two which is just 30 minutes drive to Bukit Cinta.
PIN LOCATION OF BUKIT CINTA
HOW TO GET TO TO BUKIT CINTA BALI
The best way to get to Bukit Cinta Mount Agung Sunrise Viewpoint is on a scooter. You can rent scooters in the main tourist hubs throughout Bali including Canggu, Seminyak, Kuta, Denpasar, Ubud, and Uluwatu.
Scooter rental is 50,000 Rupiah ($3) per day or you can rent them on a monthly basis from anywhere between 600,000 rupiah – 700,000 Rupiah. ($40 – $50).
Alternatively, you can rent a car in Bali and head out to Bukit Cinta on 4 wheels instead of 2.
Search All ∼ Car Rentals in Bali
Bukit Cinta Viewpoint
Mount Agung sunrise – Bukit Cinta
Mount Agung sunrise viewpoint – Bukit Cinta
WHAT TO EXPECT AT BUKIT CINTA
When you arrive at the pin location of Bukit Cinta the viewpoint of Mount Agung is visible from the road, so you can't miss it. I guarantee you will be in awe when you catch your first glimpse of Bali's highest peak.
The Mount Agung sunrise viewpoint features a rolling hill, some banana trees and a field of long grass which is the best spot to take photos at Bukit Cinta.
If you are lucky enough to have a drone be sure to get it up in the air to capture some different angles of Mount Agung and the expansive rice fields in the foreground. You will see two tall palm trees at the bottom of the hill at Bukit Cinta which makes for an epic drone shot.
Besides taking photos, there isn't a whole lot more to do at Bukit Cinta other than marveling at the rays of light hitting the peak of Mount Agung as the sun rises in the east.
I hope these shots I took of this location inspire you to go and experience an unforgettable sunrise at Bukit Cinta for yourselves.
Must Read → 2 Week Bali Itinerary
Mount Agung Sunrise – Bukit Cinta Bali
Bukit Cinta Mount Agung sunrise viewpoint
OTHER VIEWPOINTS NEAR BUKIT CINTA
After the sunrise at Bukit Cinta, head back to the main road and drive north for another five to ten minutes to find another awesome viewpoint, shown below, of Mt Agung.
This particular spot overlooks a vast valley of rice terraces and poppy fields with Mount Agung standing prominently in the backdrop!
See More → 7 Best Bali Waterfalls
Not a bad spot for sunrise near Bukit Cinta
Mount Agung – Bukit Cinta
Another viewpoint of Mt Agung near Bukit Cinta
Idyllic scenes of Mt Agung near Bukit Cinta Bali
PIN LOCATION OF THE SECOND VIEWPOINT
ACCOMMODATION NEAR BUKIT CINTA
I would recommend spending a couple of days in the small coastal town of Amed when visiting Bukit Cinta. From Amed to the Bukit Cinta Mount Agung Sunrise Viewpoint it's approximately a thirty-minute drive.
Amed has hundreds of accommodations to choose from so I have narrowed it down to a few of my personal favorite places to stay in Amed to suit the needs of luxury travelers and budget backpackers. See the list of accommodations below that I personally recommend:
LUXURY: VILLA BATU TANGGA
MID RANGE: BAYU COTTAGES
Check prices on Agoda | Check prices on Booking.com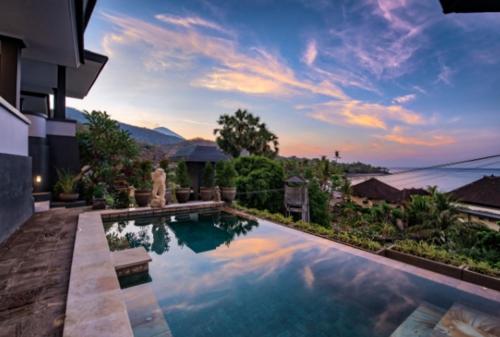 BUDGET: TITI SEDANA HOMESTAY
Check prices on Agoda | Check prices on Booking.com
BEST TOURS IN BALI
MORE BALI TRAVEL GUIDES
Bali Travel Guide: 2 Week Bali Itinerary
Bali Waterfalls Guide: 7 Best Bali Waterfalls
Bali Beaches Guide: 10 Best Beaches In Uluwatu
Nusa Penida Guide: 14 Things To Do In Nusa Penida
Nusa Lembongan Guide: 5 Things To Do In Lembongan
Nusa Ceningan Guide: 3 Things To Do In Nusa Ceningan
AIRBNB BALI
Another option for accommodation in Bali is to stay at an Airbnb, which generally has some great deals in Bali.
Get your $40 Airbnb discount here!
MY CAMERA GEAR
• DSLR Mirrorless Camera: Sony A7ii 
• Drone Camera: DJI Mavic Pro 2
• GoPro: GoPro Hero 8 Black
• Everyday Lens: Sony F2.8 24/70mm
• Camera Bag: Lowepro Protactic 31L
• Selfie Stick: Sandmarc Metal Edition 1.2m 
• Tripod: Joby Flexible GorillaPod
• GoPro Dome: Underwater GoPro Dome
• Power Bank: Anker Powerbank
• External Hardrive: WD Elements 4TB
WHAT TO PACK FOR BALI?
• Waterproof Phone Case: Universal Waterproof Case
• Reusable Water Bottle: Hydro Flask Water Bottle
• Rain Jacket: North Face Rain Jacket
• Water Shoes: Slip-on Water Shoes
• Day Bag: Nomatic 20L Day Bag
• Power Adapter: Universal Power Adapter
• Packing Cubes: 4 Set Packing Cubes
• Microfibre Towel: Quick Dry Travel Towel
• Travel Insurance: World Nomads Travel Insurance
• Money Belt: Hidden Money Belt
I hope you enjoyed reading this article and if you have any questions about Bukit Cinta Mount Agung Sunrise Viewpoint please drop me a comment below.
Happy Adventuring!
↓ PIN THIS ARTICLE FOR LATER ↓