Padang Padang Beach (Pantai Padang Padang) is a famous surf spot and beach bumming paradise on the Bukit Peninsula in South Bali. Padang Padang Beach has a number of awesome things to check out such as unique rock caves, tidal swimming pools, secluded beaches and world-class waves!
I have put together this complete guide to Padang Padang Beach including how to get there and what to expect!
Have you got travel insurance for Bali? I know that nobody likes to talk about this stuff but accidents can happen and having World Nomads Insurance can save you thousands of dollars if something goes wrong.

WHERE IS PADANG PADANG BEACH & HOW TO GET THERE
Padang Padang Beach is located on the southwest coastline of the Bukit Peninsula in Uluwatu.
The best way to get to Padang Padang Beach is on a scooter. You can rent scooters in the main tourist hubs throughout Bali including Canggu, Seminyak, Kuta, Ubud, and Uluwatu.
Scooter rental is typically 50,000 IDR per day or you can rent them on a monthly basis from anywhere between 600,000 IDR and 700,000 IDR.
From Kuta, Seminyak or Canggu, it's approximately a 1-hour to 1.5-hour journey to Padang Padang Beach depending on traffic.
Alternatively, if you are not comfortable driving a scooter, you can rent a car in Bali and head out to Padang Padang on 4 wheels instead of 2.
Search All ∼ Car Rentals in Bali
MAP OF PADANG PADANG BEACH
Drone shot of Pantai Padang Padang
ARRIVING AT PADANG PADANG BEACH
There is a car park conveniently located across from the entrance to Padang Padang Beach which costs 2,000 IDR to park up your scooter for the day.
Padang Padang Beach Entrance Fee: When you arrive at Padang Padang Beach you'll see a ticket booth at the top of the stairs and here you will be asked to pay a 10,000 IDR entrance fee.
The way down to Pantai Padang Padang, some would say is enchanting. A narrow staircase leads down from the top of the cliffs and through a limestone cave that emerges on the shoreline on Padang Padang Bali.
Be sure to keep any loose belongings out of reach from the monkeys on the way down to Padang Padang Beach as they have been known to snatch purses, sunnies, hats, phones, food and drinks.
Must Read → 2 Week Bali Itinerary
Golden hour at Padang Padang Beach
Cheeky monkey at Padang Padang Beach
WHAT TO EXPECT AT PADANG PADANG BEACH
Padang Padang Beach features a semicircular cove with golden sands which is surrounded by lush vegetation and verdant cliffs. There is plenty of space to perch up in the shade of the cliffs or in the middle of the beach if you want to work on that summer tan!
There are small vendors set up down on the sand at Padang Padang Beach selling locally made souvenirs such as colorful sarongs, hats, t-shirts, board shorts, stubby coolers, friendship bracelets and more. It's a good opportunity to go shopping for gifts for your friends and family or to simply spoil yourself with a Bali souvenir.
If you are looking to ride some waves at the famous Padang Padang Surf Break there is a small beach shack run by the local surf life saving guards who offer surfboard rentals for around 100,000 IDR for 2 hours.
Up for grabs are longboards, shortboards and foamies though it's first in best dressed. For beginner surfers, you can ask one of the locals to take you out for some surf lessons as they are always keen to get people out in the water for a wave.
Search All ∼ Tours in Bali with Klook
The iconic Padang Padang Beach Uluwatu
EXPLORING PADANG PADANG BEACH
On low tide, there is a lot of exploring to be had around the foot of Padang Padang Bali cliffs. Natural rock formations and secluded beaches make for excellent photo opportunities or the perfect spot to beach bum and read a book.
The cove at Padang Padang Beach is a great spot for a swim to cool off as the waters are calm and there are no currents. You can also swim out to the left of the beach alongside the edge of the cliffs to find a number of small caves that you can enter and walk around inside.
For food and drinks back on the beach, there are half a dozen local warungs to order fresh seafood or a local nasi goreng dish to fill the stomach and your choice of soft drinks, fresh coconut water or a cold Bintang beer to wash it all down. All this for as little as $3 to $5
Padang Padang Bali is also dog-friendly so if you want to take your pooch down to the beach for the day then this a great location to do just that. I happened to be dog-sitting my mates dog Taco and she was the center of attention when I took her down to Padang Padang for some playtime.
Playtime down at Pantai Padang Padang
PADANG PADANG SURF
Padang Padang Surf is typically a left-hand barreling reef break but it is also known to have a fairly decent right-hand wave that breaks into the bay.
The best months to surf at Padang Padang Beach Bali is in the dry season, May to October. Padang Padang Surf works best in offshore winds from the east and the ideal swell direction is from the south-west.
You can check the live stream video on the Padang Padang Surf Cam to see the conditions beforehand. Click Here to view.
Tube riding at Padang Padang Surf
Padang Padang Surf
BEST TIME TO VISIT PADANG PADANG
The best time of day to visit Padang Padang (Pantai Labuan Sait) is mid-morning once the sun is already up and reaches this side of the Bukit Peninsula.
Padang Padang Beach is busiest during the middle of the day and early afternoon when the tourist buses start arriving. Sometimes it can be hard to find a nice spot along the beach to settle down because it gets quite crowded, so just keep this in mind when planning your visit.
You can also consider coming to Padang Padang Beach in the late afternoon during sunset hours as most of the day-trippers would have come and gone by this time. Because of its west-facing location, Padang Padang is low-key one of the best spots to watch the sunset in South Bali.
PADANG PADANG BEACH PARTY
You may or may not have heard about the ever-popular Padang Padang Beach Party which is a weekly occurrence and worth checking out if you like cheap drinks and dancing on the beach!
Every Saturday night the locals set up a stage down on Padang Padang Beach along with lots of neon lights and a DJ who plays some funky beats to get you going! I have been to the Padang Padang party a number of times and can tell you it's a lot of fun and a great place to meet other backpackers.
The Padang Padang Beach party usually kicks off between 9 pm and 10pm on Saturday nights only.
FINAL THOUGHTS ON PANTAI PADANG PADANG
Pantai Padang Padang is by far one of my favorite beaches in Bali and I can't even count on one hand the number of times I have been here!
Whether you come to surf the epic point break or to simply sip on a fresh cold coconut while reading a book on the shoreline, Pantai Padang Padang ticks all boxes for every type of traveler and beachgoer!
So if you looking for a nice beach in South Bali to kill a few hours or to perch up for an entire day, head on over to Padang Padang and I guarantee you'll fall in love with this beach just as I have.
WHERE TO STAY NEAR PADANG PADANG BEACH
Uluwatu has hundreds of accommodations to choose from so I have narrowed it down to a few of my personal favorite places to stay to suit the needs of luxury travelers and budget backpackers. See the list of accommodations below that I personally recommend:
Luxury: Canang Sari Villas
I've stayed at Canang Sari Villas a few times and it's one of the best 4-star accommodations in Uluwatu! Featuring 2-bedroom and 3-bedroom villas with private swimming pools, beautiful gardens, equipped kitchens, large living space, indoor and outdoor bathrooms, free wifi and ocean views. There is also a spa centre and squash court for guests to use. Close to beaches, cafes and shops. Perfect for families, friends and couples.
Check prices on Agoda | Check prices on Booking.com
Mid Range: Bukal Sari Villas Uluwatu
Awesome 3-star accommodation boasting a swimming pool, restaurant, gardens and outdoor swimming pool. There is free wifi and each room is spacious and modern with private bathrooms. Continental or à la carte breakfast is included for all guests. Close to Uluwatu Temple and beaches. Great for couples, families and friends.
Check prices on Agoda | Check prices on Booking.com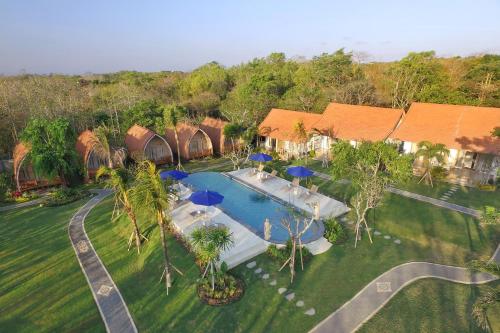 Budget: Bali Beats Guesthouse Uluwatu
One of the best budget accommodations in Uluwatu! Bali Beats features an outdoor swimming pool, garden terrace and free wifi. There are a restaurant and bar as well as a shared kitchen for guests to use. Close to beaches, cafes and restaurants. Perfect for solo travelers and friends on a budget.
Check prices on Agoda | Check prices on Booking.com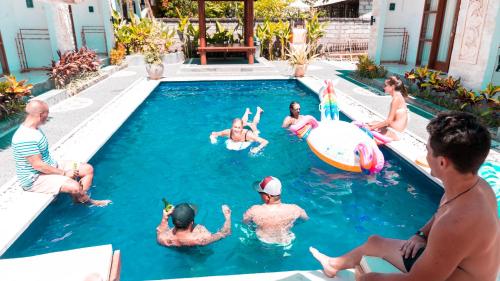 BEST TOURS IN BALI