Romblon Island is one of the most up and coming destinations in the Philippines and the many epic Romblon tourist spots scattered across the island will prove that!
Some of the best things to do in Romblon Island include beach hopping, awesome viewpoints, river canyons, old castle forts and much more!
I recommend spending at least 3 days on Romblon Island to discover all of the best things to do in Romblon!
I have put together this complete travel guide of the 12 Best Romblon Tourist Spots to help you craft together your own Romblon Island itinerary!
Also in this Romblon Island Guide, I have included useful information on how to get to Romblon Island, where to stay in Romblon Island, getting around and the best time to visit.
Have you got travel insurance for Philippines? I know that nobody likes to talk about this stuff but accidents can happen and having World Nomads Travel Insurance can save you thousands of dollars if something goes wrong.
12 BEST ROMBLON ISLAND TOURIST SPOTS
BONBON BEACH
Bonbon Beach Romblon Island is arguably the most beautiful beach in the Philippines, boasting one of the most unique sandbars that looks far too good to be true!
From Romblon Island main town, it's a 5-minute drive to reach Bonbon Beach Romblon or approximately a 45-minute walk along the coastal road.
At the jump-off point, Bonbon Beach isn't visible, though it's no more than a 5-minute walk along the coastline and around the corner to where Bonbon Beach Romblon will reveal itself.
Bonbon Beach features a glistening white sandbar that stretches from Romblon Island mainland over to the uninhabited island known as Bang-og. On either side of the Bonbon sandbar is waist-deep turquoise waters that are utterly inviting and the perfect opportunity to take a dip.
Bonbon Beach is, in fact, a privately owned beach by one of the locals, though tourists and Romblon Island residents are free to roam around the area providing everyone respects the land by taking only photos and leaving only footprints.
On low tide, Bonbon Beach sandbar is completely exposed making it possible to walk across to Bang-og Island and explore the beach over there.
On high tide, however, Bonbon Beach is only partially exposed so make sure to be aware of the tides if you plan on crossing over the sandbar to Bang-og Island. You wouldn't want to get stuck over there unless you are well equipped.
One of the best parts about Bonbon Beach is that there are no resorts or any sings of development which is a great thing in my opinion! Just sugary white sands, azure waters and incredible views of Romblon Island and the neighboring Tablas Island.
If you have the time, I recommend visiting Bonbon Beach for sunset with a beer in hand and also at sunrise with your early morning coffee. It is hands down one of the most peaceful beaches in the Romblon Province!
If you have a DJI Mavic Drone Camera I highly recommend flying it at Bonbon Beach as it looks even better from the sky!
Bonbon Beach – Romblon Tourists Spots
Bonbon Beach – Romblon Island
Bonbon Beach – Romblon Island
Nomatic Travel Bag: Best travel bag in the world! The Nomatic 40L Travel Bag is a game changer and perfect for all adventures. With an incredible organization system that enables you to pack more in less space, this carry-on size bag will change the way you travel!
FORT SAN ANDRES
Fort San Andres is an iconic landmark and a popular Romblon Island tourist spot for people with an interest in history and Spanish architecture dating as far back as the 15th century. Not only will you get a taste of history at Fort San Andres but you'll also be treated to a panoramic viewpoint that overlooks Romblon Island main town and the magnificent bay.
Fort San Andres is located smack bang in the middle of Romblon town on top of the hill and you can either drive right up to the top parking lot on a scooter or take the stairs that lead up the hillside from Freedom Park.
It's not a very large fortress by any means but it is every bit impressive. Stone walls and statues welcome you at the entrance to the fort and once inside, you can roam around the grounds and step inside the fort itself.
Fort San Andres is divided into square sections within the walls that you can navigate your way through, marveling at the detailed stone architecture. It's also possible to climb to the top of the watchtowers along the front wall which is the highest point of the fort.
From the top, you can enjoy the extensive views of Romblon Island bay, Romblon township and the neighboring islands in the Romblon Province.
A short visit to Fort San Andres is not to be missed on your Romblon Island tourist spots list!
Fort San Andres Romblon Island
Fort San Andres – Romblon Tourist Spots
The view of the bay – Romblon Island
Aerial shot of Fort San Andres – Romblon Itinerary
Fort San Andres Romblon – Romblon Tourist Spots
KIPOT RIVER
Kipot River is a fun-fuelled adventure to be had on Romblon Island and it's a nice change away from the beaches and the township. This isn't the everyday river that you might expect to see, it's a slot canyon featuring a mini set of falls of fresh running water, a large natural swimming hole and some cliff jumping spots!
Kipot River is located on the southeast corner of Romblon Island in the Sablayan region. It's a little tricky to find but don't be hesitant to ask the locals in the area for directions. I know for sure it's along Romblon-Sawang-Sablayan Rd and the jump-off point is approximately 1.5km inland from Sablayan Point.
When I visited, I was staying at Reggae Vibes Hostel and the owner, Rose, is always down for an adventure so she came along and showed us the way.
From the jump-off point, it's a bit of a steep walk down the sides of the valley through some farmland and there are makeshift stairs to somewhat make it less sketchy going down. In one section, I had to use my hands to hang on to some vines on the side of the hill to stop me from slipping. I was, however, carrying 10kg of camera equipment on my back, so for the average person heading down to Kipot River, you will be fine.
Microfibre Travel Towel: To pack a towel or not to pack a towel? A standard bathroom towel can take up a lot of space in your bag. Get your hands on a quick-dry Microfibre Travel Towel which is perfect for the beach, backpacking, camping and general traveling.
At the end of the jungle trail it opens up to a large natural swimming hole and the Kipot River Canyon is in full sight. You can either swim up the river through the canyon to find the small set of falls or if you want an adrenalin rush you can climb the rocks on the left-hand side and take the leap off the 3-meter cliff into Kipot River.
The water is crystal clear so you can easily see the depth of Kipot River making it easy to see exactly where to aim your jump. Once you're in the water, it's a short swim to the end of the canyon to a small waterfall and you can spend some time here exploring the area.
We spent around 1 hour at this epic Romblon tourist spot and I highly recommend adding it to your list of places to see in Romblon Island!
Kipot River – Romblon Tourist Spot
Kipot River Falls – Romblon Island
The slot canyon at Kipot River Romblon
Inside the canyon – Romblon Tourist Spots
REGGAE VIBES BEACH
If you end up staying at Reggae Vibes Hostel you can't miss the opportunity to go for a swim and a snorkel around the coral gardens just offshore. Rose said there are many turtles that frequent the waters here at Reggae Vibes Beach so it's a good reason to grab a snorkel set and go on the hunt.
Even if you're not a guest at Reggae Vibes the doors are always open for anyone who wants to hang out. There are also a few sets of snorkeling gear that you can use at the hostel.
It's no more than a 30-meter swim from the shore to reach the coral gardens and there is so much underwater exploring to do here and hopefully, there will be turtles!
I was unfortunate and did not spot any turtles in the morning I went snorkeling at Reggae Vibes Beach in Romblon Island but the size of the corals and the abundance of marine life made up for it.
Reggae Vibes Beach – Romblon Island
Drone shot of the reef – Romblon Travel Guide
Reggae Vibes Hostel – Romblon Island
Coral gardens at Reggae Vibes Romblon
LIBTONG FALLS
Libtong Falls is one of the only waterfalls in Romblon Island and a worthy adventure to be added to your list of things to do in Romblon Island.
Libtong Falls can be found on the very southernmost tip of Romblon Island. From Reggae Vibes hostel it's exactly 1.5km drive to the east and you'll find the jump-off point which is a causeway where the river meets the ocean.
Before you make the effort to visit Libtong Falls it's best to ask a local whether or not there will be any water flow. I say this because when I went there was not enough rainfall during that time and the waterfall was non-existent, just a few stagnant rock pools. So best to double-check with someone first.
Even though Rose from the hostel told me there would be no water flow, I still wanted to see it for myself and take a few photos.
From the jump-off point, it's a short 10-minute walk along a jungle trail at the back of someone's house to reach Libtong Falls. I don't have much to write about this spot apart from what I saw, which was dry rock and stagnant rock pools…
I do hope that you will have better luck than I did at this Romblon Island tourist spot during your visit, just make sure the water is flowing before you go.
On the trail to Libtong Falls – Romblon Island
Well, at least we tried! – Romblon Tourist Spots
SAN PEDRO BEACH
San Pedro Beach, also known as Talipasak Beach, is yet another one of the best beaches in Romblon Island which is tucked away in a small cove and surrounded by lush rainforest. Trust me, San Pedro Beach cannot be missed on your Romblon itinerary!
Situated on the most western tip of Romblon Island, San Pedro Beach is the definition of paradise! From the main road, there is a smaller road that cuts down the hillside and comes to a dead-end which is the jump-off point.
San Pedro Beach (Talipasak Beach) is actually a private beach area attached to the San Pedro Beach Resort though the doors are always open for day-trippers. There is a small entrance fee of 50 pesos for outside visitors.
The stretch of sand down at Talipasak Beach is no more than 100 meters long and it's fringed by a mix of coconut palms and lush green forest. It's one of the dreamiest beaches I have come across and I'm sure the images below will prove that!
A coral reef wraps around this westernmost tip of Romblon Island which is a great opportunity to grab a snorkel set and see what you can find.
You could easily spend half a day beach bumming at San Pedro Beach Romblon if you have the time. It truly is one of the most peaceful locations that you will find on Romblon Island Philippines.
San Pedro Beach – Romblon Island
Talipasak Beach – Romblon Tourist Spots
Not a bad spot to chill – Romblon Island
TIAMBAN BEACH ROMBLON ISLAND
Tiamban Beach Romblon Island is an absolute dream location and I was surprised that its shores were almost completely empty during my visit!
Tiamban Beach is right around the corner from the more popular Bonbon Beach which is probably why it often gets overlooked. Do note that this is a secluded beach area attached to the Tiamban Beach Resort though outside guests are welcome to come and enjoy this stretch of sand for a small fee of 50 pesos.
Due to its location on Romblon Island, Tiamban Beach lies in a cove protected from the winds and the water is super calm and there are no currents close to its shores.
The sand at Tiamban Beach is glistening white and the ocean is as crystalline as it could possibly get, all of which is fringed by swaying coconut palms over the water's edge! I will now let the photos do the talking…
Hidden Money Belt: I never go on a trip without one! The best thing is they are always out of sight, hidden beneath your clothing. With RFID blocking, they are perfectly designed to keep your credit cards, cash and other valuables safe when you're out adventuring!
Azure waters at Tiamban Beach Romblon Island
Is this place even real? – Romblon Tourist Spots
Drone shot of Tiamban Beach – Romblon Island
LIGHTHOUSE VIEWPOINT
There are a few lighthouses dotted around the coastlines of Romblon Island but there is one in particular that I recommend adding to your list of what to do in Romblon!
The Lighthouse Viewpoint that I am talking about can be found on the easternmost tip of Romblon Island along Lamao – Calabogo – Sablayan Road. As you are driving along the coastal road it's hard to miss this tall white lighthouse on the side of the road.
From the jump-off point, you can traverse across the hillside to a rocky outcrop that sits out past the cliffs. This is the viewpoint that you want to get to that offers extensive views of Romblon's east coast and the nearby Alfonso Island.
On a clear day, you'll also be able to spot Sibuyan Island off in the distance which is another landmass that belongs to the archipelago of islands in the Romblon Province.
If you're an early riser, the Lighthouse Viewpoint would be an epic spot to watch the sunrise due to its location facing east.
Romblon Lighthouse – Things to do in Romblon
East coast of Romblon Island
Alfonso Island – Romblon Tourist Spots
Alfonso Island – Romblon Tourist Spots
MARBLE QUARRY & SHOPS
You may not yet know this about Romblon Island but it happens to be the 'Marble Capital of the Philippines' and is home to a number of small quarries and souvenir shops selling hand-crafted marble goods.
The majority of the Romblon marble quarries are found in the northeastern areas of the island and you can visit at any time of the day to see what it's all about.
At first, I didn't plan on visiting the Marble Quarry during my Romblon trip but I happened to stumble across it on my lap around the island. Furthermore, I am glad I did get the chance to check it out as it was more interesting than I intended.
I spotted one of the Romblon marble quarries on the side of the road and stopped to see what was going on. There were men hard at work excavating the marble rocks and loading them into the back of small dump trucks, A little further down the road there are marble workshops where the rocks are dumped and sorted into piles.
Local craftsmen can be found along the roadside, sculpting away at the marble rocks that come in an array of colors such as white, green, pink, red and black. They are seriously talented at what they can do, carving such fine detailed statues, tables, vases and all other sorts of marble ornaments.
There is no shortage of Marble Shops in Romblon Island to buy yourself souvenir or a gift for someone else and knowing that it was handmade right here on the island.
Romblon Marble Quarry – Romblon Island
Sculpting a marble table – Romblon Tourist Spots
Marble workshops in Romblon
Some finished marble products – Romblon Island
SAINT JOSEPH CATHEDRAL ROMBLON
The Saint Joseph Cathedral in Romblon Island is a notable religious site in the center of Romblon town. It's considered to be the oldest Roman Catholic Church in Romblon Province and one of the colonial churches declared as a National Cultural Treasure in 2001.
Built sometime in the 15th century, the Saint Joseph Cathedral Romblon is well preserved boasting beautiful architectural elements such as stained glass windows, religious paintings, antique ornaments and a large bell inside the tower made from copper.
Be sure to add this Romblon tourist spot to your itinerary, even if it's just for a short visit to take a couple of happy snaps.
Saint Joseph Cathedral Romblon
St. Joseph Cathedral Romblon Island
COBRADOR ISLAND SEA TURTLE SANCTUARY
Cobrador Island boasts a half a dozen white sand beaches and is home to a protected Sea Turtle Sanctuary. It's quite easy to reach Cobrador Island from Romblon Island by boat and you can either head over for a few hours or spend an entire day beach hopping around Cobrador Island.
From Romblon, you can find a friendly local who owns a boat to take you over to Cobrador Island for the day. Depending on how good your bartering skills are, you can expect to pay anywhere between 1000 – 1500 pesos total for the boat trip over to Cobrador Island. Best to gather a small group of people to join in on the adventure so you can split the cost of the boat between you.
The boat journey from Romblon Island to Cobrador Island takes around 30 to 40 minutes and it will drop you off directly in the cove where the Cobrador Sea Turtle Sanctuary is located.
If you don't have your own snorkeling gear you can rent them in Romblon town or perhaps from one of the local residents who live on Cobrador Island.
Within seconds of jumping headfirst into the ocean, we spotted a turtle feeding on seagrass in the shallows. It was a little bit startled by us and decided to take off into deeper waters so it's best to make minimal movement when you come across a turtle as to not scare it away.
Although the first turtle we saw got away, we encountered another 4 or 5 turtles cruising around while snorkeling at the Sea Turtle Sanctuary in Cobrador Island.
There is just something so majestic about sea turtles that fascinates me so whenever there is an opportunity to swim with them I can't say no!
You definitely won't regret this awesome adventure so make sure to note it down as a must-do activity on your list of things to do in Romblon Island.
Cobrador Island Sea Turtle Sanctuary
Hey, squirt! – Romblon Island
TITANIC BEACH
Last but not least on this Romblon itinerary is Titanic Beach, which is the unofficial name that I have given it. I think the name is fitting because at this location you will find a much smaller scale recreation of the Titanic.
Titanic Beach is a stone's throw away from Tiamban Beach along the same stretch of coastline. In fact, the easiest way to get here is by walking along the beach from Tiamban for a few minutes till you reach Titanic Beach.
Alternatively, there is another entry point to Titanic Beach from the road which is down a set of concrete steps beside Nonok Beach Resort. Again, this is a secluded beach area attached to the resort but outside guests are welcome to visit.
I found it kind of comical to see a concrete version of the Titanic down by the shoreline here on Romblon Island but it is also a beautiful beach area to go for a swim or chill out under one of the straw umbrellas.
And of course, you must get a picture on the bow of the boat to recreate the famous scene out of the Titanic film.
Titanic Beach – Romblon Island
The RMS Titanic – Romblon Tourist Spots
WHERE TO STAY IN ROMBLON ISLAND
Romblon Island has dozens of accommodation options to choose from, so I have narrowed it down to a few of the best places to stay in Romblon to fit the needs of budget backpackers and luxury travelers.
See the list of accommodations below that I personally recommend:
Luxury: Stone Creek House
Stone Creek House is the best luxury accommodation centrally located in Romblon. Featuring modern and spacious living, flat-screen tv, air-conditioning, kitchenette, dining area, balcony views and free wifi. There is an executive suite, deluxe king suite or the deluxe single suite available to rent during your stay in Romblon. Perfect for couples, families and friends.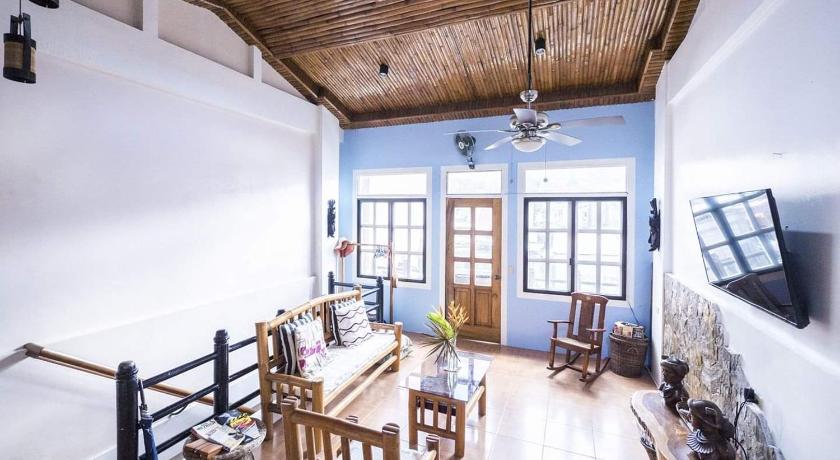 Mid Range: Coral Canyon Resort
Coral Canyon Resort Romblon is an affordable accommodation located on the southwest coast of the island, away from the hustle and bustle of the city. Featuring a restaurant, outdoor swimming pool, a bar, billiards table, squash court, dart board, well-kept gardens and a terrace, all of which are on the oceanfront. There are dorm rooms, double rooms, triple rooms and quadruple rooms available with air-conditioning, spacious bedrooms, private bathroom and some with private pools. Perfect place to stay for families, friends, couples and solo travelers!
Budget: Reggae Vibes De Isla Romblon
I personally stayed at Reggae Vibes Hostel and can't recommend this place enough! Situated on the southwest coast of Romblon Island, this epic hostel lies right on the beachfront and features a small swimming pool, a restaurant, bar, outdoor terrace and a shared lounge with a flat-screen tv. There are dorm rooms, triple rooms and beachside bungalows available to rent with air-conditioning/fan-cooled, large comfortable beds and private bathrooms. Rose, the owner of Reggae Vibes, is super friendly and always down to take guests on an adventure around the island! If you're a solo traveler, couple or with a bunch of mates, Reggae Vibes is where you'll want to base yourself!
ROMBLON ISLAND MAP
HOW TO GET TO ROMBLON ISLAND
To be honest, it's a little bit tricky and time-consuming figuring out how to get to Romblon but that's all part of the adventure! On that note, it confirms the fact even more as to why Romblon Island is one of the best-kept paradises in the Philippines!
The only way to reach Romblon Island is by boat and the most common route is from San Augustin Pier on the east coast of Tablas Island.
BY BOAT:
The pump boat from Tablas Island to Romblon Island departs daily from San Augustin Port on Tablas Island at 8:00am and 1:00pm. The journey over to Romblon Island takes around 1 to 2 hours depending on the sea conditions.
The cost of the boat trip from Tablas to Romblon is 100 pesos and an additional 10 pesos terminal fee.
If you are heading back to Tablas Island from Romblon Island, the daily departures are the same, leaving at 8am and 1pm from the Romblon Motorboat Terminal, not the main port of Romblon.
BY PLANE & BOAT:
There are only a few flights per week to Tablas Island arriving at Romblon Airport (TBH) in Alcantra, connecting domestic travelers from Manila.
From Tablas Airport, you can ride in the back of a jeepney to San Augustin Pier and take the boat over to Romblon from here.
The journey from Tablas Airport to San Augustin Pier is around 1-hour and the cost for the jeepney is approximately 100 pesos.
GETTING AROUND ROMBLON ISLAND
There's a couple of options for getting around Romblon Island and they are by scooter, habal habal, tricycle or jeepney.
You can rent a scooter in Romblon Island for as little as 300 pesos per day and make your own way around to all of the Romblon tourist spots at your own pace. The best place to rent a scooter is via your accommodation or in Romblon town.
If you are not confident driving a scooter, the other option is to hail down a tricycle or habal habal (motorbike taxi) along the main roads on Romblon Island. For a 15-minute drive, you can expect to pay around 50-100 pesos.
GoPro Hero 8: One of the most popular cameras on the planet! I love using the GoPro Hero 8 for all my underwater shots and fast-paced adventures. The GoPro Hero 8 captures the best moments with its wide range of features that are very simple to use!
BEST TIME TO VISIT ROMBLON ISLAND
The best time to visit Romblon Island, weather-wise, is between April and July when temperatures are hot and there is barely any rainfall. This is also high season in Romblon, so expect to see more tourists during these months.
I recommend planning your Romblon itinerary on the shoulder months of the high season between November and March which sees a bit of rainfall but usually only lasts for a couple of hours and the rest of the day is sunny.
Try to avoid the typhoon season in Romblon which is typically between August and October.
AIRBNB ROMBLON ISLAND
Another option for accommodation in Romblon is to stay at an Airbnb, which generally has some great deals.
LONELY PLANET – PHILIPPINES
One of the best books to take on your trip is the Lonely Planet Philippines Travel Guide!
BUY NOW ON AMAZON → LONELY PLANET PHILIPPINES
JOIN MY FACEBOOK TRAVEL TRIBE
Do you have any questions about Romblon Island?
Join my Facebook Travel Tribe and send a message at any time for a quick response!
MORE PHILIPPINES TRAVEL GUIDES
WHAT TO PACK FOR ROMBLON
Everyday Backpack: One of the best backpacks on the market! The Nomatic 20L Backpack is perfect for on the go adventures. Featuring multiple storage spaces for valuables, drink bottles, chargers, notebooks and more. This sleek backpack was designed for you.
Universal Power Adapter: Don't leave home without one! I highly recommend getting this Universal Power Adapter so that you are able to charge all of your electronics when you're on the road. Compatible in Asia, UK, Europe, Africa, USA, SA and Australia.
Hidden Money Belt: I never go on a trip without one! The best thing is they are always out of sight, hidden beneath your clothing. With RFID blocking, they are perfectly designed to keep your credit cards, cash and other valuables safe when you're out adventuring!
Waterproof Phone Case: A waterproof phone case is a must-have item! This universal case will keep your phone safe from water damage, sand and scratches during your adventures. Suitable for all smartphone models.
Portable Charger: One of the best portable chargers on the market! The Anker Power Bank keeps your phone and accessories charged on those longer adventures. Featuring 2 USB charging ports, rechargeable battery, works with iPhone, iPad, Samsung, Oppo and Android.
Microfibre Travel Towel: To pack a towel or not to pack a towel? A standard bathroom towel can take up a lot of space in your travel bag. Get your hands on a quick-dry Microfibre Travel Towel which is perfect for the beach, backpacking, camping and general traveling.
Rain Jacket: A light-weight rain jacket is an absolute must when traveling! North Face waterproof rain jackets come in both men and women sizes, featuring a breathable mesh lining and adjustable hood that can be tucked away inside the collar.
Kindle: The best alternative for books! Kindle e-readers are perfect for long haul flights, reading on the beach or a quiet evening away from the bars. Kindle's are waterproof with rechargeable batteries and adjustable light settings to suit indoor/outdoor conditions.
Packing Cubes: My favorite item in my backpack! Perfect for organizing your shirts, pants, jackets, socks, underwear and more. This 5 Set Packing Cubes makes packing easier and more efficient, adding extra space in your bag for your next trip.
Activated Charcoal Tablets: Want to avoid food poisoning? Most of us have been a victim of travelers diarrhea from eating street food. Organic Activated Charcoal Tablets are fast-acting and will rid your system of the bad bacteria that causes stomach upset.
MY CAMERA GEAR
Everyday Camera: The most affordable mirrorless camera on the market! I personally use the Sony A7ii Mirrorless Camera on all of my adventures. It's compact, lightweight and super easy to use for all levels of photography. A 28-70mm Sony lens is also included.
Drone Camera: Take your photography to new heights! The DJI Mavic Pro 2 Drone is at the top of the game when it comes to high-quality images and video, easy to control functions and traveler-friendly capabilities. I guarantee you won't regret purchasing one.
GoPro Hero 8: One of the most popular cameras on the planet! I love using the GoPro Hero 8 for all of my underwater shots and fast-paced adventures. The GoPro Hero 8 captures the best moments with its wide range of functions that are very simple to use!
Camera Bag: My favorite camera bag I have ever owned! The Lowepro Protactic 450 AW II Camera Bag features a waterproof rain cover, drink bottle holder, padded compartments for cameras, drones, lenses, accessories and it also has a laptop pocket.
Selfie Stick: Everyone loves a good selfie, right!? The Sandmarc Metal Edition Selfie Stick is sleek, stylish and can extend to 1.2m. I find it much easier to take photos and videos with the GoPro when it is mounted to the Sandmarc Selfie Stick!
Camera Tripod: The Joby GorillaPod is suitable for all cameras. This tripod is easy to use and perfect for setting up a time-lapse video or even using it as a selfie stick. The legs are flexible so you can wrap it around a tree or a pole to get creative with your shot.
GoPro Dome: Have you ever wanted to capture those under/over water shots with the GoPro? This epic underwater GoPro dome housing is the best camera accessory to have to create the perfect 50/50 shot. I use mine every time I am in the ocean!
Memory Card: The best thing about SanDisk Extreme Pro is that it delivers maximum speed for images and videos. Having 64GB of storage means that you can store hundreds of files on this SD card for 2-3 days and not have to worry about running out of space.
External Hard Drive: As a photographer, my images and video files take up a lot of space on my MacBook so I use the WD Elements External Hard Drive to store everything. With 4TB worth of storage space, this is more than enough for 1 year worth of content.
Check Prices Here
ONLINE ENGLISH TEACHING
Do you want to travel full-time and get paid along the way?
Teaching English online is one of the easiest and most flexible jobs out there! Become a Digital Nomad today where you get to choose your own hours and work remotely from anywhere in the world by teaching English online. All you need is a laptop, good WiFi connection, a TEFL certificate and you're good to go!
MY SHOP
Before you go, don't forget to check out My Online Shop!
I've got a wide range of digital products for sale and I'm sure you'll find something that will come in handy during your travels!
FINAL THOUGHTS OF ROMBLON ISLAND
I hope you enjoyed reading this article and if you have any questions at all about Romblon Island Tourist Spots, please leave me a comment below and I will get back to you as soon as I can.
Happy Travels!
PIN IT FOR LATER