Tablas Island is an off-the-beaten-path destination in the Romblon Province, Philippines. There are so many fantastic things to do in Tablas Island including snorkeling in the marine sanctuary, free diving in the blue hole, epic waterfalls, unbeatable white sand beaches, island hopping and more!
I recommend spending at least 4 or 5 days on Tablas Island to discover all of the best Tablas Island Tourist Spots!
I have put together this complete travel guide of the 10 Best Things To Do In Tablas Island to help you craft together your own Tablas Island itinerary!
Also in this Tablas Island Travel Guide, I have included useful information on how to get to Tablas Island, where to stay in Tablas Island, getting around and the best time to visit.
Have you got travel insurance for Philippines? I know that nobody likes to talk about this stuff but accidents can happen and having World Nomads Insurance can save you thousands of dollars if something goes wrong. 

10 EPIC THINGS TO DO IN TABLAS ISLAND
#1 AGLICAY BEACH RESORT & VIEWPOINT
The first thing you're going to want to do on Tablas Philippines is adventure to the beach to cool off. Aglicay Beach is arguably the best beach on Tablas Island to do exactly that, boasting turquoise waters, sugary white sands, tall coconut palms and a panoramic viewpoint on top of the headland.
Aglicay Beach can be found in Alcantara on the southeast coast of Tablas Island. From the town of Looc, it's approximately a 25-minute drive to reach this Tablas Island tourist spot.
Aglicay Beach is part of the Aglicay Beach Resort though you don't have to be a guest at the resort to visit the beach. The property owners welcome outside guests to access Aglicay Beach for a small fee of 50 pesos. Once you have paid the entrance fee you are free to roam around the area, go swimming at the beach, order a meal at the restaurant and take the short hike up to the Aglicay Beach Viewpoint.
The trailhead to the viewpoint at Aglicay Beach Resort can be found at the southern end of the beach and it's no more than a 5-minute walk to the top of the headland.
I was blown away at the beautiful sight of Aglicay Beach when I reached the viewpoint at the hilltop. The tropical scenes that I witnessed before my eyes were postcard-material. In fact, if they ever made postcards for Tablas Island I am sure Aglicay Beach would be the main feature image!
Don't end the adventure here, continue along the ridge trail for a few minutes to another insane viewpoint, boasting extensive views of more secluded beaches and ocean coves!
Search All ∼ Homestays / Hotels / Resorts in Tablas
Coconut palms on Aglicay Beach
Aglicay Beach Resort – Tablas Island Philippines
Aglicay Beach Viewpoint
More epic views of Tablas Romblon
Exploring Aglicay Beach on Tablas Island
#2 TABLAS POINT
Tablas Point is a pristine beach area on the southern-most tip of the mainland and it's one of the best things to do in Tablas Island!
Situated in Santa Fe, it's approximately a 1-hour drive from Looc to reach Tablas Point and there is a small entrance fee of 50 pesos.
When I ventured south to explore Tablas Point I had no idea it would be so incredibly beautiful. Picture an untouched white sand beach, shallow azure waters and a palm tree fringed shoreline! Well, that's exactly what you will find at Tablas Point!
There isn't much in the way of development on this southern tip of Tablas Island apart from small villages and sandy roads.
However, the local landowner whose name is Nono, has constructed a few beach huts under the palms, along with hammocks and a beach volleyball net. It's also possible to order some freshly cooked Filipino food and cold drinks!
Nono also said he has beachside bungalows for rent if you wish to spend a night under the stars on Tablas Island. For one night's accommodation, the cost is around 1000 pesos.
Tablas Point is a great location to perch up for an hour or so and enjoy the ultimate tropical vibes at this amazing location!
Search All ∼ Tours in the Philippines with Klook
Tablas Point – Things to do in Tablas
Beach huts at Tablas Point
Drone shot of Tablas Point
Hammock chills anyone? – Tablas Romblon
#3 LOOC MARINE SANCTUARY
Looc Marine Sanctuary is one of the more popular Tablas Island tourist spots and well worth visiting during your adventures around the island. Snorkeling with an abundance of marine life at Looc Marine Sanctuary is one of the best things to do on Tablas Island.
The Looc Bay Refuge and Marine Sanctuary is a 48-hectare protected marine area situated in Looc Bay which was established in 1999.
Boats are frequently available at the end of Looc Pier, chauffering guests out to an anchored bamboo raft that sits right on top of the Looc Marine Sanctuary. The total cost of a return boat trip is around 300 pesos, which you can split the cost between your friends, and snorkel sets can be rented for as little as 50 pesos.
The abundance of marine life that you can expect to see while snorkeling at Looc Marine Sanctuary are giant clams, octopus, eels, turtles and many different species of fish!
Search All ∼ Homestays / Hotels / Resorts in Tablas
Giant clams at Looc Marine Sanctuary
Is that you Nemo? – Tablas Island Philippines
Looc Marine Sanctuary – Tablas Island
#4 FOOTPRINTS BEACH RESORT
Footprints Beach Resort is more than just accommodation, it's an epic location in itself that lies directly on the beachfront in San Andres.
Footprints Beach can be found on the northwestern coastline of Tablas Island, approximately a 1-hour drive north from Looc.
I personally spent 2 nights at Footprints Beach Resort a wish I could have stayed longer here. The beach in front of the oceanfront bungalows stretches for kilometers and I didn't see another soul in sight other than the few other guests that were staying at the resort.
One interesting feature of Footprints Beach is the patterns in the sand caused by the shifting tides. I only noticed the curves and sandbanks along the shoreline once I flew my drone and caught it from a birds-eye perspective.
If you end up booking at night or two at Footprints Beach Resort, which I highly recommend, you can make use of the stand-up paddleboards or kayaks and head out to the nearby coral reef for a snorkel.
Footprints Beach faces west and sunsets here are freaking epic! Both sunsets I witnessed while staying at Footprints Beach Resort were low-key some of the best sunsets I have ever seen!
Book Now ∼ Footprints Beach Resort
Footprints Beach Tablas Island
Sunset on Footprints Beach
Footprints Beach – Tablas Romblon Tourist Spots
Footprints Beach Resort – Tablas Island
Drone shot of Footprints Beach Resort
#5 BINUCOT BEACH
Binucot Beach is the most western point on Tablas Island featuring beautiful ocean bays and a large rock islet that divides the beach into two parts.
Binucot Beach is located on the southwestern coastline just 30 minutes drive west from Looc and 30 minutes drive south of Odiongan.
I visited Binucot Beach one late afternoon and couldn't believe the beauty of this place when I stepped foot on to the sandbar that leads out to the rocky islet.
Long stretches of sugary white sandy shores to the left and right, fringed by the longest lines of coconut palm trees is what you can ultimately expect to find at Binucot Beach!
Binucot Beach Tablas is one of the best beaches to visit on the island for its idyllic scenes of turquoise waters, rolling hills in the backdrop, empty shorelines and the iconic rock islet!
I recommend timing your visit to Binucot Beach at high tide so it's easier to go for a swim and snorkel when the water reaches the sandbanks. On low tide, the rocky reef becomes quite exposed and its a bit of a walk out to the water's edge.
If you have a DJI Mavic Drone Camera I highly recommend flying it at Binucot Beach as it looks even better from the sky!
See More ∼ Best Camera Gear For Travel
Binucot Beach Tablas
Rocky islet at Binucot Beach – Tablas Island
Small fishing boats at Binucot Beach
Binucot Beach Tablas Island
Small beach huts on Binucot Beach
#6 LINAO NI VECTO FALLS
Linao Ni Vecto Falls is well below the radar among other Tablas Island tourist spots which is a good reason to seek out this awesome Tablas waterfall before it comes the most popular.
I found out about this waterfall from a guy named Deo who has been operating as a tour guide on Tablas Island since 2007. Usually, Deo offers guided tours around the island to all the Tablas Island tourist spots but on this day I decided to go on a solo mission and he was kind enough to give me the directions anyway.
Linao Ni Vecto Falls can be found in between Odiongan and San Andres. The exact pin location is not yet on Google Maps though you can search for Tabing Ilog Rd and from the intersection, it's a 3.5km drive inland to reach the jump-off point for Linao Ni Vecto Falls.
There is a local family that lives across the road from the falls that go by the name of Tabas. We found Mr. Tabas and he kindly showed us the way down the trail to Linao Ni Vecto Falls which was only a 10-minute walk through some grassland.
Linao Ni Vecto Falls features a large natural swimming pool enveloped by curved canyon walls and a 2m waterfall lies at one end. The milky blue pool of water in the catch basin gets its color from the limestone cliffs that surround the falls. It seriously looks inviting enough to drink!
There are a few jump-off points for cliff jumping at Linao Ni Vecto Falls ranging from around 1m, 3m and 5m which is a lot of fun if you're keen to take the leap. Mr Tabas and I sent a few jumps off from the top of the falls into the natural pool below.
You could spend half a day at these waterfalls in Tablas if you really wanted but there is much more to see!
After spending an hour or so down at Linao Ni Vecto Falls, we headed back to Mr Tabas's house on the roadside and he harvested us some coconuts from the top of a tree. We hung out on his front porch while sipping on our fresh coconuts and before we left we tipped him 100 pesos for the adventure!
Search All ∼ Homestays / Hotels / Resorts in Tablas
Linao Ni Vecto Falls – Tablas Island
The trail to these epic Tablas Waterfalls
Cliff jumping at Linao Ni Vecto Falls
Linao Ni Vecto Falls – Tablas Island
Mr Tabas harvesting coconuts
#7 FREEDIVING IN THE BLUE HOLE ROMBLON
The Blue Hole Romblon is not something you get to see every day and it's one of the top things to do in Tablas Island. Grab a snorkel set and head on over to discover the underwater phenomenon that is the Blue Hole Romblon.
Located on the very northern tip of Tablas Island in San Augustin, the Blue Hole Romblon can be accessed by road and then a short walk down some stairs to the edge of the cliffs towards Gorda Point Lighthouse. The Blue Hole Romblon is visible from above water so it's easy to find.
Another way to visit the Blue Hole Romblon is to book a Tablas Island Hopping Tour with Deo from Deo's Island Adventures. He can be contacted on Facebook or by Whatsapp: +63 999 002 0806.
Blue Hole Tablas is the only 'hole dive site' in the Philippines and knowing this prior to visiting, I expected to see many divers at this spot. Well, that wasn't the case and it was just our small group of 6 people that joined in on the Tablas Island Hopping Tour with Deo.
I am not a scuba diver or a freediver by any means, though it was still such an amazing experience just swimming around with a mask and snorkel closer to the surface. Deo, on the other hand, is an experienced freediver and I took a few photos of him descending into the dark abyss of the Blue Hole Romblon.
Many colorful corals and an abundance of marine life can also be found all around the Gorda Point area so be sure to explore the reefs while you're there.
Must Read → 3 Weeks Philippines Itinerary
Blue Hole Romblon – Tablas Diving
Blue Hole Romblon Diving
#8 MABLARAN FALLS
Mablaran Falls is arguably the most popular waterfall in Tablas and well worth checking out during your adventures on Tablas Island.
Mablaran Falls is located in San Andres, approximately 45-minutes drive north of Odiongan. If you happen to be staying at Footprints Beach Resort, it's a short 10-minute drive from here to reach Mablaran Falls.
It couldn't be easier to find Mablaran Falls as the road comes to a dead-end and this is where the entrance is to the falls. I visited in low-season (September) and there was no one operating the tour desk at the front, nor were there any other tourists in sight. It honestly looked abandoned as if no one had been there in months.
However, I have heard that in high season Mablaran Falls is frequented a lot more and popular among locals who come here to hang out for the day in large numbers.
Mablaran Falls features a large freshwater swimming hole that is surrounded by lush greenery and a small set of falls fed from the running stream above.
Man-made structures have been built along one side of the valley next to the falls including some seating areas with tables and chairs, sheltered huts and change room facilities to accommodate guests.
If you're looking for a tranquil spot to escape the sun and cool off in some freshwater springs, Mablaran Falls is perfect for exactly that.
Search All ∼ Tours in the Philippines with Klook
Freshwater swimming hole at Mablaran Falls
Mablaran Falls – Tablas Island
Mablaran Falls Tablas Island
Keen for a dip? – Tablas Romblon
#9 TABLAS ISLAND HOPPING TOUR
The majority of the activities and locations on Tablas Island can be explored by scooter, however, there are some spots that are only accessible by boat. I highly recommend booking a full-day Tablas Island Hopping Tour to discover the most incredible locations in the Calatrava Region.
As I mentioned earlier, you can book a Tablas Island Hopping Tour with Deo from Deo's Island Adventures. He can be contacted on Facebook or by Whatsapp: +63 999 002 0806.
If you are staying in Odiongan or north from here in San Andres, Deo can offer a van pick-up from your accommodation in the morning to make the 30-minute drive to the port in Calatrava Bay.
Deo picked us up from Footprints Beach Resort at around 7am and we met another small group of 4 tourists in Calatrava who also joined in on the tour.
There is no set itinerary for the Tablas Island Hopping though know that you are in for an unforgettable adventure around the north coast of Tablas Island!
We set off on the boat from Calatrava at around 8am and we opted to finish on Romblon Island as that was the next destination we had planned after Tablas anyway, so it was super convenient for us.
Island Hopping on Tablas was one of the best days I had during the 3 months I spent in the Philippines and that's saying something! One of the reasons being is that we spotted a whale shark swim right up next to our boat which was a rare and special moment for all of us.
We visited 5 incredible locations onboard the Tablas Island Hopping Tour which I have listed below including photos from each spot:
• Cove Aurelio Beach – Cliff jumping and beach bar
• The White Rock – Snorkeling and underwater caves
• Tinagong Dagat – Salt lake and epic landscapes
• The Blue Hole – Freediving and snorkeling
• Cobrador Island – Snorkeling at the Sea Turtle Sanctuary
Cove Aurelio – Calatrava Island Hopping
The White Rock Tablas Island
The White Rock – Tablas Island Hopping
Snorkeling at White Rock
Salt lake at Tinagong Dagat – Tablas Island Philippines
Tablas Island Hopping
Tinagong Dagat Tablas
Tinagong Dagat – Calatrava Island Hopping
Freediving at the Blue Hole Romblon
Blue Hole Romblon
Cobrador Island Sea Turtle Sanctuary
#10 EXPLORE TABLAS ISLAND BY SCOOTER
One of the best adventures to be had when searching for what to do in Tablas Island is to simply rent a scooter and explore the coastal roads.
You can rent a scooter for around 400-500 pesos per day from your accommodation or from a friendly local in town who is willing to lend you a set of wheels.
Once you've got your hands on a scooter, you can top up your gas at the petrol station which costs around 150 pesos for a full tank.
The best area to explore is along the south coast of Tablas Island starting in Looc and driving all the way down to Tablas Point, then north up the east coast to Aglicay Beach and finishing up again in Looc.
The south coastal road is sealed in some areas though you will come across dirt roads and a few gravel sections. I guarantee you will be just fine if you take it slow.
There are many hidden beaches and local villages along the way that are worth stopping into for a quick photo. It's such a raw and unique experience to see the locals going about their daily lives in the less touristy areas of Tablas Island.
Must Read → 3 Weeks Philippines Itinerary
Exploring Tablas Island by scooter
Empty beaches on the south coast of Tablas Island
Drone shot of Tablas Island south coast
WHERE TO STAY IN TABLAS ISLAND
When you arrive in Tablas Island I recommend spending 2 nights in the south in either Odiongan or Looc, making it easier to explore the tourist spots in the south. And then head to the north and spend 2 nights in San Andres.
Tablas Island has dozens of accommodation options to choose from, so I have narrowed it down to a few of the best places to stay in Tablas to fit the needs of budget backpackers and luxury travelers. See the list of accommodations below that I personally recommend:
Luxury: Fondevilla's Place Odiongan
Fondevilla'a Place is a modern hotel centrally located in Odiongan. This hotel offers free wifi and guests can enjoy an Asian-style breakfast or à la carte. There are double rooms available and fitted with air-conditioning, flat-screen tv, fridge, dining area, large beds and private bathroom. Recommended for couples, families and friends.
Check prices on Agoda | Check prices on Booking.com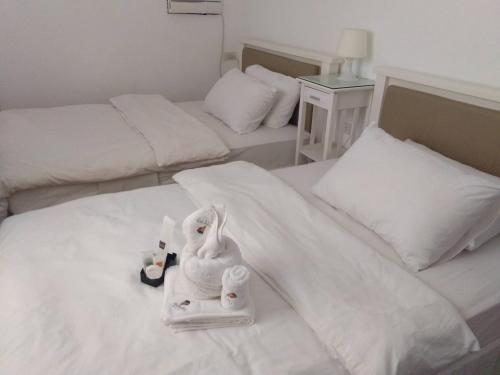 Mid Range: Cummings Highlands Resort & Treehouse
I personally stayed at Cummings Highlands and can't recommend this place enough! It's the perfect place to stay in Looc to explore the locations in the south. This property features an outdoor swimming pool, a bar, well-kept gardens and an incredible view of Looc Bay. There are many different rooms to choose from including treehouses, small cottages, a family-sized bungalow, dormitory rooms and studios. A continental breakfast is also included for all guests. Affordable place to stay in Tablas for families, friends and couples!
Check prices on Agoda | Check prices on Booking.com
Budget: Footprints Beach Resort
I also stayed at the Footprints Beach Resort for 2 nights and highly recommend basing yourself here for a couple of nights to explore the spots in the north of Tablas Island. Owen, the owner of the resort, is super friendly and has trained his staff well to meet great hospitality standards. The property is situated right on the oceanfront in San Andres and features a restaurant, a bar, dining area and high-speed wifi. Choose from either a dorm room, garden view bungalow or ocean view bungalow, each has comfortable beds, power sockets and air conditioning/fan. Perfect place to stay for solo travelers, couples, friends and families.
TABLAS ISLAND MAP
Want to travel full-time? ∼ Click Here To Learn How!
HOW TO GET TO TABLAS ISLAND
Tablas Island is located in the central region of the Philippines. There are only two ways of how to get to Tablas, one is by plane and the other by ferry.
BY PLANE: 
There are only a few flights per week to Tablas Island arriving at Romblon Airport (TBH) in Alcantra, connecting domestic travelers from Manila.
Click here to search all flights to Tablas on Skyscanner
BY FERRY: 
There are many ferries operating in and out of Tablas Island and the easiest way to book is online in advance.
The most popular route is the ferry from Manila to Tablas Island which departs daily from Batangas Port at around 12:00am midnight and arrives in Odiongan Port on Tabas Island in the morning at around 7:00am.
If you are heading to Tablas Island from Carabao Island, there are daily local boats departing at 6am and 12pm from Hambil Pier on Carabao Island, bound for Santa Fe on Tablas Island. The cost is 120 pesos including the terminal fee and the journey takes approximately 1-hour.
I always use 12Go Asia to search and book all of my transportation within the Philippines and you can too by using the search box below.
GETTING AROUND TABLAS ISLAND
There's a couple of options on how to get around Tablas Island and they are by scooter, habal habal, tricycle or jeepney.
You can rent a scooter in Tablas for as little as 400 pesos per day and make your own way around to all of the Tablas Island tourist spots at your own pace. The best place to rent a scooter is via your accommodation.
If you are not confident driving a scooter, the other option is to hail down a tricycle or habal habal (motorbike taxi) along the main roads. For a 15-minute drive, you can expect to pay around 50-100 pesos.
BEST TIME TO VISIT TABLAS ISLAND
The best time to visit Tablas Romblon, weather-wise, is between April and July when temperatures are hot and there is barely any rainfall. This is also high season in Tablas, so expect to see more tourists during these months.
I recommend planning your Tablas trip on the shoulder months of the high season between November and March which sees a bit of rainfall but usually only lasts for a couple of hours and the rest of the day is sunny.
Try to avoid the typhoon season in Tablas which is typically between August and October.
AIRBNB TABLAS
Another option for accommodation in Tablas is to stay at an Airbnb, which generally has some great deals on Tablas Island.
Get your $40 Airbnb discount here!
MORE PHILIPPINES TRAVEL GUIDES
Philippines Travel Guide: 3 Weeks Philippines Itinerary
Cebu Travel Guide: 15 Things To Do In Cebu
Bohol Travel Guide: 31 Epic Things To Do In Bohol
Siargao Travel Guide: 15 Things To Do In Siargao
El Nido Travel Guide: El Nido Island Hopping
Coron Travel Guide: Coron Island Hopping
Boracay Travel Guide: 15 Things To Do In Boracay
Siquijor Travel Guide: 3 Day Siquijor Itinerary
Bantayan Island Guide: 15 Things To Do In Bantayan
Malapascua Island Guide: 11 Things To Do In Malapascua
Camiguin Travel Guide: 13 Best Camiguin Tourist Spots
Romblon Travel Guide: 12 Epic Things To Do In Romblon
Tablas Travel Guide: 10 Things To Do In Tablas
Carabao Travel Guide: 7 Best Things To Do In Carabao
Dumaguete City Guide: Best Dumaguete Tourist Spots
Sumilon Island Guide: Sumilon Island Itinerary
MY CAMERA GEAR
• DSLR Mirrorless Camera: Sony A7ii 
• Drone Camera: DJI Mavic Pro 2
• GoPro: GoPro Hero 8 Black
• Everyday Lens: Sony F2.8 24/70mm
• Camera Bag: Lowepro Protactic 31L
• Selfie Stick: Sandmarc Metal Edition 1.2m 
• Tripod: Joby Flexible GorillaPod
• GoPro Dome: Underwater GoPro Dome
• Power Bank: Anker Powerbank
• External Hardrive: WD Elements 4TB
WHAT TO PACK FOR PHILIPPINES?
• Waterproof Phone Case: Universal Waterproof Case
• Reusable Water Bottle: Hydro Flask Water Bottle
• Rain Jacket: North Face Rain Jacket
• Water Shoes: Slip-on Water Shoes
• Day Bag: Nomatic 20L Day Bag
• Power Adapter: Universal Power Adapter
• Packing Cubes: 4 Set Packing Cubes
• Microfibre Towel: Quick Dry Travel Towel
• Travel Insurance: World Nomads Travel Insurance
• Money Belt: Hidden Money Belt
I hope you enjoyed reading this article and if you have any questions at all about What To Do In Tablas Island, please leave me a comment below and I will get back to you as soon as I can.
Happy Travels!