There are so many things to do in Brisbane you could quite easily spend a week or two exploring this lively city which thrives with fun activities, retail shops and iconic landmarks. Brisbane really is quite a vibrant city and for a slightly smaller city in comparison to some of the others within Australia, it definitely packs a punch!
I spent a few short days in Brisbane City and have put together this easy guide of must-see Brisbane attractions to help you plan your trip!
Have you got travel insurance for Australia? I know that nobody likes to talk about this stuff but accidents can happen and having World Nomads Insurance can save you thousands of dollars if something goes wrong.

WHERE IS BRISBANE CITY & HOW TO GET THERE
Brisbane is the capital city of Queensland on the southeast coast of Australia. Brisbane is quite a large city that is divided into a number of different areas by the Brisbane River.
By Car:
If you're driving north from the Gold Coast, it takes approximately 1-hour to reach Brisbane City or if you're heading south from the Sunshine Coast it takes around 1 hour and 20 minutes.
Search All → Car Rentals in Australia
By Plane:
Whether you're coming from abroad or taking an internal flight within Australia, you'll fly into Brisbane Airport. From here you can grab any taxi or take the train and make your way into the city.
Brisbane City is only about 18 minutes drive from Brisbane Airport, depending on traffic.
Search All → Flights to Brisbane on Skyscanner.com
By Train:
Linked up by a system of trains, it's super easy to make your way into Brisbane City via the train. The main station you'll come to if you're heading into the center of the city is Brisbane Central Station. If you plan to visit the southern areas of Brisbane you can get off the train at Southbank Station or South Brisbane Station.
See More → Brisbane Train Timetable
5 AWESOME THINGS TO DO IN BRISBANE
Brisbane Story Bridge
First and foremost, It'll be very hard to visit Brisbane without checking out the Story Bridge. Standing proud in the heart of the city, this bridge is quite spectacular and one of the best things to do in Brisbane.
From whatever angle you look at it, Brisbane Story Bridge is quite incredible. Take the long walk over the bridge or just stand from afar, marveling at this epic piece of architecture… either way, this has to be one of the top Brisbane attractions!
Story Bridge – Things To Do In Brisbane
Story Bridge Brisbane
Howard Smith Wharf
Talking of the Story Bridge, if you're in the are you must also drop down and explore Howard Smith Wharf. For me, this was one of the most unexpected, yet most vibrant places in Brisbane.
Howard Smith Wharf is built along the river beneath Brisbane Story Bridge. Full of bars, cafes and restaurants, this new, young and vibrant area is a must-see on your list of things to do in Brisbane!
Plan a night out, exploring what Howard Smith Wharf has to offer, sampling some of the food and drink from the bars and restaurants along the wharf or after a long day of exploring the city, stop off here for a breather on the water.
With comfortable outside seating as well as grassy areas to relax on, this area of Brisbane is a great way to spend a couple of hours and for me, is definitely one of the top things to do in Brisbane.
HSW – What to do in Brisbane
Howard Smith Wharf
Queen Street Brisbane
For those of you who enjoy a little retail therapy, you have to head down to Queen Street. Running right through the city, this lively street is full of all your favorite shops that have everything you may need.
Not only is it full of shops, Queen Street Brisbane has a great range of restaurants for you to enjoy. It's very easy to see away an entire day, dotting in and out of the many shops along Queen Street and making it one of the best places to visit in Brisbane.
See More → Best Camera Gear For Travel
Queen Street Brisbane
Lone Pine Koala Sanctuary
Let's move on to something a little more 'touristy'. Lone Pine Koala Sanctuary is one of the most popular and highly rated Koala Sanctuaries in the country. An 18-hectare Koala Sanctuary located in the Brisbane suburb of Fig Tree Pocket.
Lone Pine Koala Sanctuary has a range of animals from Kangaroos to Tasmanian Devils and of course, Koalas. It's here that guests are also able to hold Koalas and capture that iconic shot.
Purchase your tickets online with Klook to receive a 10% discount and e-tickets are also available for 12 months. Purchasing tickets on the door retail for around $42 AUD.
Brisbane Botanic Gardens
Located in the heart of the city, Brisbane Botanic Gardens offers the perfect place to retreat from the hectic city life.
Take a wander through the gardens, admiring the different arrangements, lakes and wildlife. Grab something for lunch and take a seat in the gardens, topping up the tan and recharging in that midday sun.
It's a great way to see away a few hours and enjoy a little peace and quiet… and what's even better, it's one of the free things to do in Brisbane!
Botanic Gardens – Brisbane Sightseeing
Getting Around Brisbane
Honestly, if your feet allow it, the best way to get around Brisbane City is on foot. It's a relatively small city, everything is within easy reach and you get to experience everything the city has to offer and see a hell of a lot more.
If you're unable to walk, the next best thing is the train where you'll need to purchase a Go Card that you're able to top up and use to tap on and off the trains.
If you have your own rental car then great! This makes it much easier for you to explore the things to do in Brisbane at your own pace.
Search All ∼ Car Rentals in Brisbane
Best Time To Visit Brisbane
The best time to visit Brisbane is during the Autumn months between March and May for good temperatures and fewer tourists.
Alternatively, visiting Brisbane in Spring between the months of September to November is also a great time of the year, weatherwise.
WHERE TO STAY IN BRISBANE
Brisbane has hundreds of accommodations to choose from so I have narrowed it down to a few of the best places to stay in Brisbane to suit the needs of luxury travelers and budget backpackers. See the list of accommodations below that I personally recommend:
Luxury: Emporium Hotel South Bank
This luxury hotel boasts grand design rooms and large comfortable beds right in the heart of Brisbane. The Emporium Hotel South Bank offers rooms with balconies, wifi throughout and large flat-screen tv's. With on-site parking, airport shuttle and buffet breakfasts served daily, you really have everything you need at this luxury Brisbane accommodation.
Check prices on Agoda | Check prices on Booking.com
Mid Range: Madison Tower Mill Hotel
This convenient, centrally located hotel offers the ideal accommodation for those looking to enjoy time exploring the city of Brisbane. With large rooms, offering spectacular views of the city, this mid-range accommodation option has everything you need. From wifi, family rooms, a restaurant and bar as well, all within walking distance from Brisbane's tourist hotspots.
Check prices on Agoda | Check prices on Booking.com
Budget: Bald Hills Motel
Located a little further out of town, the Bald Hills Motel offers a great option for those looking to travel to Brisbane on a budget, but don't want to compromise comfort. With large private rooms, boasting comfortable beds, wifi and even kitchenettes, this motel is great for those traveling on a budget. The kitchen facilities make it even easier to save money on food and prepare your meals from the comfort of your room.
Check prices on Agoda | Check prices on Booking.com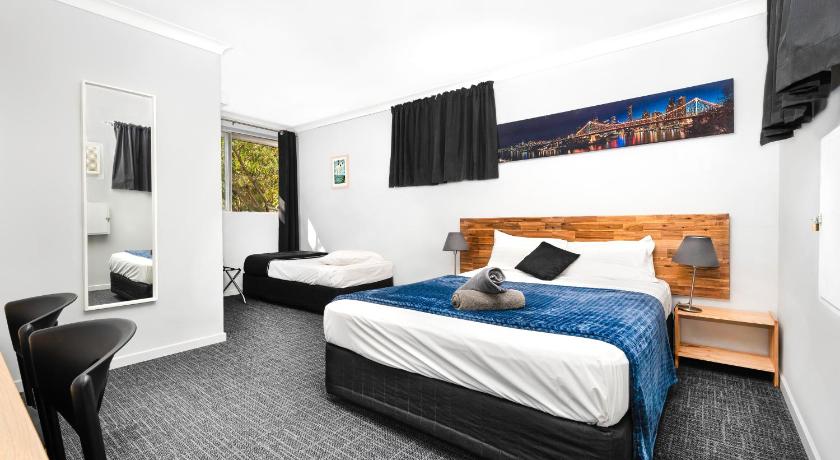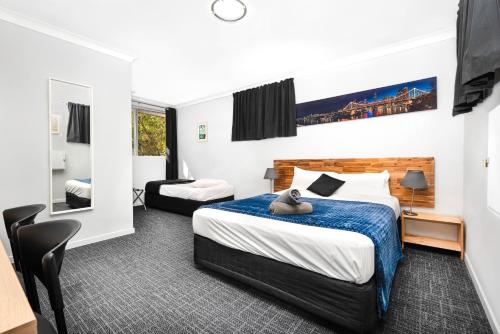 MAP OF BRISBANE
Other Tourist Destinations Near Brisbane
Brisbane is located super close to some of the most iconic Australian hot spots and quite often, used as a base when exploring the nearby areas such as the Gold Coast, Sunshine Coast and Byron Bay.
Read on to hear all about the areas outside of Brisbane you absolutely cannot miss!
Gold Coast
One of the most iconic locations on the east coast of Australia is the Gold Coast. Known as the city on the beach, with its mile-long beaches, incredible skylines, lush hinterland and fun-fuelled theme parks, the Gold Coast is absolutely not to be missed. Spend the day here or pitch up for a little longer, you'll never be short of something to do!
See More → Things To Do In Gold Coast
Byron Bay
Another one of Australia's most iconic locations is Byron Bay which makes for the perfect holiday destination. A town that's flooding with island vibes, a sprawling cafe culture and enough surf shops to bankrupt you.
Bryon Bay has been one of my favorite places to visit in Australia and with good reason. From the famous, white sand beach itself to the breathtaking hike up to Cape Byron Lighthouse… it really is the place to be.
If that's not enough, you have a range of waterfalls all within an hour's drive in any direction of Byron Bay to keep you busy. My recommendation is Killen Falls, a beautiful waterfall with a swimming hole just 35 minutes drive from Byron Bay.
See More → Things To Do In Byron Bay
Sunshine Coast
Heading a little north of Brisbane, you can make your way to the Sunshine Coast. A tropical beach town in Queensland again, famed for its pristine beaches.
A great place to head if you're into windsurfing or surfing as there are almost endless beaches along this stretch of coastline, making the Sunshine Coast is a fun-fuelled playground for those who enjoy water sports.
If the more active lifestyle isn't for you then why not enjoy a little retail therapy in the many stores and shopping malls here in the Sunshine Coast. Finish the day with a meal at one of some of the best restaurants on offer and some of the best food you'll ever try.
Noosa Heads
Going even further north of the Sunshine Coast and onto a place called Noosa Heads. Without a doubt, this is my favorite place within this area.
There is something about this town that hooked me from the moment I stepped out of the car. The National Park is somewhere I could spend my entire days. Take the 10km walking track and enjoy 360 views of the coastline, learn about the history of the headland and marvel at the many surfers you'll see below you in the water.
Equally, Noosa Heads makes for the perfect beach day. This is one of the most chilled out areas on the coast and somewhere I wouldn't want you guys to miss.
MY CAMERA GEAR
• DSLR Mirrorless Camera: Sony A7ii
• Drone Camera: DJI Mavic Pro 2
• GoPro: GoPro Hero 8 Black
• Everyday Lens: Sony F2.8 24/70mm
• Camera Bag: Lowepro Protactic 31L
• Selfie Stick: Sandmarc Metal Edition 1.2m
• Tripod: Joby Flexible GorillaPod
• GoPro Dome: Underwater GoPro Dome
• Power Bank: Anker Powerbank
• External Hardrive: WD Elements 4TB
WHAT TO PACK FOR BRISBANE?
• Waterproof Phone Case: Universal Waterproof Case
• Reusable Water Bottle: Hydro Flask Water Bottle
• Rain Jacket: North Face Rain Jacket
• Day Bag: Nomatic 20L Day Bag
• Water Shoes: Slip-on Water Shoes
• Power Adapter: Universal Power Adapter
• Packing Cubes: 4 Set Packing Cubes
• Microfibre Towel: Quick Dry Travel Towel
• Travel Insurance: World Nomads Travel Insurance
• Money Belt: Hidden Money Belt
I hope you enjoyed reading this article and if you have any questions at all about Things To Do In Brisbane, please leave me a comment below and I will get back to you as soon as I can.
Happy Travels!