Tiu Kelep Waterfall and Sendang Gile Waterfall in Senaru, Lombok are two of the most magnificent waterfalls that I have ever seen! Ideally located at the base of Mt. Rinjani amongst some of Lombok's luscious rainforests, these are two waterfalls you do not want to miss!
I have put together this complete guide of Sendang Gile and Tiu Kelep Waterfall in Seanru, Lombok including how to get there and what to expect!
Have you got travel insurance for Lombok? I know that nobody likes to talk about this stuff but accidents can happen and having World Nomads Insurance can save you thousands of dollars if something goes wrong. 

HOW TO GET TO SENARU, LOMBOK
I arrived by boat from Bali to Bangsal Harbour in North Lombok, where I met some friends and after some haggling to score a good price for a taxi at the harbor, we were on our way to Senaru Village.
It is very easy to find a private taxi or a motorbike to rent at Bangsal Harbour. Expect to pay around 400,000 rupiah for a private taxi to Senaru.
You can also rent motorbikes/scooters in Bangsal for approximately 60,000 rupiah per day.
The distance from Bangsal Harbour to Senaru is 60km and it is approximately a 2-hour drive
Get your ticket: Fast boat from Bali to Lombok
Tiu Kelep Waterfall
FINDING THE TRAIL TO TIU KELEP WATERFALL
Once you are in Senaru, there are a number of entry points to begin the hike down to Tiu Kelep which is clearly signposted on the main road that runs through Senaru village.
If you have trouble finding the entry point, don't be afraid to ask a friendly local to point you in the right direction.
BOOK A TIU KELEP WATERFALL TOUR
Another alternative to visiting Sendang Gile and Tiu Kelep Waterfall is to book a full-day tour to see these two waterfalls and loads more highlights in Lombok.
The Lombok Nature Private Day Tour is the most top-rated tour with great reviews and hundreds of bookings.
This tour includes hotel pick-up and drop-off from Sengiggi and the spots that you will visit are Segenter Sasak village, Sendang Gile, Tiu Kelep Waterfall, Sembalun village and Rinjani volcano viewing point, Sembalun Bumbung and Pesugulan Pusuk Pass, Rinjani National Park, Sapit Village, Lemor and graveyard of Rajah Selaparang
All this for less than $85 USD.
Book Now ∼ Lombok Nature Private Day Tour
BEST TIME TO VISIT SENDANG GILE & TIU KELEP WATERFALL
It's best to visit Sendang Gile and Tiu Kelep Waterfall in the early morning before the crowds and you can potentially avoid the entrance fee the earlier you go.
Although, the entrance fee for Tiu Kelep waterfall is only 20,000 rupiah so it's not a big bite out of the wallet if you end up having to pay.
On the morning we were heading down to visit Tiu Kelep Waterfall, we decided to stop and watch the sunrise over a beautiful rice field valley before taking the path down towards Tiu Kelep Waterfall. Boy was it worth it!
Search All ∼ Accommodations in Senaru
Sunrise over the valley in Senaru
View of Mount Rinjani
SENDANG GILE WATERFALL (AIR TERJUN SENDANG GILE)
Sendang Gile waterfall is the first waterfall along the trail to Tiu Kelep Waterfall, so you can't miss it.
Sendang Gile is a two-tiered cascading waterfall that spits out of the rock face high above. We were so early here that we only had to share this waterfall with the local monkeys!
You can also go swimming in the rock pools and get right beneath the falls at Air Terjun Sendang Gile.
From here head back up the track and to the left to continue on to Tiu Kelep Waterfall. It is a moderate 30-minute walk through the jungle and manageable without the use of a guide.
Free ∼ $40 AirBnb Discount
Sendang Gile Waterfall
RAINFOREST HIKE TO AIR TERJUN TIU KELEP
There is a couple of river crossings no more than knee-deep and a muddy trail that leads through the jungle to the jaw-dropping sight of Air Terjun Tiu Kelep.
There is no waterfall that I have seen that can compare to this. And even though it wasn't my first time here, Tiu Kelep Waterfall never ceases to amaze me.
The water flows out of the walls and into a crystal clear pool below. There is a strong vortex-like current directly beneath the main water flow at Tiu Kelep Waterfall so be careful not to get sucked in!
The rocks are also super slippery, so if you are excited as I was when visiting Tiu Kelep waterfall, take care and watch your step!
Book Now ∼ Lombok Nature Private Day Tour
Following the stream to Tiu Kelep Waterfall
The incredible Tiu Kelep Waterfall Lombok
Tiu Kelep Waterfall
PIN LOCATION OF TIU KELEP WATERFALL
WHERE TO STAY IN SENARU
Blue Mountain Cottage is a small homestay in Senaru village within walking distance to Tiu Kelep Waterfall and Sendang Gile Waterfall.  The a/c rooms have comfortable beds and a private bathroom. It's basic, but it's all you need for a couple of nights!
Check prices on Agoda | Check prices on Booking.com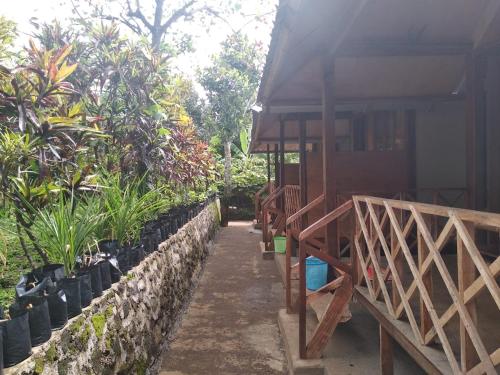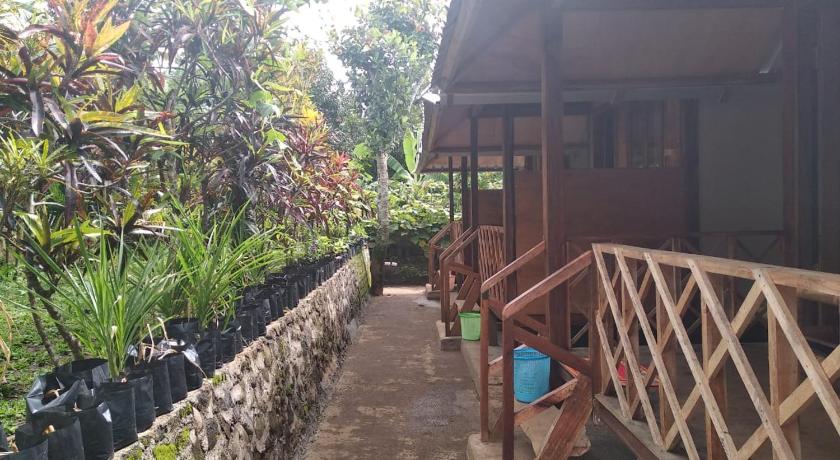 SENDANG GILE & TIU KELEP WATERFALL – THINGS TO KNOW BEFORE YOU GO 
To get the best shots of Tiu Kelep waterfall you will need to stand a good 30m away from the natural pool due to the constant clouds of mist that will instantly wet your lens.
The weather patterns around the base of Mt. Rinjani are very unpredictable so be prepared for a sudden downpour of rain. As soon as we got back to the homestay a storm rolled in for the good part of the afternoon.
There is not much in the way of food and water once you hit the trail to Sendang Gile and Tiu Kelep Waterfall, so be sure to pack something before you make the trek in.
These two waterfalls are hands-down mother nature at its finest and I strongly recommend that you add it to your Lombok Itinerary!
MORE LOMBOK TRAVEL GUIDES
• 15 Things To Do In Lombok – The Ultimate Guide
• Bukit Selong Sunrise Viewpoint
MY CAMERA GEAR
• DSLR Mirrorless Camera: Sony A7ii 
• Drone Camera: DJI Mavic Pro 2
• GoPro: GoPro Hero 8 Black
• Everyday Lens: Sony F2.8 24/70mm
• Camera Bag: Lowepro Protactic 31L
• Selfie Stick: Sandmarc Metal Edition 1.2m 
• Tripod: Joby Flexible GorillaPod
• GoPro Dome: Underwater GoPro Dome
• Power Bank: Anker Powerbank
• External Hardrive: WD Elements 4TB
WHAT TO PACK FOR LOMBOK?
• Waterproof Phone Case: Universal Waterproof Case
• Reusable Water Bottle: Hydro Flask Water Bottle
• Rain Jacket: North Face Rain Jacket
• Water Shoes: Slip-on Water Shoes
• Day Bag: Nomatic 20L Day Bag
• Power Adapter: Universal Power Adapter
• Packing Cubes: 4 Set Packing Cubes
• Microfibre Towel: Quick Dry Travel Towel
• Travel Insurance: World Nomads Travel Insurance
• Money Belt: Hidden Money Belt
↓ PIN THIS ARTICLE FOR LATER ↓