Looking for the best Yeppoon Beaches?!
The Capricorn Coast in Queensland offers a range of diverse beaches, suitable for every taste. Yeppoon is the main coastal town of the Capricorn Coast, and the beaches in Yeppoon are the perfect getaway for everybody. With warm weather and low precipitation all year round, there are no bad seasons to go and visit this stunning coast.
Yeppoon beaches are known for their diversity and uniqueness. The beaches in Yeppoon have everything from long and plain sandy beaches to rocky and wilder beaches where you can swim, surf, do some canoeing and kayaking or just relax on the beach. However, if you are fancying something a bit more adventurous you can also explore the Yeppoon beaches' surroundings by foot, or even by boat to see the amazing Keppel Islands.
Every beach in Yeppoon offers something exclusive that you won't find anywhere else. Some of the beaches are located just outside delightful coastal towns, making it easier for families to spend some relaxing days, while others are more hidden and further away from civilization and are just perfect for a bit of solo adventure or for some exciting times with friends.
In this guide, I have included the 10 Best Yeppoon Beaches and the main reasons why they are worth a visit.
Plus, at the end of this article, you will find more information about where to stay in Yeppoon, the best times of the year to make a visit to the area and other points of interest on the East Coast of Australia.
Have you got travel insurance for Australia? I know that nobody likes to talk about this stuff but accidents can happen and having World Nomads Insurance can save you thousands of dollars if something goes wrong.

Where Is Yeppoon & How To Get There
The coastal town of Yeppoon is located in Queensland, just 45 minutes' drive from the closest airport – Rockhampton Airport.
Yeppoon belongs to the Capricorn Coast and occupies 95km of the coastline of Central Queensland. All the Yeppoon beaches that I'm going to mention throughout the article belong to this stunning part of Australia.
It's best to have your own vehicle to visit all of the Yeppoon Beaches as public transportation options are far and few between.
Search All → Car Rentals in Yeppoon
Another great option for traveling along the east coast of Australia is to rent a campervan that comes fully equipped with a double bed, fridge, gas cooker, kitchen utensils, lots of storage, and many more great features. It's a recipe for a good time and from my own personal experience, I highly recommend renting a campervan with Camptoo, the Airbnb for campers!
Click here to check availability and rates with Camptoo.
Van Life in Australia
Yeppoon Beaches Overview
Please see the list below of the 10 Best Beaches In Yeppoon that you will find in this post:
Zilzie Beach
Shelley's Beach
Emu Park Main Beach
Kinka Beach
Mulambin Beach
Kemp Beach
Lammermoor Beach
Cooee Bay Beach
Yeppoon Main Beach
Farnborough Beach
10 Best Yeppoon Beaches
So, without further ado, here is a complete list of the 10 Best Beaches In Yeppoon and where to find them!
Zilzie Beach
In first place on this list of best Yeppoon beaches comes the beautiful Zilzie Beach. Located just 4.6km from the coastal town Emu Park, Zilzie Beach is the longest of three rock dominated beaches situated south of Rocky Point.
Click here to see the pin location on Google Maps.
As an open and exposed beach, Zilzie offers a stunning view of 600m of fine sand, that can be found between two rocky divisions. Be sure to wander down to the south end of Zilzie Beach to where you can find a cluster of coconut palm trees that makes for the perfect Instagram photo.
Being the safest of the three rocky beaches, with the easiest access and right on the Livingstone area, Zilzie Beach offers a great place for families and friends to spend a pleasant day at the beach.
Shelley's Beach
Laying a few kilometers north of Zilzie Beach is the beautiful Shelley's Beach, a striking gold sand beach that brings together the wildness of the sea and its rocky settings, with close proximity to town.
Click here to see the pin location on Google Maps.
Shelley's Beach is one of the best Yeppoon beaches to look out for sea creatures in the sand and particularly in the rocks that compose the beach.
Even though it's a beautiful place to stay for the day and explore, you should be careful while swimming, due to the high amount of rocks that can be hidden under the water. Despite that, don't let the fear stop you and make sure you stop for a visit at this single location.
Emu Park Main Beach
Next on the list of best Yeppoon beaches, located south of Emu Point, we have one of the two main surfing beaches called Emu Park Main Beach.
Click here to see the pin location on Google Maps.
Besides it being a quiet beach with waves varying between 0.5 -1m, this beach is known as the surf-lovers' beach at Emu Park and the site of the Surf Lifesaving Club.
Although this beach in Yeppoon is only 50m wide at high tide, during the low tide the beach gets an extension of 200m of white sand. Located in the middle of a green reserve, Emu Park Main Beach offers a stunning spot for everyone looking to enjoy a day in the sun at the beach.
Kinka Beach
Kinka Beach is another one of the best beaches in Yeppoon with swimming facilities during the whole year, located only 17km south of Yeppoon town.
Click here to see the pin location on Google Maps.
As soon as you get to this paradise beach, you'll be amazed by its beauty and length. With 3km of extension, occupying the southern half of Shoal Bay, Kinka Beach offers an incomparable mixture of low tide sand flats and ridges.
The southern end of Kinka Beach is protected and ends at a mangrove-fringed tidal creek. Facing east-northeast, Kinka Beach offers you a singular view of Great Keppel Island, something I promise you don't want to miss out on.
Mulambin Beach
As you continue to explore the Yeppoon beaches, you'll find Mulambin Beach – a wild and untouched location. Situated between Bluff Point and Pinnacle Point, Mulambin Beach is a precious 2km long, well-kept secret.
Click here to see the pin location on Google Maps.
Besides its uniqueness, its foredunes and Vulcanic rock surroundings, this beach also provides picnic and BBQ areas nearby.
Featuring an ideal location for many activities such as kayaking, canoeing and even fishing, it's also a calm and safe place to swim and relax with low waves and very low gradients. Mulambin Beach needs to be without any doubt on your Yeppoon beaches bucket list.
Kemp Beach
As another great secret of the beaches in Yeppoon, Kemp Beach is the perfect getaway for everybody, and it's known for being one of the best sunrise and sunset locations in the Capricorn Coast region.
Click here to see the pin location on Google Maps.
This scenic 2km in length beach lays just south of Rosslyn Bay. Surrounded by high grass, you can't even notice the road running just a view meters away, making it an easily accessible beach while still covered by nature.
Bluff Rock, which has a great amount of marine life like dolphins and turtles in its surroundings, is located just 10km from Kemp Beach and can be accessed by kayak canoe, or boat.
Lammermoor Beach
Right in the southern Great Barrier Reef, you can find one of the most amazing beaches in Yeppoon. Lammermoor Beach, positioned between Cooee Bay and Statue Bay, is multi-activity heaven.
Click here to see the pin location on Google Maps.
With a total of 2.5km in length, Lammermoor Beach offers a range of exciting experiences for you to do, as well as an embedded coastal town.
Lammermoor Beach is the perfect spot to take a dip in the ocean, to enjoy some canoeing and kayaking by Statue Bay, or if you fancy something a bit different, the Keppel Bay Marina just south of Statue Bay gives you the opportunity to take the ferry to Great Keppel Island as well.
Cooee Bay Beach
If you are looking for a calmer beach to spend the day or a couple of days with your kids, Cooee Bay Beach, a 500m long stretch of sand with small waves is one of the most epic Yeppoon beaches.
Click here to see the pin location on Google Maps.
Situated in the middle of rocky platforms with a low-tide bar, this beach will leave you amazed by its beauty, featuring crystal waters where you are able to spot reefs.
Cooee Bay Beach is enclosed by the coast town Cooee Bay, which has many properties just a few meters away from the beach, where I'm positive you'll be able to find a short-term rental to spend an unforgettable vacation.
Yeppoon Main Beach
Yeppoon Main Beach, as its name suggests, is located right in the heart of Yeppoon. This beach is considered the main touristic destination out of all the Yeppoon beaches.
Click here to see the pin location on Google Maps.
Yeppoon Main Beach is 1.4km long and provides plenty of facilities as BBQ and picnic areas, toilets and access ramps which contributes to its popularity.
Besides its amazing facilities, the beach is all known because of its surf club and the Keppel Bay Sailing Club, located in the northern end and southern end of the beach, respectively.
Being such a popular place, Yeppoon Main Beach is the home of many coastal events like PineFest and the annual Australia Day celebrations that you definitely don't want to miss.
Farnborough Beach
Farnborough Beach is the longest beach of all the beaches in Yeppoon, boasting a whopping 17km long. Although its length is impressive, that's not the only reason why you should visit this beach.
Click here to see the pin location on Google Maps.
Farnborough Beach hosts the Rock Yeppoon Surf Festival every year, a very frequented event for surf-lovers. The waves at Farnborough Beach are usually 0.8m on average but can be higher depending on the day, providing the perfect place for all types of surfers.
Nested between Sandy Point and Barwell Creek, this natural beach couldn't be a nicer place to spend a couple of hours with your friends, chilling at the beach and surfing some waves.
Best Time To Visit Yeppoon
The best time to visit Yeppoon depends on your plans. If you planning to explore the Yeppoon beaches, its surroundings and to get involved in different activities, the best months are from May to September, where the temperatures vary between 18-21 °C/ 67-69 °F.
However, if you are fancying to enjoy the hot weather at the beach, you should aim for the months between November and March, when temperatures usually around 26° C/ 78 °F.
Nonetheless, all the Yeppoon area is temperate and has a low chance of precipitation, making it possible to explore it all year round.
Another important thing you should be aware of is the existence of marine stingers, particularly during the summer months. If you happen to get stung by a marine stinger you should pour vinegar on the affected area. Most of the Yeppoon beaches have bottles of vinegar accessible for use.
Marine Stingers – Yeppoon Beaches
Where To Stay In Yeppoon
There are dozens of accommodation options to choose from in Yeppoon, so I have narrowed it down to a few of the best places to stay in Yeppoon to fit the needs of budget backpackers, luxury travelers, and everyone in between.
See the list of Yeppoon accommodations below that I personally recommend:
LUXURY: Beaches On Lammermore Apartments
MID RANGE: Bayview Tower
BUDGET: Yeppoon Beaches House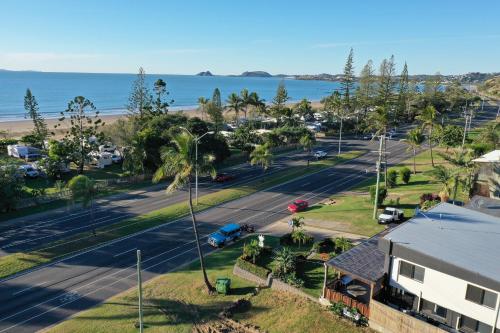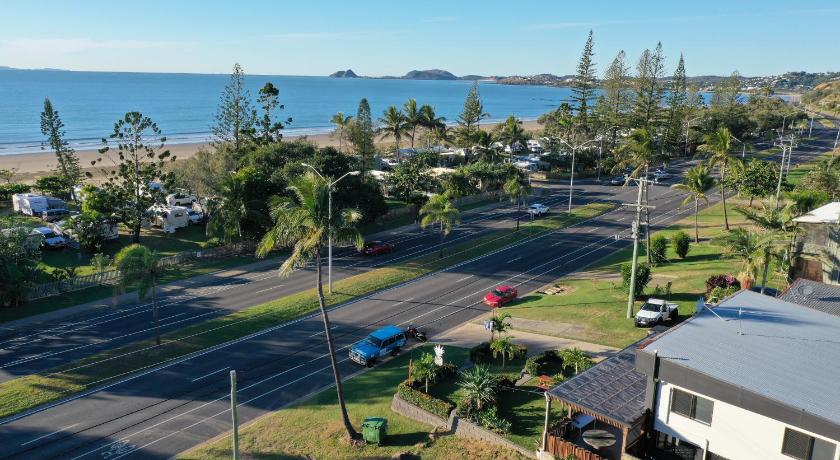 Yeppoon Beaches Map
More Australia Travel Guides
The coastline and hinterland areas along the east coast of Australia boast countless beaches, lakes, waterfalls, hikes and many more fun-fuelled adventures waiting to be had!
This is what Australia is all about and what I love to share with you in my detailed destination guides.
Click on the links below to see more related posts:
Lonely Planet – Australia
One of the best books to take on your trip is the Lonely Planet Australia Travel Guide!
BUY NOW ON AMAZON → LONELY PLANET AUSTRALIA
Join My Facebook Travel Tribe
Do you have any questions about Yeppoon Beaches?
Join my Facebook Travel Tribe and send a message at any time for a quick response!
What To Pack For Yeppoon
Everyday Backpack: One of the best backpacks on the market! The Nomatic 20L Backpack is perfect for on the go adventures. Featuring multiple storage spaces for valuables, drink bottles, chargers, notebooks and more. This sleek backpack was designed for you.
Universal Power Adapter: Don't leave home without one! I highly recommend getting this Universal Power Adapter so that you are able to charge all of your electronics when you're on the road. Compatible in Asia, UK, Europe, Africa, USA, SA and Australia.
Hidden Money Belt: I never go on a trip without one! The best thing is they are always out of sight, hidden beneath your clothing. With RFID blocking, they are perfectly designed to keep your credit cards, cash and other valuables safe when you're out adventuring!
Waterproof Phone Case: A waterproof phone case is a must-have item! This universal case will keep your phone safe from water damage, sand and scratches during your adventures. Suitable for all smartphone models.
Portable Charger: One of the best portable chargers on the market! The Anker Power Bank keeps your phone and accessories charged on those longer adventures. Featuring 2 USB charging ports, rechargeable battery, works with iPhone, iPad, Samsung, Oppo and Android.
Microfibre Travel Towel: To pack a towel or not to pack a towel? A standard bathroom towel can take up a lot of space in your travel bag. Get your hands on a quick-dry Microfibre Travel Towel which is perfect for the beach, backpacking, camping and general traveling.
Rain Jacket: A light-weight rain jacket is an absolute must when traveling! North Face waterproof rain jackets come in both men and women sizes, featuring a breathable mesh lining and adjustable hood that can be tucked away inside the collar.
Kindle: The best alternative for books! Kindle e-readers are perfect for long haul flights, reading on the beach or a quiet evening away from the bars. Kindle's are waterproof with rechargeable batteries and adjustable light settings to suit indoor/outdoor conditions.
Packing Cubes: My favorite item in my backpack! Perfect for organizing your shirts, pants, jackets, socks, underwear and more. This 5 Set Packing Cubes makes packing easier and more efficient, adding extra space in your bag for your next trip.
Activated Charcoal Tablets: Want to avoid food poisoning? Most of us have been a victim of travelers diarrhea from eating street food. Organic Activated Charcoal Tablets are fast-acting and will rid your system of the bad bacteria that causes stomach upset.
My Camera Gear
Everyday Camera: The most affordable mirrorless camera on the market! I personally use the Sony A7ii Mirrorless Camera on all of my adventures. It's compact, lightweight and super easy to use for all levels of photography. A 28-70mm Sony lens is also included.
Drone Camera: Take your photography to new heights! The DJI Mavic Pro 2 Drone is at the top of the game when it comes to high-quality images and video, easy to control functions and traveler-friendly capabilities. I guarantee you won't regret purchasing one.
GoPro Hero 8: One of the most popular cameras on the planet! I love using the GoPro Hero 8 for all of my underwater shots and fast-paced adventures. The GoPro Hero 8 captures the best moments with its wide range of functions that are very simple to use!
Camera Bag: My favorite camera bag I have ever owned! The Lowepro Protactic 450 AW II Camera Bag features a waterproof rain cover, drink bottle holder, padded compartments for cameras, drones, lenses, accessories and it also has a laptop pocket.
Selfie Stick: Everyone loves a good selfie, right!? The Sandmarc Metal Edition Selfie Stick is sleek, stylish and can extend to 1.2m. I find it much easier to take photos and videos with the GoPro when it is mounted to the Sandmarc Selfie Stick!
Camera Tripod: The Joby GorillaPod is suitable for all cameras. This tripod is easy to use and perfect for setting up a time-lapse video or even using it as a selfie stick. The legs are flexible so you can wrap it around a tree or a pole to get creative with your shot.
GoPro Dome: Have you ever wanted to capture those under/over water shots with the GoPro? This epic underwater GoPro dome housing is the best camera accessory to have to create the perfect 50/50 shot. I use mine every time I am in the ocean!
Memory Card: The best thing about SanDisk Extreme Pro is that it delivers maximum speed for images and videos. Having 64GB of storage means that you can store hundreds of files on this SD card for 2-3 days and not have to worry about running out of space.
External Hard Drive: As a photographer, my images and video files take up a lot of space on my MacBook so I use the WD Elements External Hard Drive to store everything. With 4TB worth of storage space, this is more than enough for 1 years worth of content.
Check Prices Here
Online English Teaching
Do you want to travel full-time and get paid along the way?
Teaching English online is one of the easiest and most flexible jobs out there! Become a Digital Nomad, choose your own hours and work remotely from anywhere in the world by teaching English online. All you need is a laptop, good WiFi connection, a TEFL certificate and you're good to go!
My Shop
Before you go from this Yeppoon Beaches post, don't forget to check out My Online Shop!
I've got a wide range of digital products for sale and I'm sure you'll find something that will come in handy during your travels!
Final Thoughts Of Yeppoon Beaches
I hope you enjoyed reading this article and if you have any questions about Yeppoon Beaches, please leave a comment below and I will get back to you as soon as I can!
Happy Beach-Hopping!